For millennia, people have been captivated with speed. Competitive speed began with foot races in ancient Greece and chariot races in Rome, and man has never looked back. However, it wasn't until the first vehicles appeared in garages across Europe that man's yearning for speed took off. Today, practically every automobile can reach 100 mph, and most family sedans can exceed 120. Fastest cars often play in the 140 to 170 mph range. However, our demand for speed extends beyond that.
What's the fastest car? A question that always comes up and makes everyone wonder. As early as 1914, speed seekers flocked to locations such as Utah's Bonneville Salt Flats in search of an unmistakable answer. Teddy Tetzlaff, a pioneering performance driver, then accelerated a modified Benz racecar to 141 miles per hour (227 kilometres) in 1914. Around the same period, the rules for land speed racing began to evolve.
Now, if you have a craving for speed that is out of this world, you should have a look at the fastest cars listed below. These are the most powerful and fastest cars, with performance so intense and surprising that the normal brain can hardly grasp what they're capable of.
This year's automobiles are lighter, sleeker, and more powerful than previous models. The latest hypercars and supercars are pieces of beauty in motion, with peak speeds well beyond the former 'golden barrier' of 480km/h (300mph). This year, we've whittled down our ultimate list to introduce you to the seven fastest cars of 2021 — vehicles from classic automakers to keep an eye on.
You'll miss them if you blink.
Here is the list of world's fastest cars:
McLaren Speedtail (401 km/h)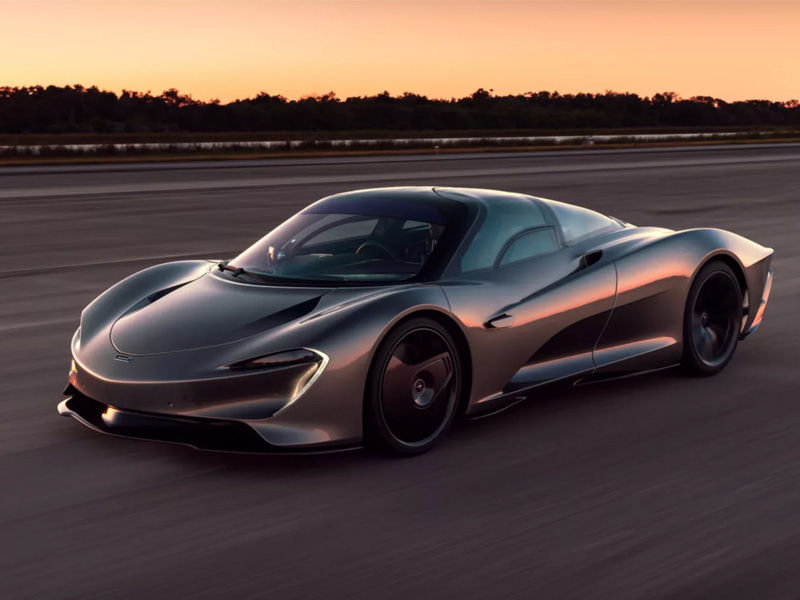 The McLaren Speedtail was designed with one goal in mind: to transport up to three passengers from point A to point B quicker than anything this side of a private aircraft! This hypercar boasts over a thousand horsepower and a peak speed of 250 miles per hour.
A 4.0-liter twin-turbocharged V8 engine with a parallel hybrid system powers the McLaren Speedtail.
The gasoline engine generates 1,035 horsepower, and the electric motor generates another 310 horsepower, for a total of 1,345 wild horses. With all of this power, it can go from 0 to 186 mph in 12.8 seconds, which is faster than any of the typical supercar, can reach 60 mph. This is an extremely limited production car, with just 106 units ever made.
McLaren is well-versed in the creation of world-record hypercars. The iconic F1 held the record for nearly two decades, until the arrival of the Bugatti Veyron. The new McLaren Speedtail won't break the F1 record with its stated peak speed of 250 mph, but the 1,036-hp, $2-million hypercar is undoubtedly the most beautiful on this list.
Unlike the 300+ mph Jesko and Venom F5, we have little question about the Speedtail's modest top speed.
Hennessey Venom F5 (484 km/h)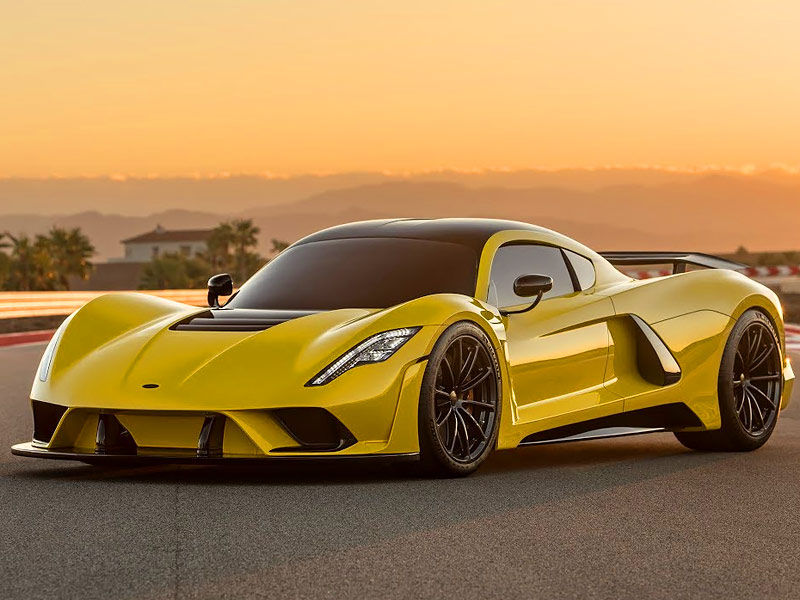 Another in John Hennessey's Venom family of record-breaking automobiles is the F5. The name refers to the fastest sort of tornado (accurate for the fastest car, sort of) – a natural force that the Hennessey emulates with its enormous strength and extraordinary speeds. The Venom F5 is powered by an American-made twin-turbocharged engine; the result? Almost 2,000 horsepower. This provides the Venom F5 just what it needs to hit a peak speed of 484 km/h (301 mph). Its acceleration is also outstanding, with a 0-100km/h or 0-60mph time of less than two seconds.
The F5 was designed to help Hennessey break a world record company had previously set with the GT. It was more luxurious in terms of aesthetics, exclusivity, price, and speed. There were just 24 manufactured. The asking price was $1.6 million. What about the brilliant yellow carbon-fibre shell? Immediately recognisable.
Bugatti Chiron Super Sport 300+ (483 km/h)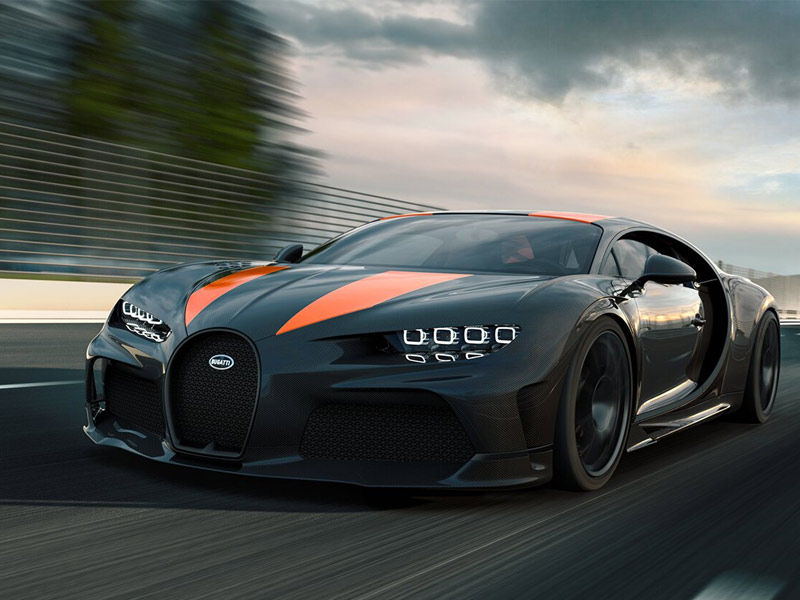 For years, Bugatti has been a famous brand in the world of premium hypercars. The Chiron's heavily improved quad-turbocharged W16 engine increased the speed of this legendary automobile and added some brawn to the beauty, putting Bugatti in second place in our rating of the fastest cars for 2021. 
While it may not be the ultimate fastest car in the planet (we'll get to that coveted title in a minute! ), Bugatti's Chiron Super Sport 300+ has a claim to fame that will live on in history books and amazed discussions for years to come: It was the first car to reach the then-unbelievable speed of 300 miles per hour  (483 km/h).
Those with roughly $4 million they don't know what to do with and an insatiable need for speed would most likely be prescribed a Bugatti Chiron Super Sport 300+ by their doctor. This is an even more extreme version of the already extreme Bugatti Chiron, with a peak speed of more than 300 miles per hour.
There are only 30 Super Sport 300+ versions in existence. Those with the means should go get one right away.
Bugatti Bolide (492 km/h)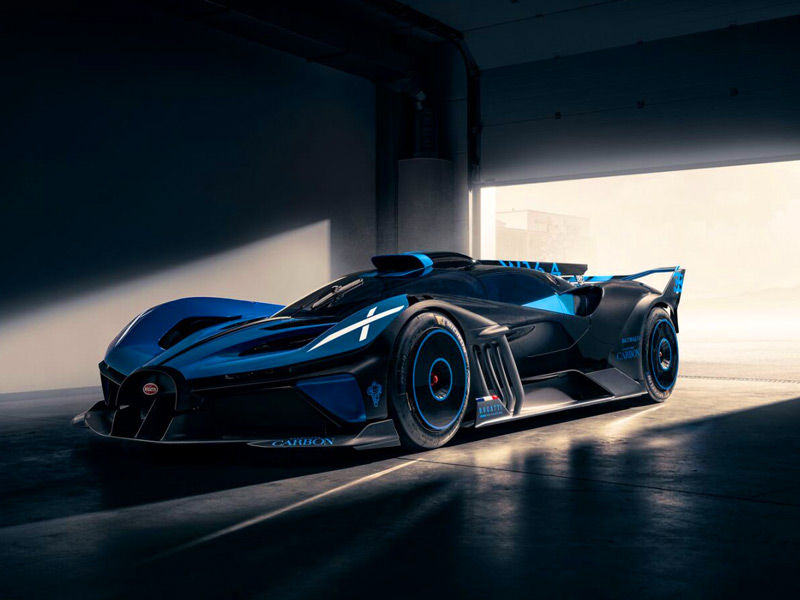 Bugatti went back to the drawing board following the triumph of the Chiron Super Sport. The forward-thinking, historic automaker needed to outdo itself, but how could it when the Super Sport 300+ was already, ostensibly, perfection on wheels?
What is the solution? Simple.
Enter the 8.0L W-16 engine. It has 1825 horsepower. Torque is a whopping 1364 lb-ft.
Clearly, this vehicle is on the rise.
Bugatti's Bolide is a lightweight hypercar that exemplifies Bugatti's entire spectrum in terms of beauty, power, and invention. The Bolide will demonstrate to the world what the W-16 motor is capable of, using the same unique engine from the renowned Chiron series, but with extra turbos to intensify the impact. It's also small, light, and futuristic: The Bolide has a height of 39.2 inches above the ground. Its stated peak speed is 310mph (498 km/h), and it can go from 0-60mph (0-100km/h) in 2.17 seconds.
Koenigsegg Jesko Absolut (531 km/h)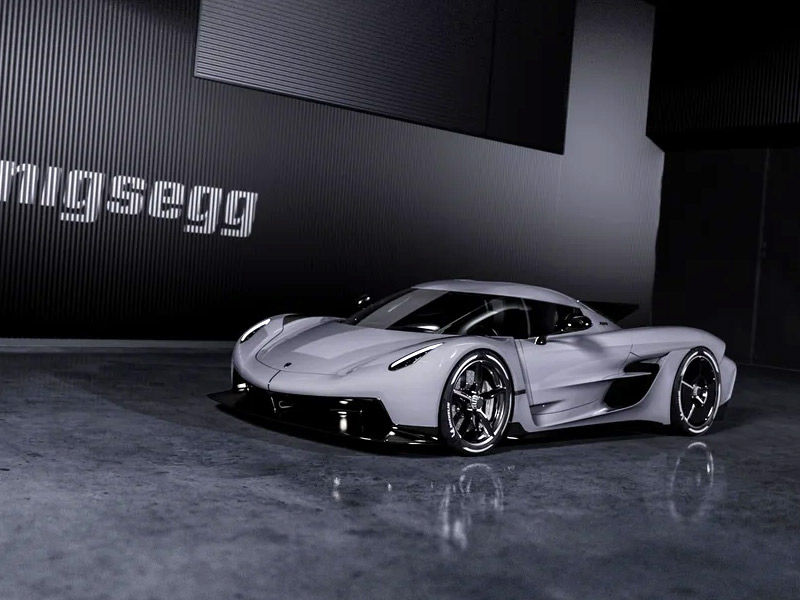 The estimated top speed of the Koenigsegg Jesko Absolut is 330 mph (531 km/h). So far, it appears that the competition to decide the fastest car of 2021 has largely been between two automakers: Bugatti and Hennessey. That makes perfect sense. They're both perfectly pedigreed houses that produce great vehicles that are just filled with sheer power. But! That does not mean they will win the race. The Koenigsegg Jesko Absolut is a hypercar that ups the ante by twenty miles per hour.
For a long time, if someone asked what the fastest car in the world was, this was the answer. The Swedish carmaker Koenigsegg introduced this automobile in attempt to set a new world record.As a response, they tweaked the engine from their last successful supercar, the Agera RS, invested in more precise handling, and made this car lighter and more aerodynamic for optimal performance.This automobile, though, isn't just about speed. There's also pleasure built in, with the kind of temperature control, entertainment, and head/leg room that's normally overlooked when it comes to the world's fastest automobiles
SSC Tuatara (533 km/h)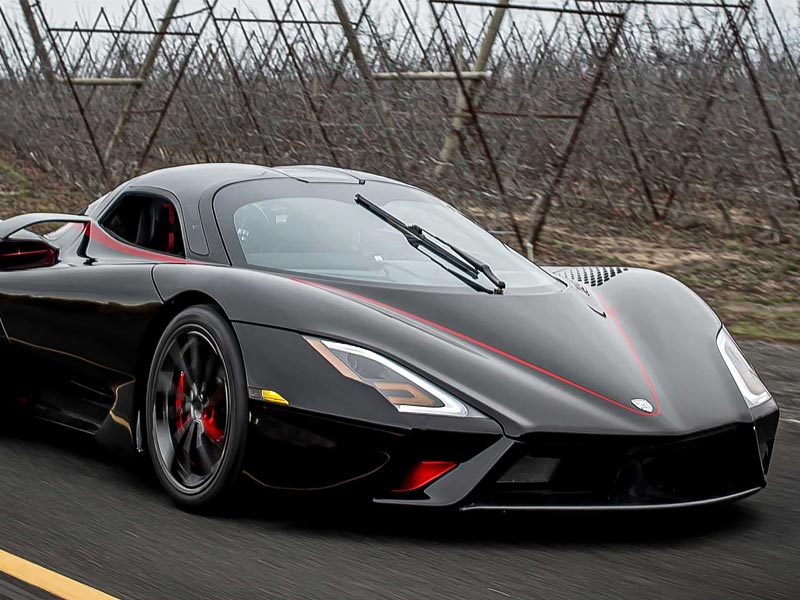 What's quicker than 330mph, you may ask?
The solution is straightforward. 331mph.
SSC, located in North America, has created a stunning supercar that is just jam-packed with the latest and finest automotive advancements. Shelby SuperCars claimed in October 2020, on a seven-mile length of road in Nevada, that their fastest car had attained an eye-watering speed of 331mph – or over 530km/h. Unfortunately for those who envision themselves whizzing about their favourite cities at rapid speeds, this automobile isn't quite road-legal: It steers by using a camera system rather than mirrors.
With 1750 horsepower, a handcrafted, all-alloy, flat-plane-crank 5.9-liter twin-turbo V-8 engine, and a $1.9M price tag, the SSC Tuatara may not have needed a speed record to be really unique. Of course, it's not a bad idea.
The SSC Tuatara accelerates from 0 to 100 kilometres per hour (0 to 60 miles per hour) in 2.5 seconds.
Devel Sixteen with a top speed  of 550 km/h*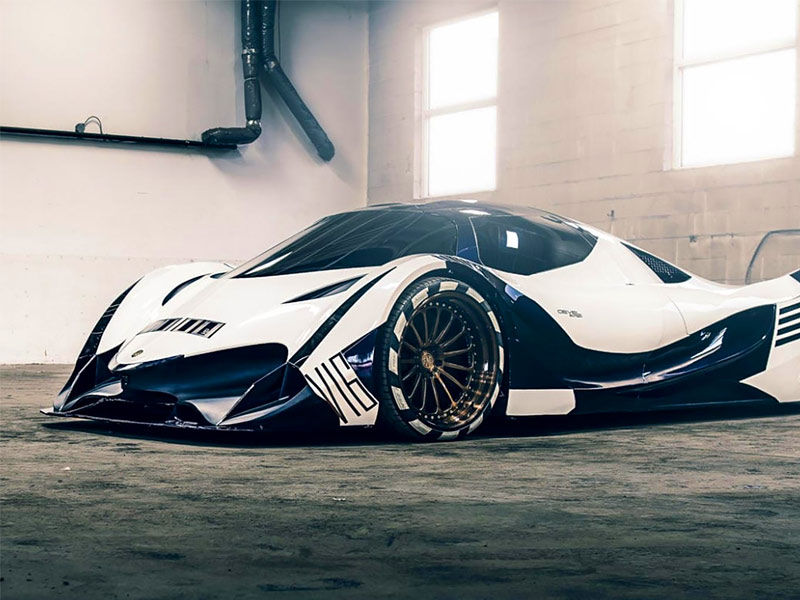 The fastest car in 2021, with virtually unheard-of power and speed from the Devel Sixteen – a car aiming to smash all current records. The Devel Sixteen is up against the next speed limit: 350 miles per hour, with a stated peak speed of 347mph (or 550+ kilometres per hour).
Since its introduction years ago, the Devel Sixteen has got the car business talking, bewildered, while we wait for manufacturing: It has a huge 5,007 horsepower, an 81mm Quad Turbo 12.3L V16 engine, and an overall 'inquire for price', intriguing atmosphere about it at all times. In the year 2021, this is a car to keep an eye on..
*At the time of publication, the Devel Sixteen was still in development. The claimed peak speed of the brand has yet to be proven. As soon as further info becomes available, we will update this post.