These bikes enhance the rider's personality. They give us the impression that we can not rest. One of your fantasies could be to buy or ride a super-fast bike. Feel the rush of adrenaline when you're riding a bike at high speed. Riding a superbike becomes more exciting and adventurous than driving a bike. They shout escape from the daily grind, offering you a way to get your dull commute started. The question is, which bike would you buy if you had enough money? The fastest bike? Is that correct?
Here is a list of the world's top 7 fastest bikes.
Kawasaki Ninja ZX-14R
The fastest bike in the world is the Kawasaki Ninja ZX-14R, manufactured by the Japanese company Kawasaki. This supercar will accelerate from 0 to 100 km/h in just 2.7 seconds. This fast bike is well known for its supremacy at the drag strip, earning it the title of "King of the Quarter Mile."
A massive 1,441cc engine, uncompromising elegance, and premium onboard electronics enable riders to ride the track or the backroads with sophisticated ease. To accommodate the huge engine, Kawasaki built a one-of-a-kind monocoque aluminum chassis.
Engine: 1441cc, 16-valve, four-stroke, liquid-cooled, DOHC, inline-four.
6-speed transmission and a wet multi-disc clutch are standard.
197.3 bhp @ 10,000 rpm is the maximum output.
Torque maximum: 158.2 Nm at 7500 rpm.
Maximum speed: 186 miles per hour.
Front brakes are equipped with 2*310 petal discs and four-piston calipers.
Single 250 mm petal disc with a two-piston caliper at the rear.
593 lbs: wet weight
BMW S1000RR
This sportbike was created by BMW Motorrad to race in the 2009 Superbike World Championship. This bike's 999cc inline four-cylinder engine produces a staggering 207 horsepower. BMW engineered this bike with a light frame for speed. At 11,000 RPM, the BMW S1000RR will provide all of this power to the tires with 83 lb-ft of torque.
Its engine is paired with a 6-speed transmission and a bi-directional quick-shifter. ShiftCam Technology is included in the engine, which improves efficiency across the rev spectrum. The electronics kit of the recent 2019 BMW S1000RR has been revised by BMW. This fast bike features a six-axis IMU that powers the cornering ABS and Dynamic Traction Control.
Engine: 999cc inline four-cylinder with water/oil cooling.
Transmission with a 6-speed constant-mesh transmission.
Maximum power: 207 horsepower at 13500 revolutions per minute.
Torque maximum: 113 Nm at 10500 rpm.
Maximum speed: 188 miles per hour.
Front brakes: Dual 320 mm discs with a 4-piston caliper mounted radially.
Single 220 mm disc brake with a single-piston caliper at the rear.
434 lbs. wet weight
Suzuki Hayabusa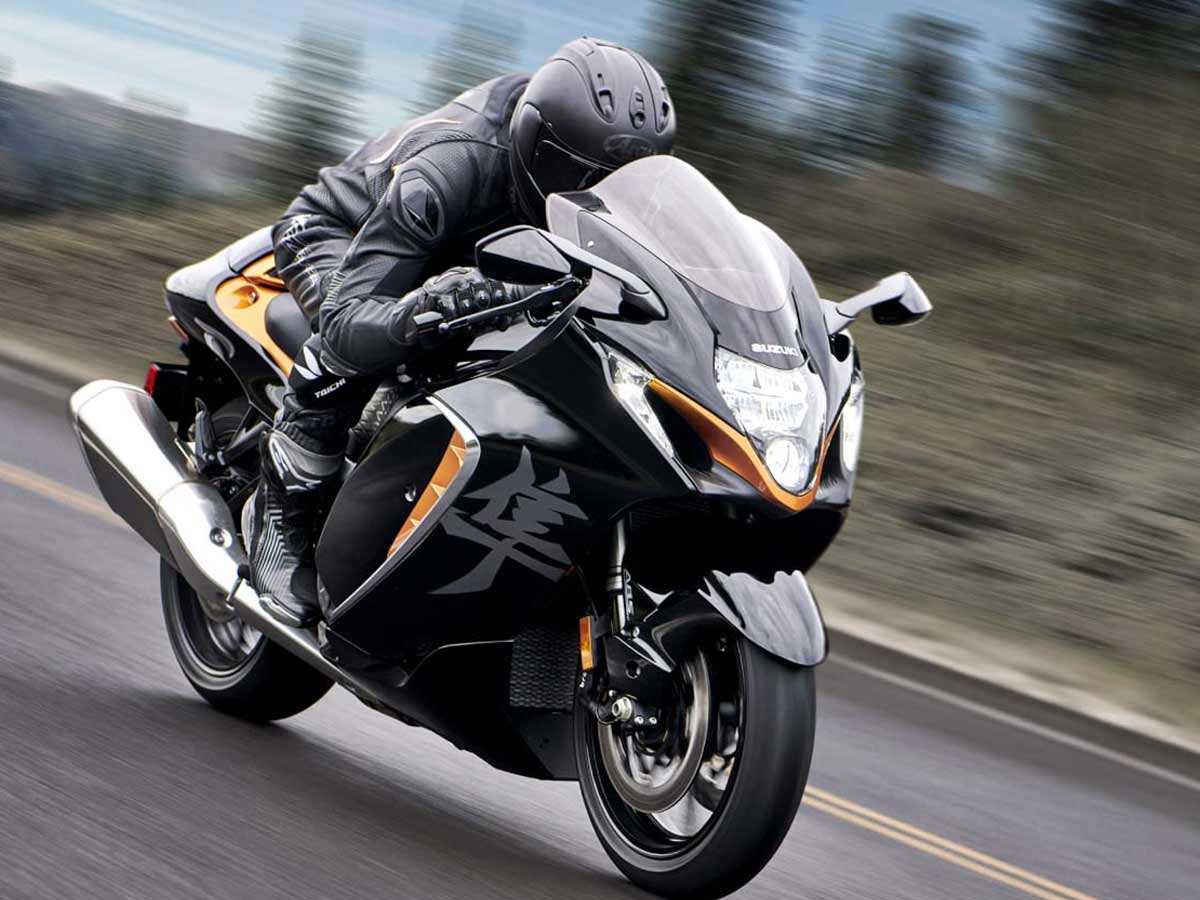 In 1999, Suzuki released the Suzuki Hayabusa. Suzuki's fastest bike is the Hayabusa. Furthermore, this one of the fastest bikes is distinguished by its lightweight and rigid twin-spar aluminum chassis. Its exceptional handling provides riders with excellent power in tight corners, a comfortable ride on the highway, and reassuring composure in sweeping curves.
The sportbike's streamlined, aerodynamic bodywork functions built a different category. It glides through the wind like a peregrine falcon. The bike's superbike-caliber and fully adjustable KYB-supplied suspension provide exceptional handling. Furthermore, the entire floating dual front brake rotors have dependable stopping power.
Engine: 1340 cc, four-stroke, liquid-cooled, DOHC, four-cylinder, sixteen valves.
Transmission with a 6-speed constant mesh.
Maximum power: 197 horsepower at 9500 rpm.
Torque maximum: 155 Nm at 7200 rpm.
The top speed is between 188 and 194 miles per hour.
Front brakes: 2*310 mm Brembo discs with monobloc radial-mount calipers.
One 260 mm disk with Tokico caliper at the rear.
586 lbs. wet weight
Honda CBR1100XX Super Blackbird
Honda CBR1100XX is the company's fastest bike to date. Between 1996 and 2007, this series was created. In 1997, the Honda CBR1100XX beat the famed Kawasaki ZX-11 to become the fastest development bike. It is currently ranked fourth on the list of the world's fastest bike.
In addition to being incredibly fast when needed, this one of the fastest bike assists riders in ticking every box in terms of handling, dependability, comfort, and even price. This superbike's smoothness is enhanced by the dual counter balancer shaft. Its fuel consumption isn't significant, but this tall, powerful, fast bike often transports two people plus luggage.
Engine: 1137cc, water-cooled 4-stroke, 16-valve DOHC, inline-4 cylinders.
Transmission is a 6-speed sequential manual.
The maximum output is 164 bhp at 9,500 rpm.
Torque maximum: 124 Nm at 7250 rpm.
Maximum speed: 194 miles per hour.
Front braking system: 310 twin discs with three-piston calipers.
Rear brakes: 256 mm rotor with a three-piston caliper.
559 lbs. wet weight
MTT Turbine Superbike Y2K 
MTT Turbine Superbike is a non-production bike from Marine Turbine Technologies recognized by the Guinness Book of World Records as the "most expensive production bike." This bike was engineered to remove heat energy from the exhaust and turn it into output power.
Turbine Superbike Y2K is a wheel-driven bike with a turboshaft engine produced between 2000 and 2005. As a result, riding a Y2K Superbike sounds like piloting a fighter jet. This bike has a carbon fiber seat fairing, a rear-mounted microphone, a fuel tank assembly, and a more powerful cooling system. Its engine is diesel-capable.
Engine: Rolls-Royce 250-C18 turboshaft.
Auto-delivery with two speeds.
Maximum power: 320 horsepower at 52000 revolutions per minute.
Torque maximum: 576.5 Nm @ 2000rpm.
227 miles per hour is the top limit.
2*320 mm discs with four-piston Brembo calipers on the front.
Single 320 mm disc with a four-piston caliper at the rear.
460 lbs. dry weight
Kawasaki Ninja H2R
The extreme sport The Kawasaki Ninja H2R is the world's fastest bike. It's a track-only bike with incredible acceleration and a mind-boggling top speed. Furthermore, this bike was built by Kawasaki Heavy Industries. Again, for the first time on a Ninja H2R, Kawasaki employs a lightweight trellis frame, which increases the bike's power and control.
Kawasaki's dog-ring transmission, inspired by MotoGP and F1 racers, offers swift and seamless moving. It has Kawasaki racing parts, racing slick tires, and no signs or mirrors. Its extremely powerful Kawasaki supercharger aids in achieving tremendous acceleration.
Engine: 998 CC supercharged DOHC inline-4.
Transmission is a 6-speed dog-ring.
Maximum Horsepower: 310hp @ 14000rpm
Torque maximum: 156 Nm @ 12500rpm.
The top speed is between 206 and 249 miles per hour.
Front brakes: dual-semi floating, radial-mount discs with four-piston calipers, 2*330 mm.
Rear brakes: 250 mm single disc with two-piston calipers that are opposed.
Weight when wet: 476.0 lbs.
Dodge Tomahawk
The Dodge Tomahawk is the fastest bike ever made, with a top speed of 420 mph. In 2003, Dodge introduced the first superbike. According to sources, Dodge has only sold 9 of these bikes so far.
The Dodge Tomahawk, unlike most superbikes, has four wheels – two front and two back. Surprisingly, Tomahawk could go from 0 to 60 miles in 1.5 seconds. Around the same time, this non–street-legal model vehicle has the same number of tires as a car while retaining the bike shape factor.
V-10 engine, 8.3 liters, 20 valves, 90 degrees
Manual transmission of two speeds
500 hp at 5600 rpm is the maximum output.
Torque maximum: 712 Nm at 4200 rpm.
The top speed is between 300 and 420 miles per hour.
Dual 508 mm 16 piston disks double as the rear brakes.
Front brakes consist of a single 508 mm 8 piston disc.
1.500 lbs. wet weight
Before we get into ranking the sportbikes, it's worth noting that, like supercars, the bikes are constantly swapping spots for top speed and acceleration.