Life
On May 2, 1921, Satyajit Ray was an Indian director, playwright, documentary filmmaker, novelist, magazine editor, illustrator, and music composer. Ray was born in Calcutta to famous writer Sukumar Ray, who was active throughout arts and literature. He lost his father when he was barely 3 years old, so he and his mother had to survive on her meager wage as a writer. As a commercial artist, he was lured towards independent cinema after encountering French filmmaker Jean Renoir and seeing Vittorio De Sica's Italian neorealist film Bicycle Thieves (1948) on a visit to London.
Upendrakishore Ray, Satyajit Ray's grandfather, was a writer, artist, philosopher, publisher, amateur astronomer, and head of the Brahmo Samaj, a religious and social organization in the nineteenth-century Bengal. He also established U. Ray and Sons, a printing business that played an important role in Satyajit's life. Ray began working as a junior visualizer at D.J. Keymer, a British advertising firm, in 1943, earning 80 rupees a month. While he enjoyed visual design (graphic design) and was generally well-treated, there was strain between the firm's British and Indian staff.
 Ray afterward worked for Signet Press, a new publisher founded by D. K. Gupta. Gupta commissioned Ray to develop book covers for the firm and give him total artistic freedom. Ray created covers for a variety of publications, including Jibanananda Das' Banalata Sen and Rupasi Bangla. Ray co-founded the Calcutta Film Society in 1947 with Chidananda Dasgupta and others. They showed a lot of foreign films, and Ray viewed and analyzed a lot of them. During World War II, he befriended American troops stationed in Calcutta, who brought him up to date on the newest American films playing in the city. 
Professional life
Every film discussion is incomplete until the famous director Satyajit Ray is mentioned; he is one of the few Indian filmmakers who won an Academy Award (Oscar). Satyajit Ray movies were constantly full of new lessons for budding filmmakers. In his 37-year career, he directed 36 films. Some claim Ray felt he had no option but to continue making films to ensure that his staff was never laid off and that their families were adequately cared for. Every film stands out in its manner, making it hard to choose between them. 
Nonetheless, here are 8 Satyajit Ray movies that you should not miss-
1)Pather Panchali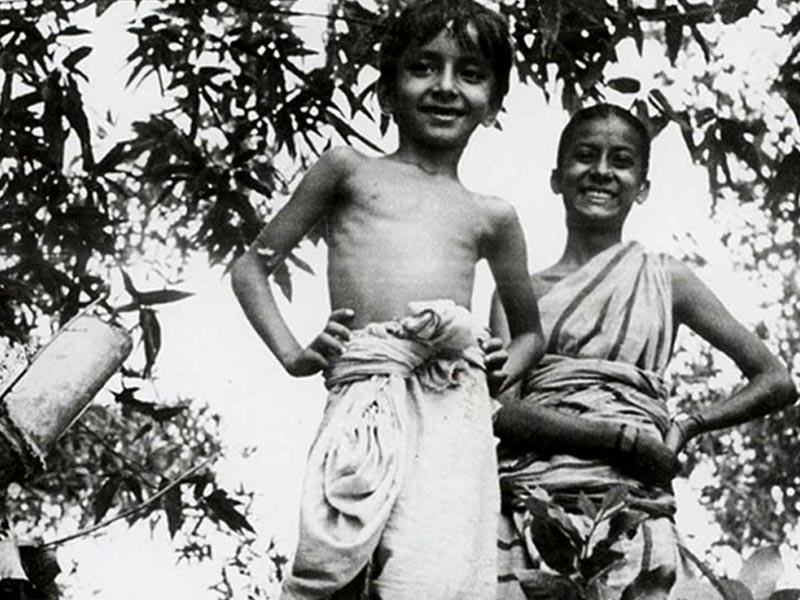 This masterpiece is a social drama based on Bibhutibhushan Bandyopadhyay's classic novel of the same name. The film's storyline focuses on Apu, a young kid from a poor family, and his everyday existence in a remote Indian hamlet. The film was made by the then-West Bengal government when the famous director ran out of funds after filming about half of the picture. 'Pather Panchali' is the first film in 'The Apu Trilogy.'
2)Aparajito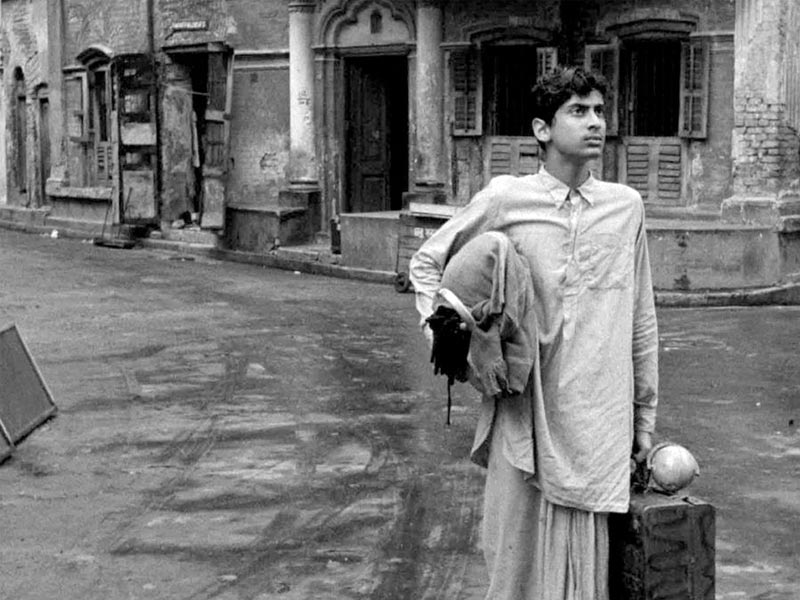 The second film in 'The Apu Trilogy,' 'Aparjito' (The Unvanquished), follows Apu's family. Following the death of his father, Harihar's mother, Sarabjaya, works as a maid. Meanwhile, Apu receives a scholarship to attend school. Despite her sadness, Apu's mother knows that she must send him to Calcutta. He ultimately settles down and gets a job at a printing press. Back in the Bengal village, a lonely Sarabjaya falls ill. Soon after, Apu learns of the news, but by the time he returns home, it is too late since his mother has died without being treated.
3)Apur Sansar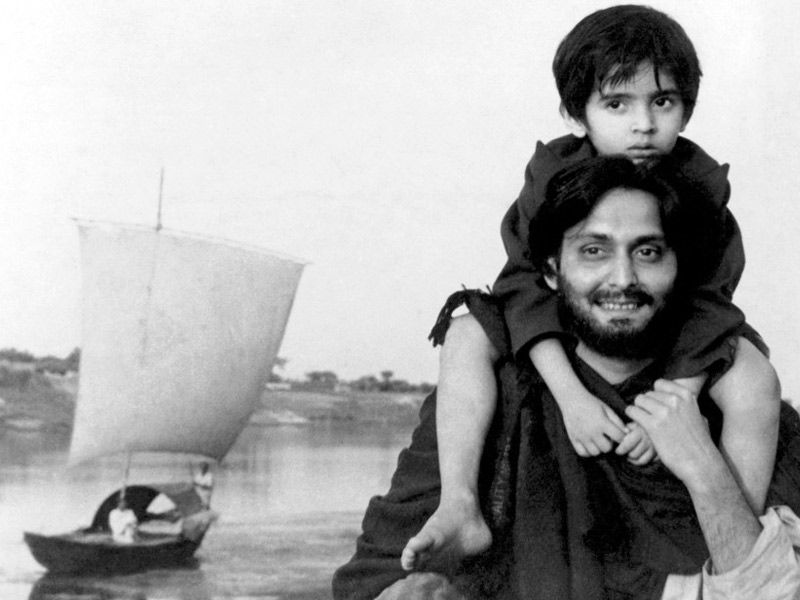 Ray's 'The Apu Trilogy,' 'Apur Sansar' (The World of Apu), was released in 1959. Unemployed, Apu marries Aparna and goes to Calcutta to pursue his dream of becoming a writer. However, his wife dies while giving birth to their baby, blaming the kid for his wife's death. He then abandons his child with his maternal grandparents and embarks on his adventure as a wanderer. His old friend calls to a wandering Apu, persuading him to return to his son. Ultimately, in the film, Apu reunites with his son.
4)Jalsaghar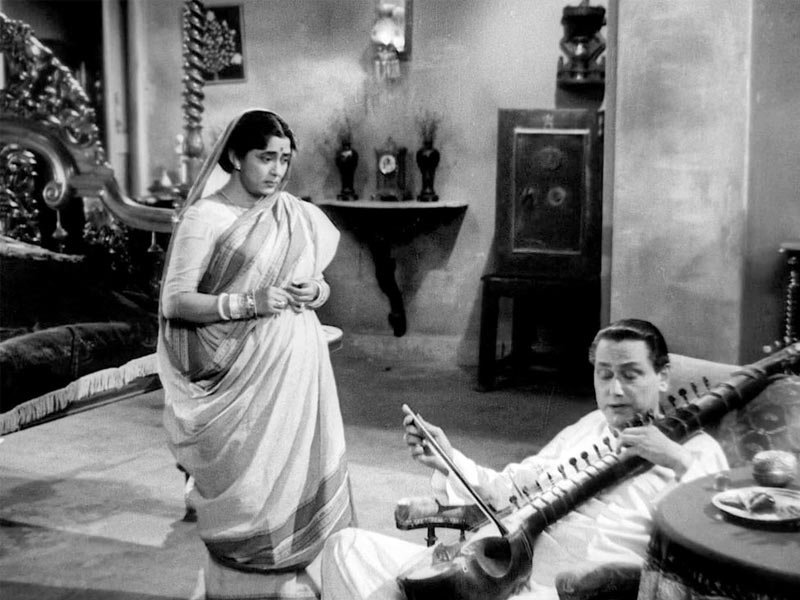 The plot of 'Jalsaghar' (The Music Room) revolves around a dissolute zamindar counting down the days before his death. Instead of safeguarding his money and property, the zamindar character, played by Chabi Biswas, spends his time listening to music and hosting spectacles. Things worsen when his holdings are destroyed by the flood, and the dissolution of the zamindari system has ramifications. Chabi Biswas became a Bengali film icon for his amazing performance in this Ray masterpiece.
5)Devi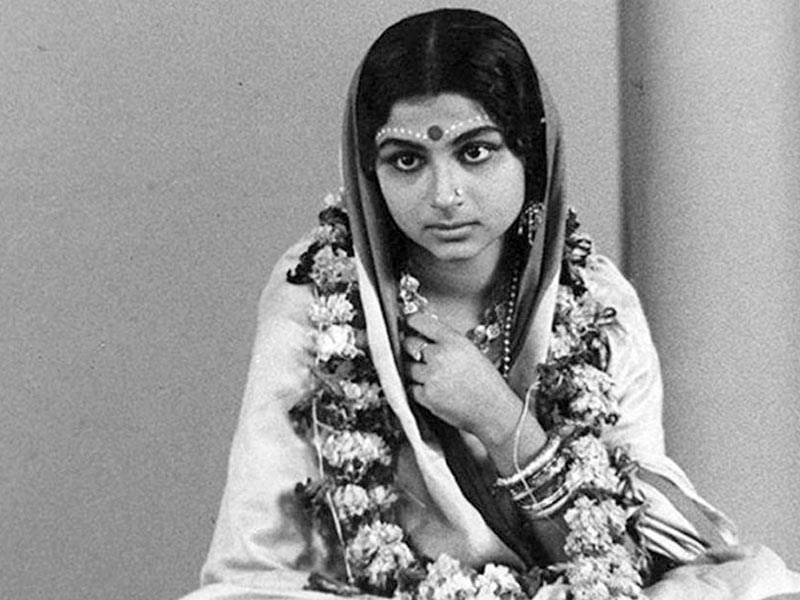 The film 'Devi' (The Goddess) depicts the story of a young girl named Dayamoyee (played by Sharmila Tagore) who was forced to marry Umaprasad (played by Soumitra Chatterjee). She looks after her father-in-law, Kalikinkar Choudhuri. He claims she is a reincarnation of Goddess Kaali and must be worshipped. Dayamoyee is soon worshipped by the entire hamlet. Her husband, Umaprasad, a schoolteacher from outside the community, is unable to persuade her. She comes to believe that she is the embodiment of the Goddess. But her faith soon turns into a catastrophe.
6)Teen Kanya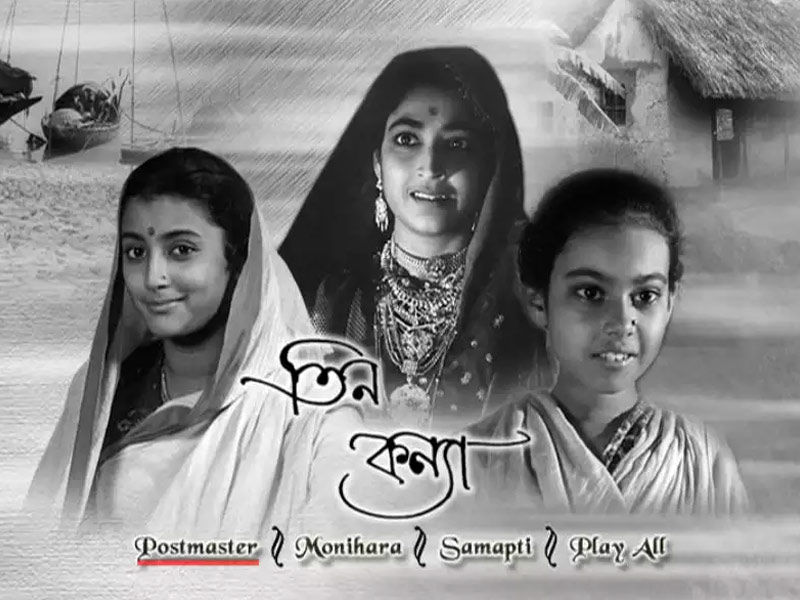 Satyajit Ray translating Rabindranath Tagore's stories for the film is one of the best writer-director combinations in global cinema history. Tagore was the first non-European to receive the Nobel Prize in Literature. 'Teen Kanya' blends three portions of a narrative, with common key characters connecting all three. Even the President's Silver Medal for Best Picture was awarded to this film. Only two episodes were released on the foreign market: 'The Postmaster' and 'Samapti.' The third episode, 'Monihara,' was shown to the Indian public.
7)Charulata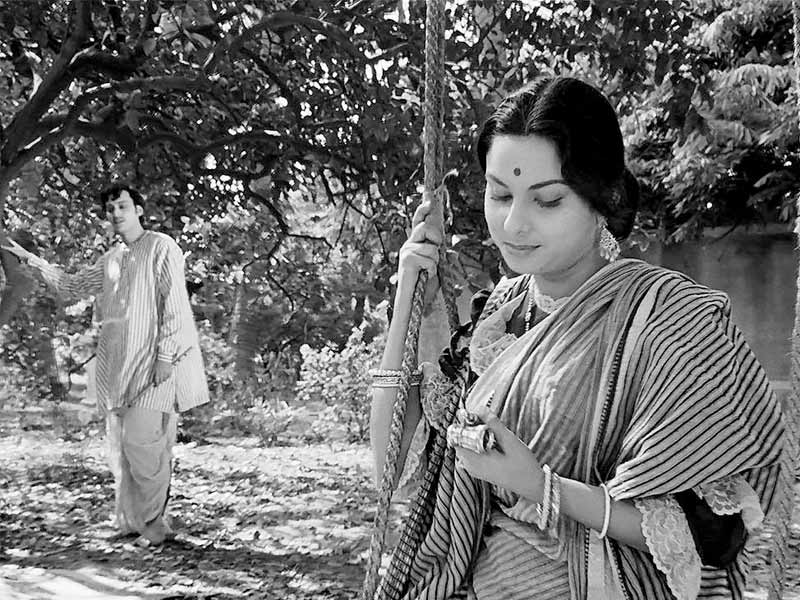 'Charulata' (The Lonely Housewife) focuses on Charu, a lonely housewife married to a wealthy guy Bhupati. Bhupati, on the other hand, spends most of his time at his local newspaper office, so he begs his cousin Amal to keep his wife company. Amal is an aspiring writer who assists Charu in honing her writing abilities and finally falls in love with her. Charu freely expresses her emotions to Amal, but despite his sentiments, he does not want to ruin her marriage to Bhupati.
8)Goopy Gyne Bhaga Byne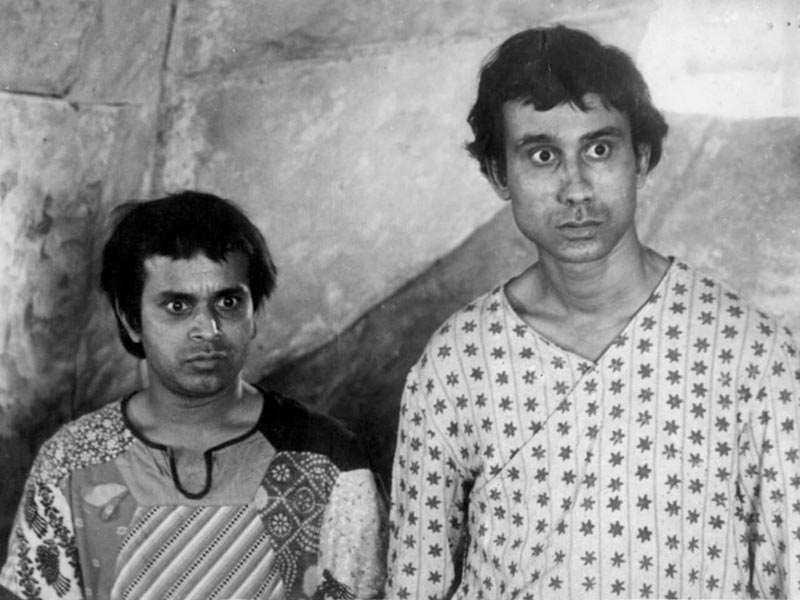 Ray's decision to make 'Goopy Gyne Bagha Byne' is one of the most fascinating decisions he made, given his portfolio, which included films with a social purpose. It's a fantasy adventure starring the titular characters inspired by Satyajit Ray's grandfather, Upendra Kishor Roychoudhary's story. Ray ventured into the comedy genre for the first time since 'Parash Pathar' with 'Goopi Gyne Bagha Byne.' Surprisingly, he made this picture in response to a request from a teenage Sandip Ray. The latter would go on to become a national award-winning director himself.