Our bathrooms are the only places we get complete privacy and relaxation. So here are bathroom designs to feel that privacy in style. 
Bathrooms have the unfortunate reputation of being one of the least fashionable rooms in the house. Bathrooms are generally seen as simply utilitarian: where you dry your hair, wash your teeth, or perfect your skincare routine, whether you're dealing with a little powder room or the whole suite. But in reality, Bathrooms are brimming with infinite inspiration—all you have to do is become a little creative.
With so many possibilities, designing the bathroom of your dreams might appear to be a daunting task. Renovating your bathroom will not only make your space seem more in line with your style, but it may also boost the total worth of your property, according to the study. Adding a full bathroom can boost the value of your property by 5.7 % on average, which can come in handy if you work in the real estate industry or want to sell or rent your property.
The Top 7 Bathroom designs you don't want to sit back on!
1)Textured Bathrooms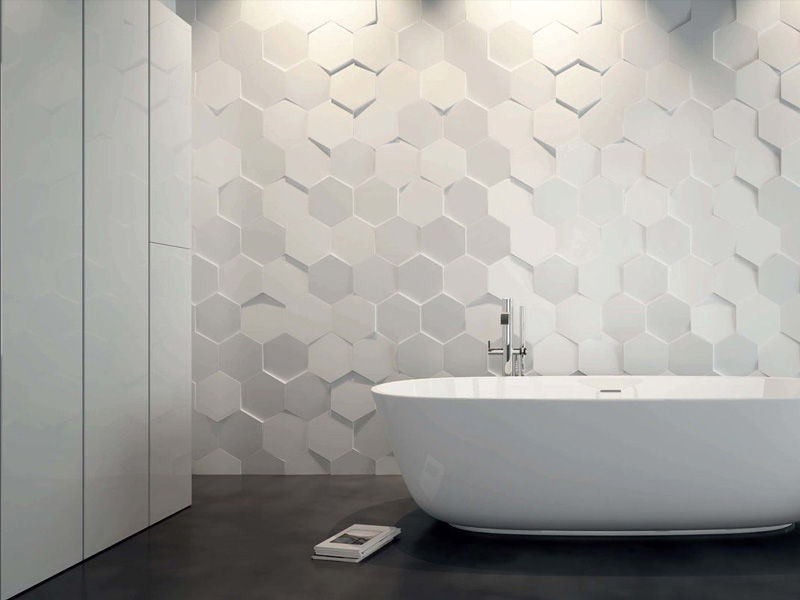 An all-white space doesn't have to be dull, as Antonio Martins' San Francisco bathroom demonstrates. This area has a lot of visual appeal thanks to the subway-tiled shower, Imperial Marble trim, and Phillip Jeffries wallpaper. Texturing isn't right for every bathroom; it may make a tiny bathroom feel even smaller. It can give additional mold areas to thrive in a damp bathroom. On the other hand, texturing may truly bring out the qualities of a trendy bathroom that is spacious and dry enough.
You can soften the vibe of the area with a few creative design ideas. To produce a textured and pleasant-to-touch finish, use textural materials like cork and concrete, contrast smooth and rough surfaces, or experiment with tile patterns. A natural rug will provide texture to a tiled bathroom even more.
2)Palm art Bathrooms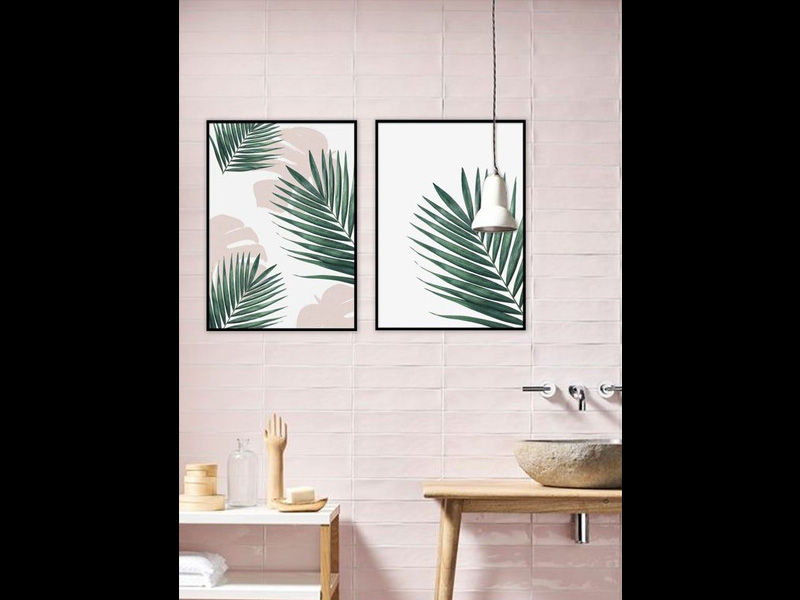 Take a hint from designer Mary Celeste Beall's Knoxville house to brighten up an older bathroom without enduring a full remodel. She blends a gorgeous palm wallpaper with an extravagant sink and vanity in this bathroom, both unique to the area. This style is best suited for tiny bathrooms because renovating or painting small areas might be difficult. However, there is a simple solution: use colorful wallpapers to instantly give color and vigor to your bathroom. Palm art bathrooms are ideal for those looking to add a touch of exoticism and tropical sensations to their area. Bright colors are frequently favored.
3)Brass Finish Bathrooms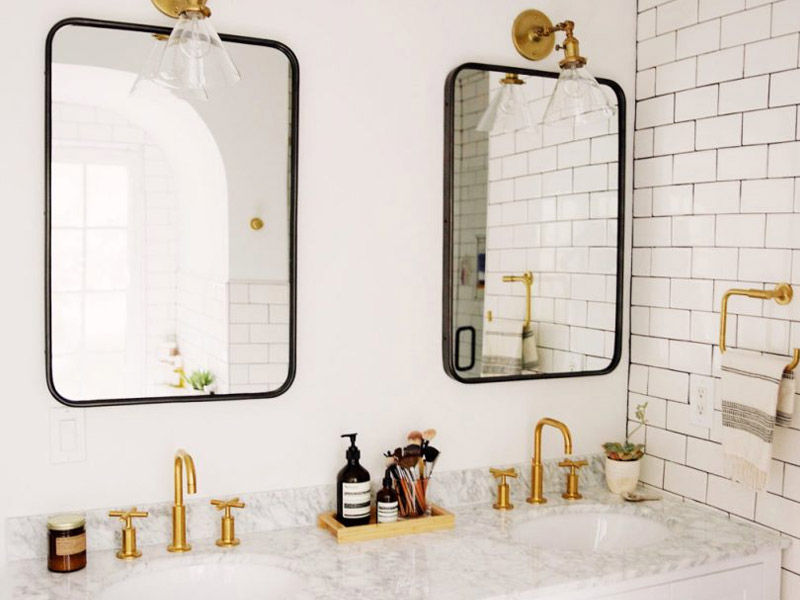 Brass is one of the most popular re-emerging home decor materials in recent years. From trendy kitchens to on-trend bathrooms, brass has been slowly making an appearance. Brass lends instant warmth to a minimalist design, provides the ideal contrast for concrete bathrooms, and gives a traditional marble bathroom an attractive edge; brass can be used in nearly any bathroom plan.
Brass bathroom taps, brass doors, pulls or knobs, and brass bathroom wall lights will go a long way in adding lots of warm metallic without blingy or overwhelming. To take the design even further, add some brass decorations, bathroom items, or an enormous brass wall mirror.
Reminiscent of the 18th-19th Victorian England mixed with a bit of steam-punk aesthetics, the Brass Finish bathrooms utilize tiny hints of brass on decorative ornaments in the bathroom. It looks the best when incorporated into a simplistic or classic rosarian design. 
4)Integrated Lighting in Bathrooms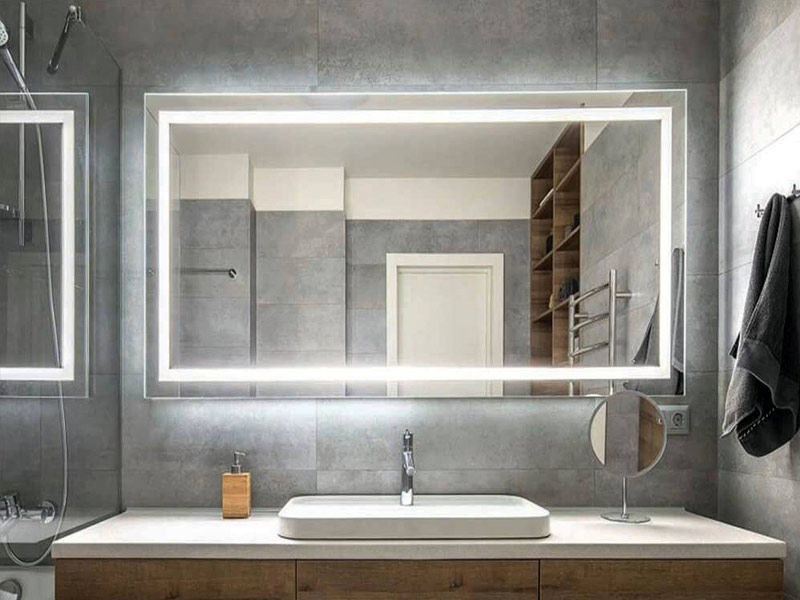 A full outdoor light fixture assembly with a built-in LED or halogen bulb is an integrated lighting fixture. While integrated lighting fixtures make it easier to install lighting systems, they can make maintenance and lighting upgrades more challenging. They are not normal "bulbs" that can be changed, and they are engineered to offer a certain Lumen output. Integrated LED fixtures are designed to endure a long time, often a decade or more. Statement powder rooms aren't new, but as lighting technology advances, we'll be able to incorporate lighting into design in more creative and effective ways.
They have a minimalist appearance to give the bathroom a cleaner–lined, modern feel. Plus, today's LEDs have greater power and much warmer light quality than previous generations, resulting in a more unified image when used alongside incandescent lights.
5)Stone covered Bathrooms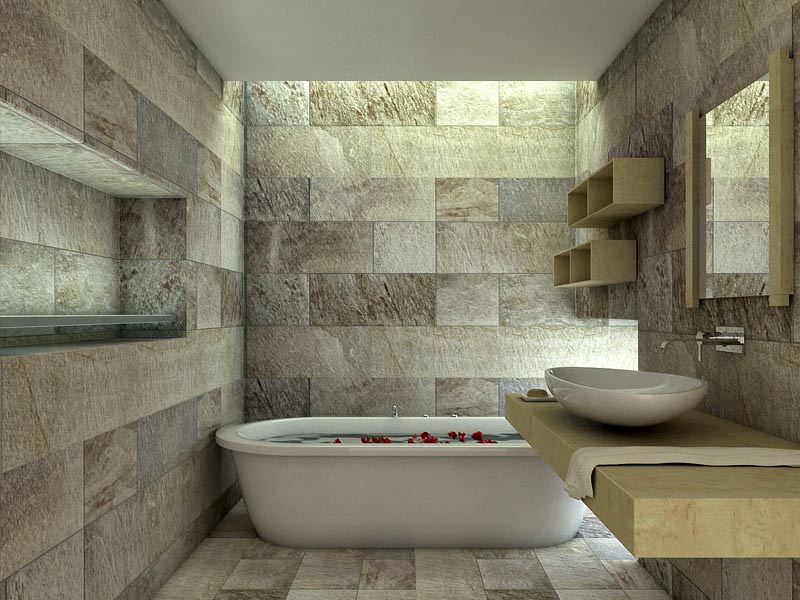 To protect themselves from the moisture and splashes exposed daily, bathroom walls must be water-resistant. For this purpose, wall cladding is a perfect choice since it maintains the bathroom looking nice and comes in several alternatives to fit any budget. When comparing the price per square meter of cladding to tiles, cladding is usually more cost-effective. Stone is often the costliest cladding material, yet it is well worth the investment due to its elegant appearance. It also creates a natural aspect with stone-like cladding on the walls, nearly giving the impression that the walls have been carved out of stone.
This can be matched with copper or brass faucets and bathroom décor together with a mix of warm light tones to contrast the stone-clad interiors; you can add a few indoor plants to add a more natural and peaceful look.
6)Day-Lit Bathrooms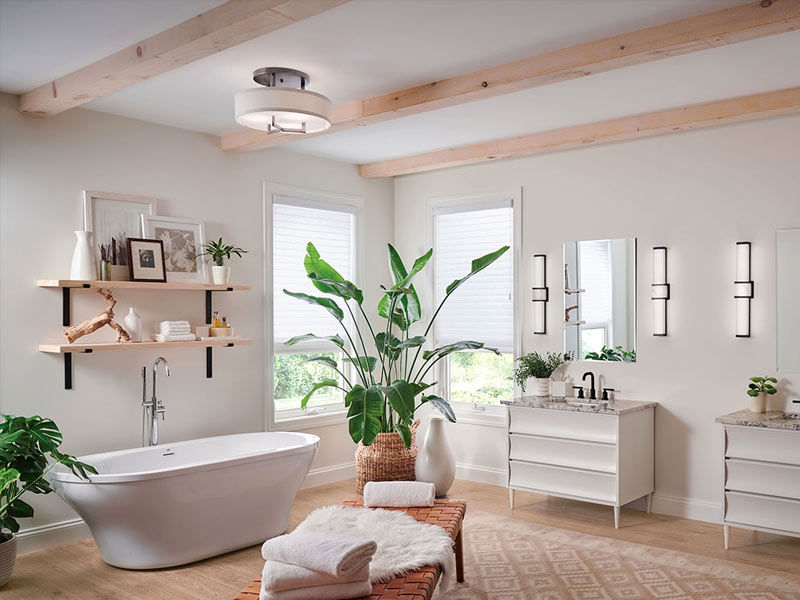 Natural light sources in the bathroom are essential for many individuals since they support our biological cycles and are typically seen as stimulating. Bathrooms with natural light sources are also highly popular, as they can simply be aired through a window. People's natural daily cycles have long been impacted by light and darkness, and light and brightness have a big impact on our mood and how we feel. In your bathroom, you can use the light color temperature and the color itself to create atmospheric effects.
Simple track lighting may be used to provide individualized illumination as well. Yellow is uplifting and energizing. The color orange is associated with joy and warmth. The green light has a relaxing and healing effect on the human body. Blue is a relaxing and refreshing color paired with warm color temperatures to produce a blissful bathing experience.
7)Shaped tiles Bathrooms
With hundreds of options for durable, easy-to-clean tiles and unlimited designs and combinations, you can always create a fully unique bathroom tile design. Edging tiles and frames assist in offering a unique designer touch to your room while also making it stand out. In 2021, contemporary designs such as shaped tiles will be fashionable. Incorporating sculptural, 3-D tiles into your decor may quickly add some contemporary flair.
There are many lovely non-standard, less frequent shaped tiles like stars and crosses, basketweaves, arabesques, scallops, ovals, triangles, and so on, in addition to the conventional geometric shaped tiles. A diamond-shaped tile can be utilized to produce a range of appearances, from elegant to modern. Similarly, you can use shaped tiles to give shape to your imagination and creativity. And with the availability of different shaped tiles, we are not confined to a distinct fashion genre. Because we now have the power to remodel or design our bathrooms on any topic or concept we like.  
When it comes to bathroom design, there are no restrictions regarding shaped tiles. You are free to use your creativity.