Fruits Basket, also known as Furuba or Fruba in Japan, is a manga series written and drawn by Natsuki Takaya. From 1998 until 2006, it was serialised in Hakusensha's semi-monthly Japanese shjo manga magazine Hana to Yume. The title of the series is derived from the name of a popular game played in Japanese elementary schools, which is mentioned throughout the series.
Fruits Basket is  Toru Honda's story, an orphan  who discovers, after meeting Yuki, Kyo, and Shigure Soma, that 12 members of the Soma family are cursed. Tohru also get to know about the struggles and sorrows faced by the afflicted members of the Soma family, and uses her own giving and loving attitude to help them heal their emotional scars. Tohru also discovers more about herself and the extent to which others care for her.
TMS Entertainment's 2nd anime TV series adaption, helmed by Yoshihide Ibata, started in April 2019, with the first season airing from April to September 2019, the second season airing from April to September 2020, and the third and final season airing from April to June 2021.  In September 2015, Takaya began production on a sequel, Fruits Basket 2, and a spin-off series, The Three Musketeers Arc, in April 2019.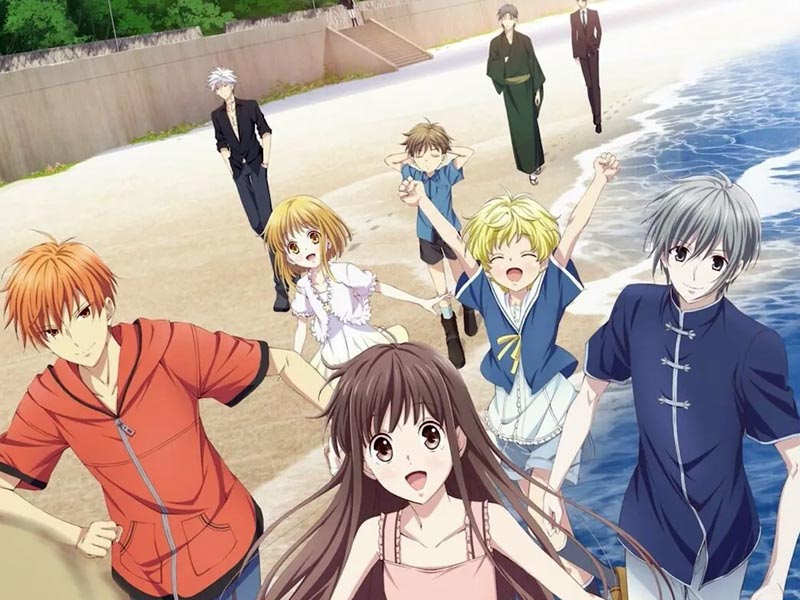 Studio Deen, directed by Akitaro Daichi, adapted the original manga into a 26-episode anime television series in 2001. The 2nd  anime TV series TWEfrom TMS Entertainment, directed by Yoshihide Ibata, began broadcasting in April 2019, with the first season airing from April to September 2019, the second season from April to September 2020, and the final season from April to June 2021.
Tohru goes to  Soma's place after after a landslide destroys her tent, she meets Kyo, Yuki and Shigure's orange-haired cousin, who crashes through the ceiling and challenges Yuki to a fight on her first day living there Tohru stops him, but collides with him, causing him to change  into a cat in front of her, revealing the Soma family curse: that 12 family members, with the exception of Kyo, are possessed by spirits of the Chinese zodiac and transform into their zodiac animal when they are weak, tensed, embarrassed, or touched pleasentby someone of the opposite gender.
Tohru is permitted to stay with the Soma family after discovering the family secret and promising not to tell anybody. Despite the fact that the Soma curse is far deeper and darker than Tohru originally believes, her presence and acceptance of it quickly becomes a powerful, good impact on people who are cursed by the zodiac. She sets out to break the curse and encounters and discovers the Soma's vengeful zodiac spirits along the way, including their leader, Akito, who, according to Chinese folklore, holds the position of "God" and keeps the family together while also binding them to their spirits. 
From July 1998 through November 2006, Hakusensha serialised the 136 chapters of Fruits Basket in Hana to Yume in Japan. From January 19, 1999, to March 19, 2007, these were collected into 23 tankbon volumes. The initial 2 volumes of Fruits Basket: Collector's Edition were released on September 4th, 2015 in Japan, under the Hana to Yume Comics Special imprint. On July 20, 2016, the 12th and final book was released.
Characters of Fruits Basket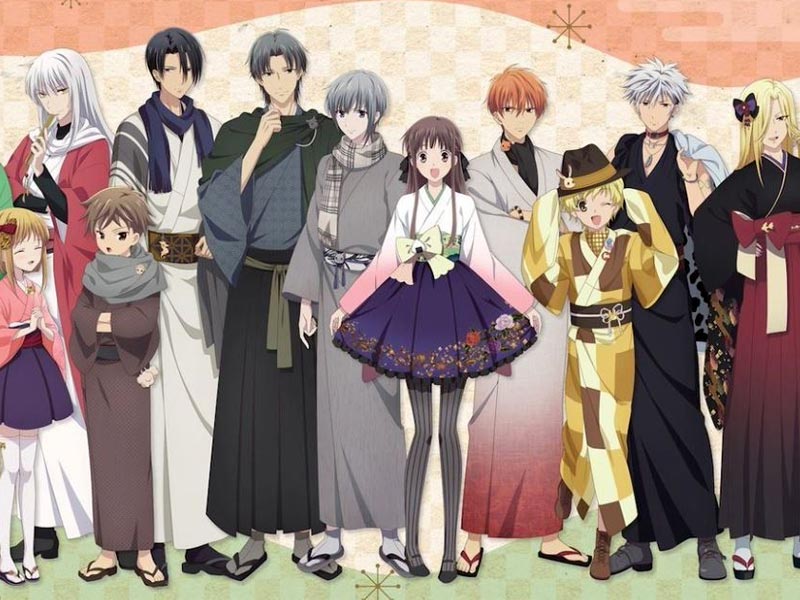 The characters are different and written in a fresh manner. The majority of them are interesting characters who can be related to in some way. Only a few of them are actually captivating. However, the great majority of the characters are developed in such a way that they are engaging and entertaining, even if their initial character concept is a little monotonous or overdone.
Visuals of Fruits Basket
The art style is distinctive and lovely. Scenes and people are detailed and appealing to the eye, with amazing shading and lighting. For quick views of characters, colourful, abstract backdrops are frequently employed, such as Ayame with a background of flowers or Yuki with a background of light pink-and-blue bubbles. Characters under sunlight are depicted so beautifully. Shoujo effects were also visible. Several scenes and shots feature beautiful scenery, greenery, or city backdrops.
The characters' facial expressions, postures, and movements are superb at portraying who they are and what they are experiencing. The character designs, of course, are fantastic and difficult to forget.  Because the facial emotions are so well done, it's feasible to obtain some terrific response shots from this series. Fruits Basket is full with amusing phrases. When Tohru is dazzled and her eyes are replaced by swirly-things, the style turns a little ridiculous and simplistic. This type of funny art isn't loud enough to be irritating, and it never appears sloppy or badly made.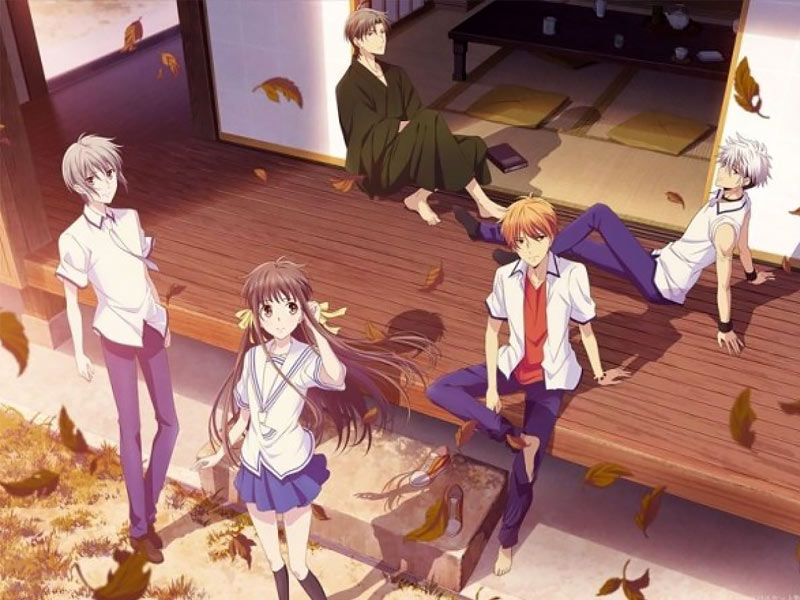 Two of my favourite response photos are shown below (of the screencaps I took while watching the series, anyway). Occasionally, Fruits Basket will include lovely creatures. Like The boar, the tiger, the sheep, and the rat. The monster is a strange mix of disturbing/creepy /deformed. Monsters abound in anime, although the most of them aren't really frightening or menacing. 
Audio of Fruits Basket
There are several excellent, poignant instrumental OSTs available. They play an important role in setting the tone for scenes and enhancing the emotions and feels in the scenes. Maaya Sakamoto (Akito), Takahiro Sakurai (Ayame), and Miyuki Swashiro (Miyuki) are among the series' veteran and well-loved voice performers (Kyoko).
Tokyopop has licenced the series in English in North America and the United Kingdom, while Chuang Yi has licenced it in Singapore. Madman Entertainment has the rights to import the Singapore edition to Australia and New Zealand. In North America and Singapore, all 23 English-language volumes have been issued. Furthermore, in October 2007, Tokyopop issued a box set collecting the first four volumes and began re-releasing previous volumes in "Ultimate Editions," which combine two consecutive volumes into a single bigger hard-cover book with new cover art.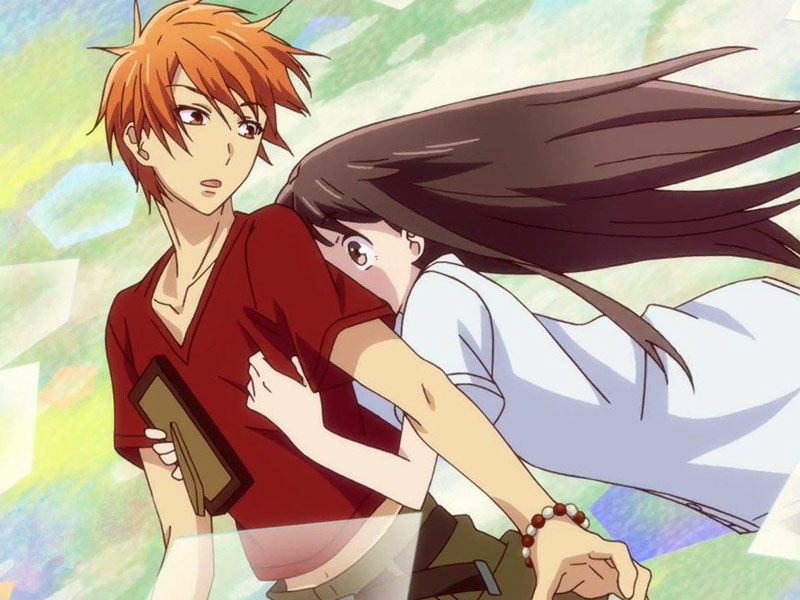 However, the initial Ultimate Edition release received mixed reviews because it faithfully reproduced the first two volumes without changing page numbers or rectifying past faults. Six Ultimate Editions have been issued as of June 2008, encompassing the first twelve volumes of the series. The series was re-licensed by Yen Press after Tokyopop halted publishing, with intentions to create twelve omnibus volumes that correlate to Hakusensha's collector's editions. Yen Press began publishing Fruits Basket: Collector's Edition in English in June 2016.