Dilip Sir has left us a legacy of memorable movies, so today we bring you, the Best Dilip Kumar Movies…
While Bollywood propelled Indian film into an evocative dream, one actor steadily established it as a major art form. Dilip Kumar changed Indian cinema by igniting Dilip Kumar movies with his skill at a period when Filmfare was important.
Dilip Kumar, generally considered one of the finest performers of all time, died on Wednesday in Mumbai, leaving admirers devastated. He was 98 years old. Throughout his illustrious career, he appeared in some Indian cinema's most important movies, redefining the fundamentals of acting with his performances.
Dilip Kumar, known for pioneering the notion of "realistic acting," set the path for future greats. Dilip Kumar, born Muhammad Yusuf Khan, made his film debut with Jwar Bhata (1944), produced by Bombay Talkies. Slowly gaining a place in the hearts of critics and audiences alike, the actor established himself as one of the finest.
So, here is a list of the 8 Best Dilip Kumar Movies. For this list, I considered films that influenced Kumar as a performer and the art form itself.
Uran Khatola 
Uran Khatola is a film directed by S. U. Sunny and produced by music director Naushad. Dilip Kumar, Nimmi, Jeevan, and Tun Tun appear in the film. Naushad composed the soundtrack for the film. Shakeel Badayuni wrote the songs. In a city controlled by women, a man's plane crashes. He falls for a rural girl who saves him. The city's queen falls in love with him as well, but she finds that he does not love her.
Deedaar
Nitin Bose directed Deedar, which was released in 1951. Ashok Kumar played Dr. Kishore, Dilip Kumar played Shyamu, Nargis played Mala, and Nimmi played Champa. The film is based on the novel 'A Suitable Boy.' Nitin Bose's black-and-white film Deedar stars Ashok Kumar, Dilip Kumar, Nargis, and Nimmi. When the hero's childhood love is torn from him owing to social disparities, the story becomes one of unfulfilled love.
A young couple is separated by the girl's father in this romantic melodrama. The boy is blind in an accident.
It's a melancholy narrative in which Dilip Kumar portrays a blind musician who goes in search of his boyhood sweetheart, only to inadvertently cause difficulties. But do you know what makes it function so well?
Devdas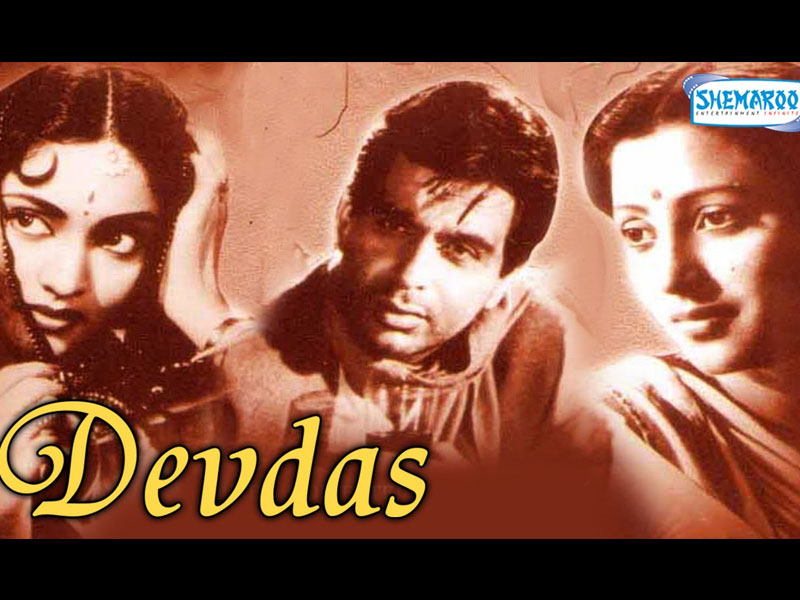 Devdas, widely recognized as one of the best Indian movies ever produced, followed the romantic journey and emotional collapse of a pretentious young man from a powerful family. It got good reviews and became an everlasting classic after being adapted from Sarat Chandra Chattopadhyay's novel of the same name. According to the general view, the tremendous response to Bimal Roy's magnum work placed Dilip Kumar as the resident 'Tragedy King' of Indian film.
Much of the film's popularity may be attributed to the profound portrayal of the rebellious character, which is regarded as a masterpiece of Indian cinema. The performer drew out the psychological and emotional functioning wonderfully.
Unlike Shah Rukh Khan's pompous comprehension, Kumar delivered a far more profound performance. Dilip Kumar brought a multi-faceted view to a seemingly one-dimensional character with Devdas' deep-rooted ego, drunkenness, and rebellious attitude, blended with underlying compassion and unrequited love for Paro.
Naya Daur 
The film, directed by B R Chopra, was about what happens when two excellent friends fell in love with the same lady. It is arguably most recognized for the classic racing scene. The tonga-riding rustic hero, represented by 'Sahab,' defeats his rich opponent. The film was the second-highest-grossing picture of the year, after only Mother India, and established Dilip Kumar as a synonym for success.
'Naya Daur,' as the title indicates, is about a new age of transition in India, establishing themes of industrialization and post-independence pain. The film stars Dilip Kumar as Shankar, a tonga wallah living beneath the heavy heel of industrial riches. It follows his attempts to defy the authorities for equality.
'Naya Daur' was released during a period when such notions and thematic repression were not relevant to the public, ushering in a wind of change in the art of cinema. Kumar spearheaded the film, which earned him his fourth "Filmfare Award for Best Actor."
Ram Aur Shyam 
The blockbuster featured Dilip Kumar in a dual role, providing him a chance to exhibit his acting talents. The Tapi Chanakya-directed classic was a clean entertainment that focused on the adventures of identical twins.
Dilip Kumar surprised and exceeded spectators' expectations with his comedic timing, flawlessly painting out the director's humorous concepts. The film's nuanced examination of Indian identity and culture is what made it so enjoyable to see. Both characters develop different sensitivities and personalities as they grow up in various social strata. While these subtle connections laid the groundwork, Kumar's genius brought every notion to life with rib-tickling humor.
Gunga Jumna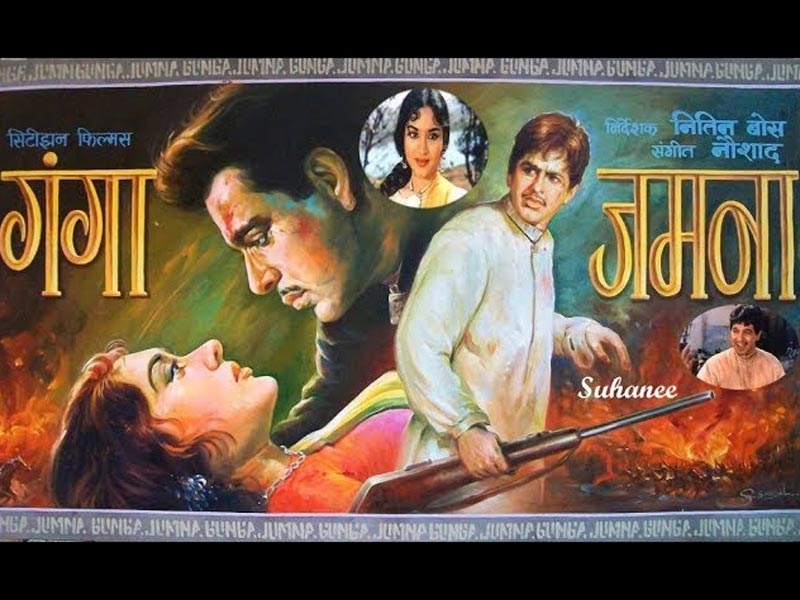 Gunga Jumna is a dacoit criminal drama film directed by Nitin Bose and written and produced by Dilip Kumar, with lines penned by Wajahat Mirza. Dilip Kumar and Vyjayanthimala appear in the film. After Ganga and Jumna's mother dies, Ganga returns to work for her ex-employer. At the same time, Jumna moves to the city to become a police officer. His first mission is to face his convicted brother.
The depiction of two brothers and their clashing views against the backdrop of a discriminatory society came about with Gunga Jumna, a project in which Dilip Kumar was actively involved (to the extent of repeated suggestions he ghost-directed it). Picking up on the subtler subtleties of his rural character, whether via body language or voice, the actor performs yet another tour de force to impact the next generation of aggrieved Vijay.
Kranti
Kranti is a Hindi film directed and produced by Manoj Kumar, with a screenplay written by Salim- Javed. It stars Manoj Kumar and an ensemble cast that includes Dilip Kumar, Shashi Kapoor, and Hema Malini. Sanga, Raja Laxman Singh's faithful employee, is wrongly accused of murdering him. He escapes from prison and organizes a group of rebels whose single goal is to drive the British out of India.
Mughal e Azam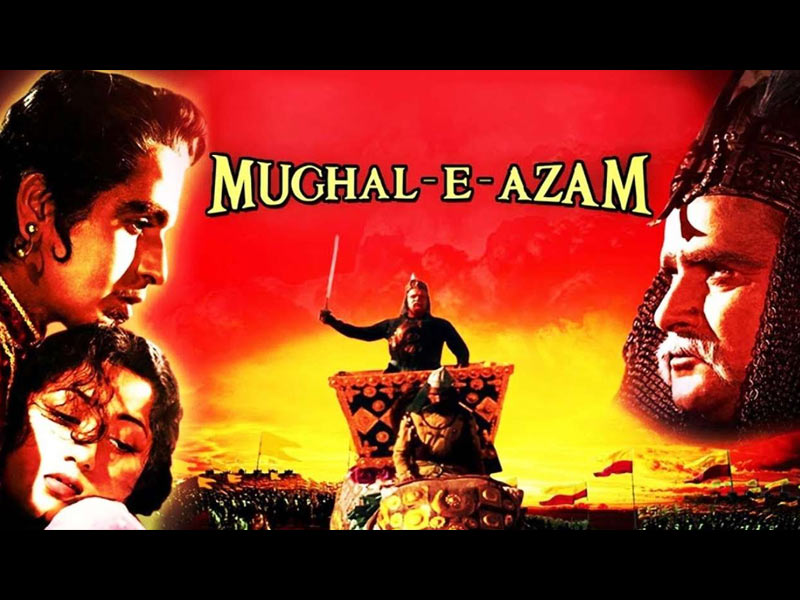 'Mughal-E-Azam,' a magnum-opus in the making, was a vision of tremendous ambition. The film, directed by K. Asif, took ten years to finish. 'Mughal-E-Azam appeared to be a result of unsubstantiated yearning, marred by controversy, financial incapacity, and creative stalemate. However, with K. Asif's commitment to aesthetic detail, Shapoorji Pallonji's fundamental investment, and the performers' excellent mastery of the craft, this 1960 epic historical drama ripped through all barriers to become one of Indian cinema's first blockbusters.
The film addresses the contrasts between father and son, duty over family, the difficulties and sufferings of women, and the political conflicts through the narrative of Emperor Akbar, his son Salim, and the beautiful Anarkali. Dilip Kumar, who played Salim opposite Prithviraj Kapoor's Akbar and Madhubala's Anarkali, introduced a fresh surge of creative humanity to the character.
Dilip Kumar's love scenes with Madhubala have been shot artistically and suited to a wide range of audiences.