"Your desecration of reality will not go unpunished."
We've got a comprehensive Doctor Strange in the Multiverse of Madness trailer deconstruction and analysis for you!
Doctor Strange in the Multiverse of Madness, the sequel to Marvel Studios' Doctor Strange, has a new teaser that debuted during Sunday's Super Bowl. Doctor Strange actors Benedict Cumberbatch, Benedict Wong, Rachel McAdams, and Chiwetel Ejiofor return, as do newcomers Xochitl Gomez (as America Chavez), Michael Stuhlbarg (Dr. Nicodemus West), and Elizabeth Olsen. The first trailer for the forthcoming film was released in December, and now we get a new look at it.
With the possibility of a universe collapse looming, we see Strange grappling with the ramifications of his actions earlier in the series. We see Strange in handcuffs, supposedly to face judgment for his decisions, ending with an unknown character (who sounds very similar to Patrick Stewart) declaring, "We should give him the truth." We also see more of Gomez as America Chavez, a battle between Strange and Ejiofor's Mordo, an evil version of Strange, and more of Wanda's part in the Strange sequel.
In the Multiverse of Madness, Doctor Strange, directed by original Spider-Man trilogy director Sam Raimi and written by Loki showrunner Michael Waldron, is planned to hit theatres on May 6, 2022.
In the Multiverse of Madness, Doctor Strange receives a new Super Bowl teaser, introducing ten interesting new characters and plot tidbits.
During the 2022 Super Bowl, a full trailer for Doctor Strange in the Multiverse of Madness will be released, revealing ten interesting insights about the film's plot and characters. As the multiverse rises in importance inside the MCU, the next Doctor Strange sequel will take the concept front and center once more, extending plot strands from its predecessor and Spider-Man: No Way Home, as well as the MCU's Disney+ series. The Doctor Strange 2 Super Bowl teaser promises monsters and Doctor Strange variations and at least one recognizable character from another Marvel film franchise.
While Doctor Strange originally appeared as a sorcerer in his debut solo film, he established himself as Master of the Mystic Arts in Avengers: Infinity War and Avengers: Endgame, when he proved crucial to The Avengers in their struggles against Thanos. Doctor Strange 2 will provide Stephen Strange with his greatest struggle yet, as the implications of his universe-altering spell in No Way Home will once again put his reality and the reality of others in peril. Doctor Strange, on the other hand, will not be alone.
Wanda Maximoff, now known as the Scarlet Witch, will appear with Doctor Strange and Wong. She is still coming to grips with her sad character journey in WandaVision. America Chavez, a Marvel Comics superhero from another world who becomes a protector of the mainstream realm, will also make her MCU debut in Doctor Strange 2. With the multiverse reopened, it's no surprise that at least one Doctor Strange form, known as Defender Strange, will assist the mainstream version as well.
America Chavez
A multiversal creature restrains America Chavez early in the Doctor Strange in the Multiverse of Madness Super Bowl trailer, probably in Stephen Strange's Nightmare. It's unclear how, if at all, Doctor Strange 2 will alter America Chavez's backstory; thus, she could not have abilities just yet. However, Chavez is visible throughout the rest of the teaser, displaying her extraordinary power from the comics. Chavez, who Xochitl Gomez will play, also has the abilities of flight, superhuman durability, and interdimensional travel.
Rintrah
Rintrah, a Minotaur-like creature, is seen among the other Masters of the Mystic Arts as a foreboding cloud develops over them. Rintrah is a Doctor Strange comic book supporting character who temporarily served as Strange's apprentice. It's unclear how significant Rintrah will play in Doctor Strange 2. Rintrah, like America Chavez, comes from another world in the comics. Given that the Masters of the Mystic Arts receive their powers from various realities, it's not unexpected that one of its members originates from a different dimension even before Strange releases the multiverse.
Is Ultron Back?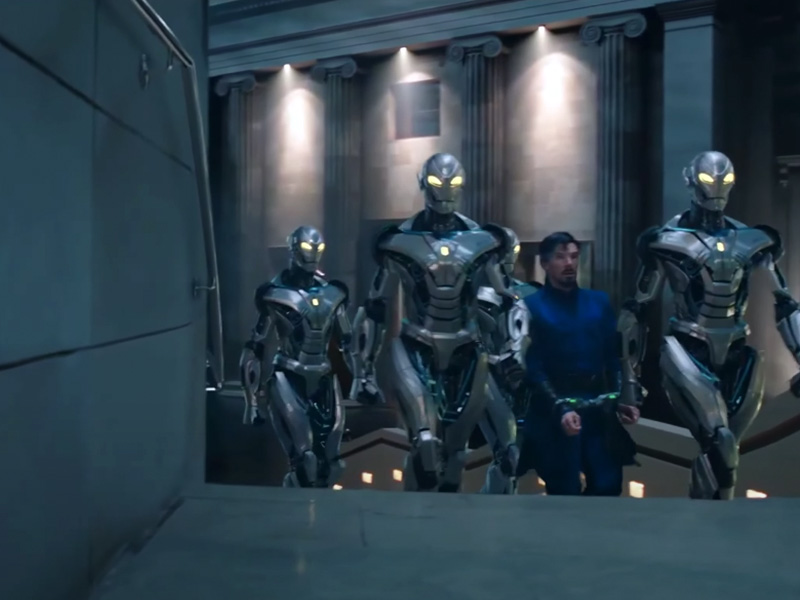 As promised at the end of 2016's Doctor Strange, Karl Mordo returns to purge the world of magic. Mordo appears to have kidnapped Doctor Strange and is holding him captive with a team of what appear to be modified Ultron drones. Mordo may have collected their shells from the wreckage of Sokovia and imbued them with his magic, making them his slaves. Another option is that Mordo merely reprogrammed the drones using conventional methods, preceding his magical abilities in his effort to eradicate magic.
Those are unmistakably modified Ultron drones accompanying Strange to see…whoever it is, he is meeting in that strange HQ. We'll go into that later, but there's a LOT in this clip that reminds me of the Interdimensional Council of Reeds from Jonathan Hickman and Dale Eaglesham's incredible Fantastic Four run. And one of those pieces has one of the Marvel Universe's biggest heroes as domesticated, lowly laborers — in F4, it was lobotomized Dr. Dooms, but here it appears to be Ultrons.
Marvel's Illuminati?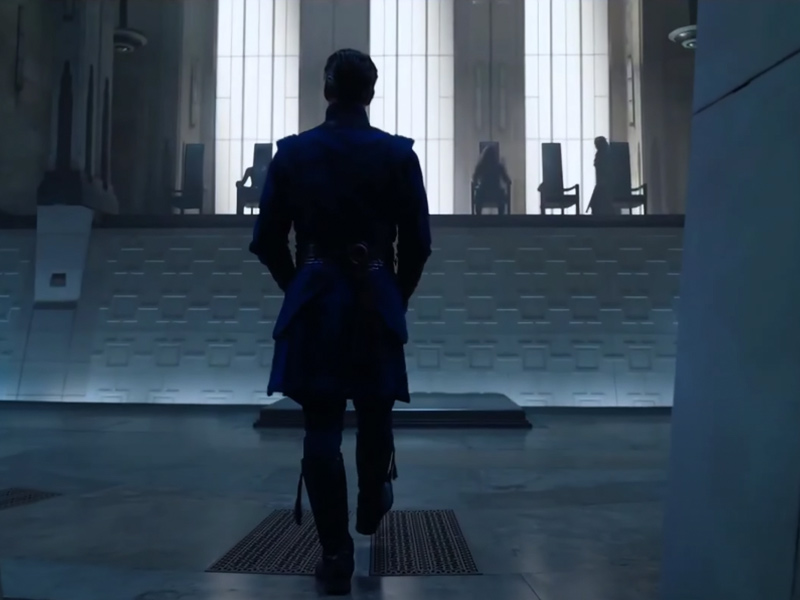 Iron Man, Charles Xavier, Black Bolt (of Inhumans fame, or infamy if you only know them from the TV program), Doctor Strange, Reed Richards, Black Panther, Captain America, Beast, and Namor were all members of the Illuminati at various periods in the comics. They were founded when the Marvel Universe's problems grew larger and more difficult to deal with. Tony Stark formed them to operate as a superhuman United Nations, hoping that collectively they might avert future dangers before they became too large to handle. Reed entrusts each member with one of the Infinity Stones at one time after the initial Infinity Gauntlet, reasoning that this would make them less likely to be constructed again.
Such an Illuminati lineup cannot exist in the MCU as it currently exists. Even after 27 films, there isn't enough history, and some of these characters are unavailable for various reasons. But what if a multiversal Illuminati arises due to the newly imposed laws of branching timelines and variants? This would allow Patrick Stewart to reprise his role as Professor X in the Fox X-Men films while not interfering with the MCU's capacity to develop their own Charles and other mutants when they are ready.
In the "holy timeline" MCU, our beloved Tony Stark is dead. Still, a Tony Stark version working in the Illuminati would allow Robert Downey Jr. to show his face again, as Marvel laughs all the way to the bank.
Namor has yet to be featured in the MCU. Still, it's widely assumed that he'll make his debut in Black Panther: Wakanda Forever, with Atlantis functioning as a rival nation to T'Challa's realm. There's no reason Stephen Strange couldn't join this version of the Illuminati, and perhaps Multiverse of Madness will be how he gets in. Likely, the high-tech headquarters where we hear Xavier address Strange is truly Illuminati headquarters in some part of the multiverse.
You can see Strange being led into some sort of throne room at one point in the video. Six seats are available, two of which are filled by indistinct figures. A third person is approaching, but it's difficult to identify who it is. Mordo appears to have long hair and a sword on his back; therefore, might he be an Illuminati member?
TVA in Multiverse 
Doors of Time The clip contains some deliciously strange and crazy moments, including the debuts of a Shuma-Gorath/Gargantos-inspired beast and a dark Doctor Strange variant reminiscent of the Sorcerer Supreme type seen in What If…? Episode 4. However, a quick scene at the 0:39 mark depicts a figure — most likely Wanda Maximoff — performing chaos magic while walking away from a brilliant orange portal.
Time doors are gateways built by the TVA that allow the organization's agents to travel throughout time in Loki. The doors may transport them to any point in time. Like the gateway seen in the Multiverse of Madness preview, they appear as orange holograms.
Mysterious Glowing Man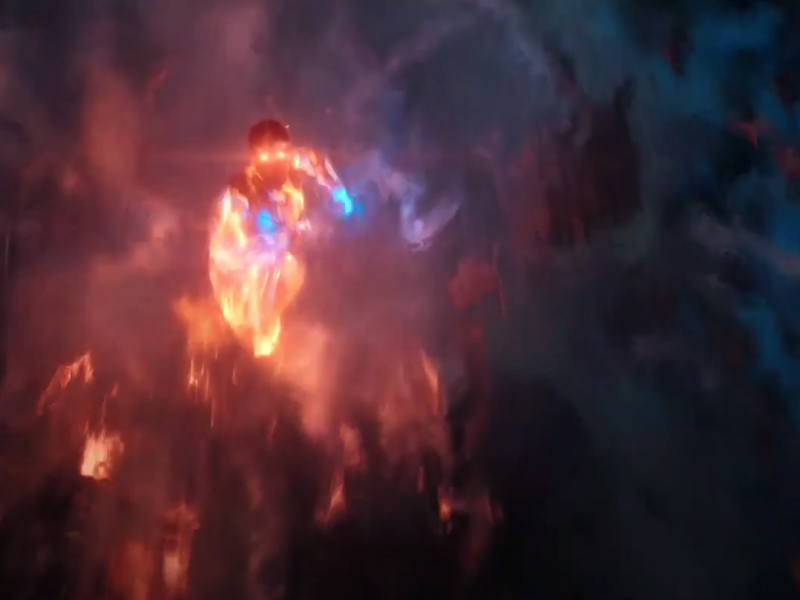 Later in the film, a brilliant human figure soars across a kaleidoscopic dimension of reality. Some may think that this figure is the Human Torch or another Doctor Strange comic book character. With the universe reactivated, the person might wind up becoming a hero from another dimension, similar to Professor X from the Fox X-Men movie. However, when this unknown individual fights Scarlet Witch, they may misinterpret her motives or just be a malicious character rather than an iteration of Johnny Storm. OR. Perhaps the burning figure we see isn't even a Torch or a Captain Marvel. Perhaps it's Iron Man.
Tony Stark donned armor that revealed practically all of his head save for a tiny frame around his face for a very brief period between one extremely awful event and the best thing Marvel has ever done. As he was called, as Superior Iron Man, a result of Axis, an event in which many heroes and villains all had their moralities switched — for example, Sabertooth became a selfless hero, while Stark became a gigantic jerk. It sounds like the ideal candidate for a multiversal Illuminati, doesn't it?
Who could be the Villain of the Multiverse 
Is it Stephan Strange Himself?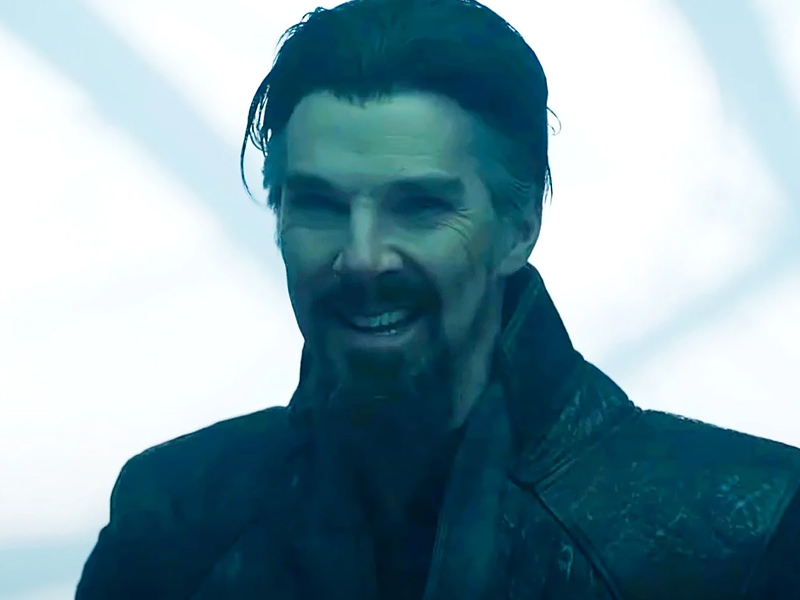 One especially fascinating hypothesis raised by the Multiverse of Madness teaser is that Doctor Strange may be the villain in Doctor Strange 2. The trailer has enough evidence to back that up, especially given that there are numerous versions of Strange, so one of them may be evil and creating all of this. 
In terms of the main MCU, Doctor Strange, it's more probable that he isn't the villain and is, at most, terribly irresponsible for whatever activities have led to this – whether from No Way Home or something new, such as reading the Darkhold. Similarly, the pictures of "evil" Doctor Strange from What If…? felt like a misdirection, given that the character was mostly rehabilitated in the animated series.
Nonetheless, the Multiverse of Madness trailer wants viewers to think of Doctor Strange as a potential villain: he's arrested by Mordo, taken to face what appears to be the Illuminati, and at the end, there's a shot of a panicked, imperiled Wong yelling "Strange," which is then followed by two different shots: one of Strange atop a mountain, surrounded by dark forces, and another of what appears to be zombie Doctor Strange with multiple It implies that a Doctor Strange has been tampering with powers beyond his control, which might make him the main villain in Multiverse of Madness.
Could it be Nightmare?
Nightmare is another important candidate for the enemy in Doctor Strange in the Multiverse of Madness, at least according to the Super Bowl teaser. Nightmare, a longtime adversary of Strange in Marvel Comics, has long been suspected as Doctor Strange 2's antagonist. However, no solid confirmation has been provided. Nonetheless, as the monarch of the Dream Dimension, he would fit with the universe collapsing and numerous worlds blending into one another, as well as multiple lines in the trailer: "Every night I dream the same dream, then the horror begins."
That phrase might, of course, be purposeful misdirection. Still, it does reinforce the concept that Nightmare is Doctor Strange's antagonist in the Multiverse of Madness and that Doctor Strange is locked in the Nightmare World of the Dream Dimension. This was also alluded to in WandaVision's post-credits sequence, with murmurs of her children hypothesized to be Nightmare holding them in the Dream Dimension as well, perhaps providing a direct link between all the characters in the Multiverse of Madness.
The view of the darkness-clad, multi-limbed Strange after the Doctor Strange in the Multiverse of Madness trailer might very well be Nightmare, or a hybrid of Nightmare and a Strange variation, and previous glimpses of Strange's nightmares or visions would match with the villain.
Is it the Scarlet Witch?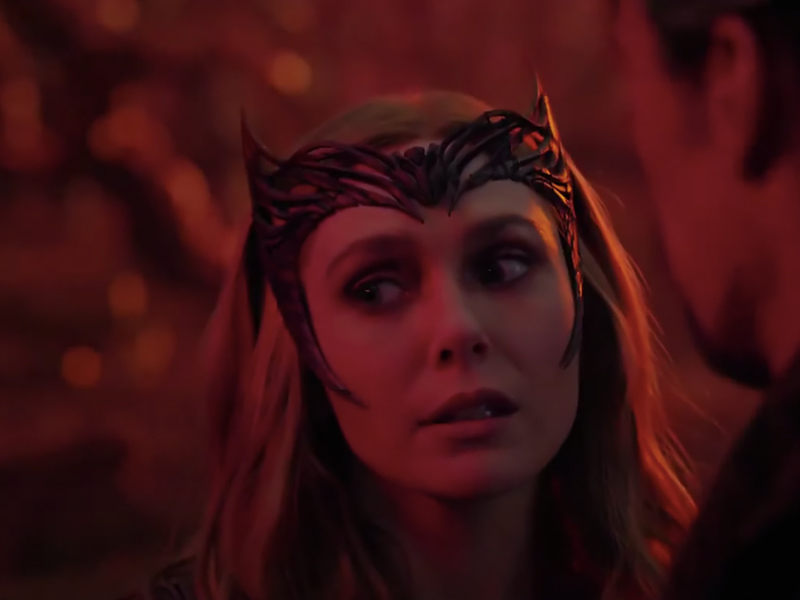 Another popular MCU hypothesis is that Scarlet Witch is the villain in Doctor Strange in the Multiverse of Madness. Wanda Maximoff has long been rumored to be the villain of Doctor Strange 2. While the finale of WandaVision showed her presumably finding serenity to return to her former self, the truth was far more disturbing: Scarlet Witch reading the Darkhold. Wanda has lost a lot in the MCU thus far, including her children, and there were hints that she was reading the Darkhold to find them.
With numerous Scarlet Witches in the Doctor Strange 2 Super Bowl trailer, it's plausible that one of them is the true villain of the film and has created the craziness in the universe as a way of either frantically attempting to find her children or as a means of vengeance.
It seems Scarlet Witch would be seen as the villain of Doctor Strange in the Multiverse of Madness by some of its protagonists, regardless of her true intent. In a one-pointed spot with Doctor Strange, she comments: "You break the rules and become the hero. I do it and become the enemy. That doesn't seem fair."