Jane Fonda and Lily Tomlin make excellent scene mates. We've known this for decades. Even if you missed their connection in the 1980 comedy 9 to 5, Netflix's Grace And Frankie offers a terrific tutorial on how much these two famous actresses enjoy working together. Moving On follows the release of 80 For Brady, in which they co-starred with Sally Field and Rita Moreno, and it's evident the two aren't slowing down their hilarious pas de deux. This Paul Weitz production, however, may serve as a reminder that terrific chemistry and fantastic leading women can only take you so far.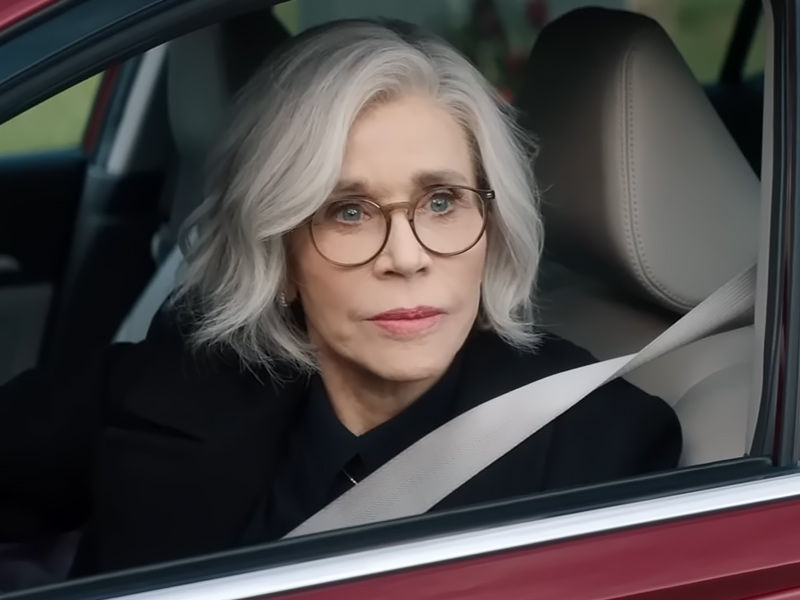 Claire (Fonda) and Evelyn (Tomlin) have recently lost their dear friend Joyce. When they meet at Joyce's burial, Clair discloses the reason she traveled all the way from Ohio to California: she intends to murder Joyce's husband, Howard (Malcolm McDowell). Claire ups the ante by telling her victim, "Now that it can't injure her, I'm going to kill you." And, while Evelyn is first amused but doubtful, she finally agrees to assist Claire for reasons that become evident when we learn more about her own connection with Joyce.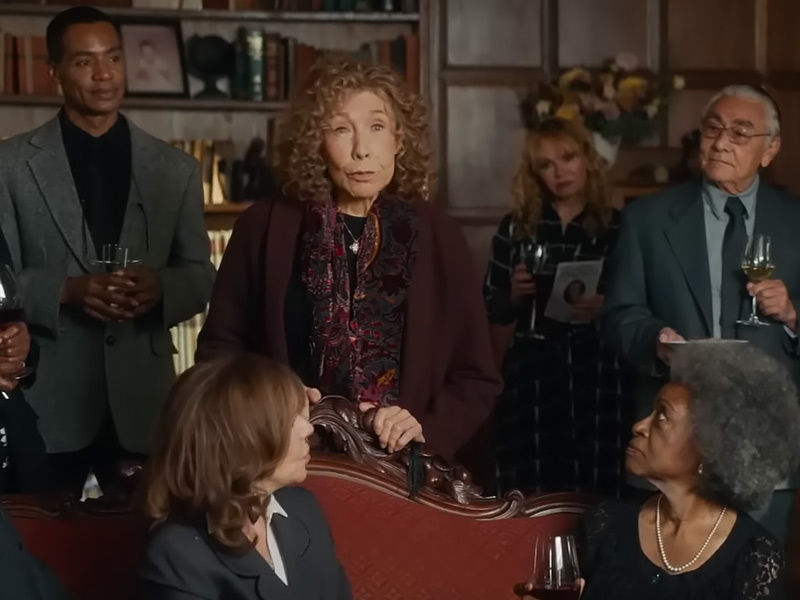 The concept hints that Weitz's newest collaboration with Tomlin (they previously collaborated on the charming 2015 film Grandma) is a black comedy, one that explores the extent individuals will go to rectify and address the pain they've undergone (sometimes in secret) for decades.
After all, Claire and Evelyn's chats imply that the underlying reason Claire would acquire a pistol to murder a widower has to do with a traumatic occurrence that she has yet to completely deal with: "I told you to go to the cops," Evelyn tells her companion, only to be met with the age-old adage, "They would never have believed me."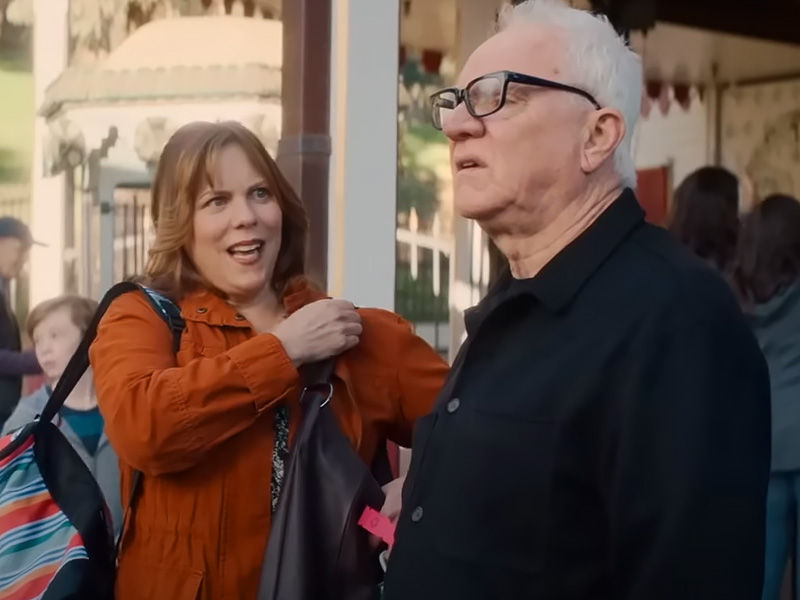 One doesn't need to hear much more to figure out what happened between Claire and Howard all those years ago, so the film saves the most shocking bombshell for Evelyn. And it is better kept unspoiled, if only because Tomlin's emotionally weathered portrayal deserves to be appreciated in its entirety.
That's hardly unexpected given that Moving On's most moving sequences have its key comic combo demonstrating why they've acquired cabinets full of trophy statuettes over the years. However, such moments are few and far between, which speaks to the script's inconsistent tone. For every moving sequence in which Fonda depicts what it's like for Claire to keep a horrible secret hidden for years, there's another that reads like an SNL skit ("Two Elderly Women Trying to Purchase a Gun").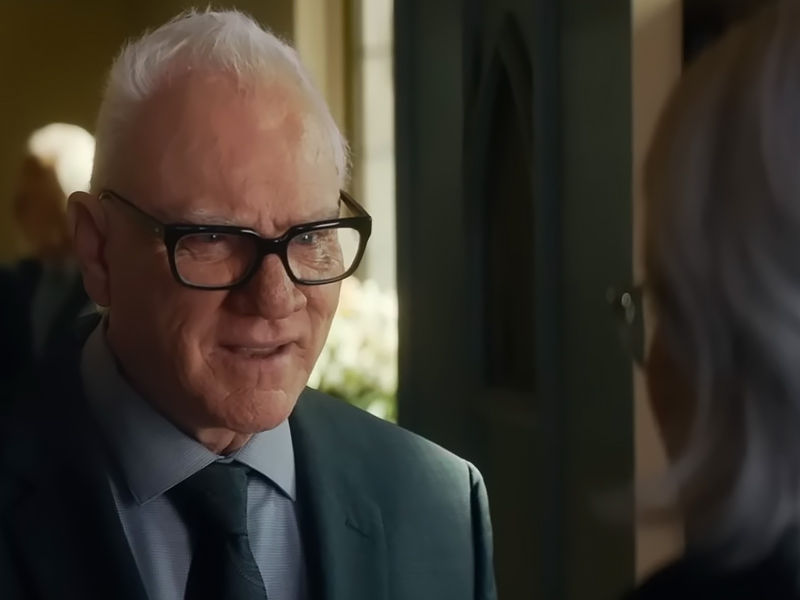 Moving On's tonal whiplash is what prevents it from taking on the serious and difficult challenges that its characters face. Especially when it attempts to demonstrate that the more things change, the more they remain the same. Weitz (2002's About A Boy) excels at the sweet-natured exchanges between Claire and Evelyn (and even Claire and her ex-husband), but he falters when he corners his characters into ethically murky territory that is undercut by slapstick comedy, as if the film needed to constantly reassure its audience that, no, women like Claire and Evelyn couldn't actually go through with such a harebrained scheme. They shouldn't either.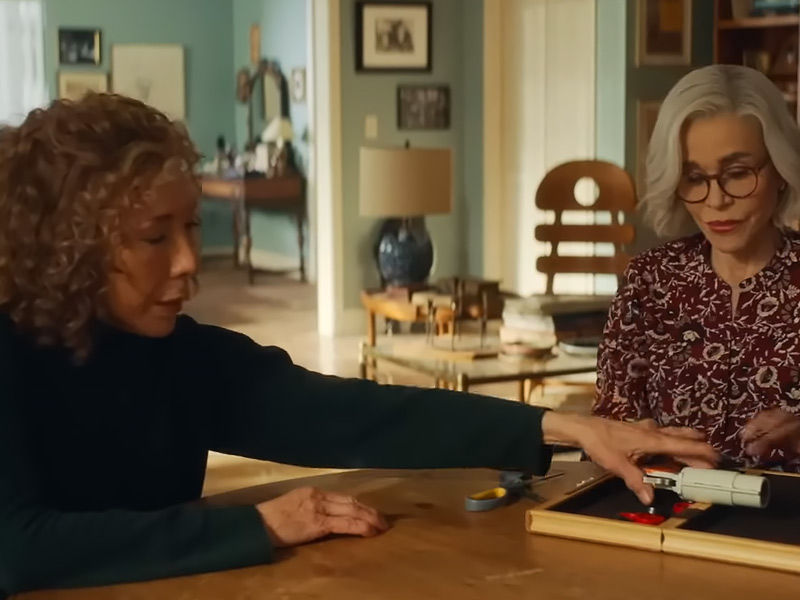 The endeavor as a whole is best experienced as yet another opportunity to see these two beloved pals. And it could be enough. Tomlin and Fonda are in terrific form here, even if they are portraying variants of their on-screen personalities, which is true to their celebrity personas. Although Claire is slightly frazzled (she is concerned about leaving her dog with her daughter), Evelyn careens through life with a carefree attitude that permits her dry humor to be misconstrued for sincerity. "People think I'm amusing," she says to Howard, "but I'm just talking." To be honest, when Lily Tomlin is merely "talking," it's impossible not to chuckle. Her appearance in the film is reason enough to see Moving On.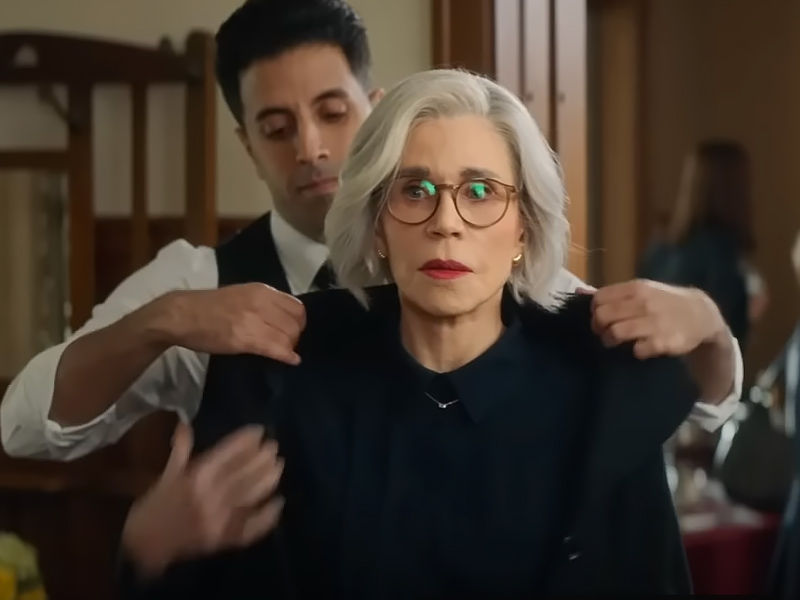 Moving On, for all the dark comedy it suggests in its storyline, is ultimately a lackluster attempt. The title says it all. While murder is on Claire's mind, Weitz has more in store for these two old friends in the form of atonement and forgiveness. You almost wish Weitz would let himself go to darker areas without sanding down his characters' edges. Instead, we're left with the trite earnestness of a film whose moral is as simple as burying the past and, yes, "moving on" with one's life.