These are the best games to pass the time…
TV programs, movies, and novels are all excellent ways to pass the time on lengthy flights and vehicle drives. But what if there's nothing worth seeing, or you just don't have the willpower to go through another chapter?
How else can you get through those long travel days except snoozing (hard luck with that in a tight economy-class seat)? Of course, by installing a few fantastic time-wasting games on your smartphone or tablet.
I'm going to convey some knowledge that I sincerely hope you won't misuse for the sake of your employers. Because we know there will always be a few minutes or hours to kill at work when you have nothing to do. Instead of merely watching movies on YouTube, we've compiled a massive selection of online games that will help you kick boredom in the**. Be careful not to become caught into this vortex of fun, where time appears to fly past and bosses reside.
With individuals worldwide expected to stay indoors and work from home for the foreseeable future, everyone is seeking ways to spend time. They accomplish this by playing video games online, often with friends and relatives they can't see in person right now. People can play various games, including action games, shooters, sports games, and many others.
PC or Computer Gaming
NBA 2k20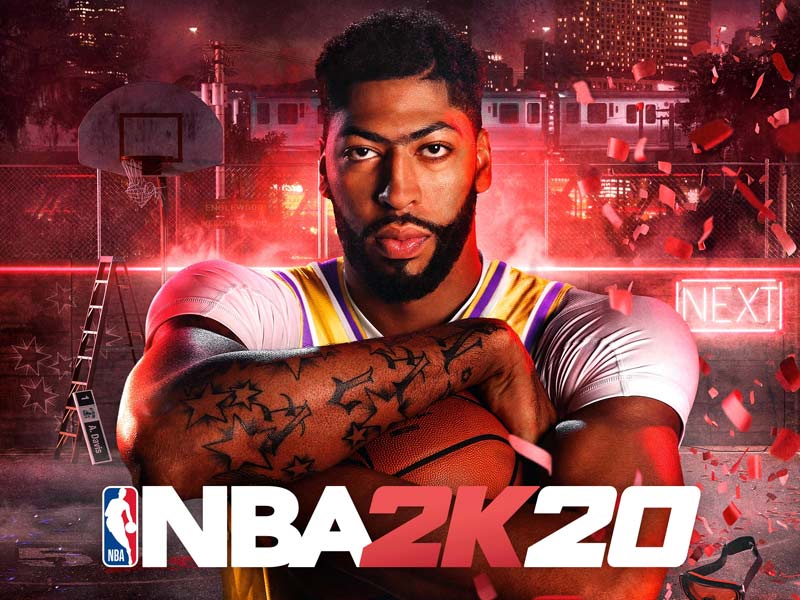 The postponing of the real-life NBA season may have upset fans, but the virtual NBA is still going strong. While waiting for the season to restart, gamers may finish the season and even go through a run in the playoffs. NBA players have already begun playing in online stadiums against each other, mimicking what would have happened if they had played in person. In online matches, players of all ages may bring a full squad to the courts and compete as a single team. NBA 2k20 is $60 on digital markets and $30 on physical markets for Xbox One, PC, Switch, and PS4. The game is also free to play on Xbox Game Pass.
Grand Theft Auto V Online
Grand Theft Auto V is one of the best-selling video games of all time. The game has a story option with fifty hours of adventure centered around an in-game version of Los Angeles. Still, the tale is really a warm-up for the game's main attraction. Its online version, which can accommodate up to thirty people, has larger objectives, more outrageous antics and is routinely updated with a new action. Grand Theft Auto V is intended for adults only and should not be played by youngsters. The game costs $30 on Xbox One, PC, and PS4, and it's also free on Xbox Game Pass.
Call of Duty Warzone
For more than a decade, Activision's first-person shooter franchise has dominated gaming. Its crisp controls and growing online multiplayer gameplay are still regarded as among the best in the industry. Warzone, the newest Call of Duty edition, has just hit the market and is a lot of fun to play. It's a fresh spin on the popular battle royale genre, with 150-player worlds and varying squad sizes. There are currently several adaptations of the Warzone games in online playlists. The game is available for free on Xbox One, PC, and PlayStation 4.
Mobile Gaming
Plague Inc.
Plague is a simple game that may be played for many hours. The concept is straightforward:
Invent a lethal disease.
Call it whatever you want.

Use it to wipe out the whole globe.
Your adversaries in this game are the noble scientists. They collaborate to discover a treatment for whatever heinous ailment you manufacture. You lose if they are successful before you can infect everyone in the world. The game has been around for over a decade, yet it has never seemed more current than it does right now.
The thrill of attempting to outwit those clever brains that wish to exterminate your condition, mutating your condition to keep one step ahead, is what makes this game so appealing. Once you've mastered the fundamental illness kinds, you'll be able to unlock new versions, each with its own set of advantages and disadvantages.
We're not the only ones that adore Plague Inc. With over one million 5-star ratings to date, this praised game has topped several best-of lists.
Jetpack Joyride
How is it that a game with only one control button (up) can be so captivating? We're unsure how we did it, but we managed to commit many, many hours on this bright, complex side-scroller.
Jetpack Joyride puts you in the shoes of action hero Barry Steakfries, who takes to the air with a fantastic jetpack to complete a variety of missions while avoiding hazards such as missile launchers and enormous mechanical dragons.
You may sign in to the Halfbrick Cloud to view game data across devices if you like. That means you can start a game on your phone and then pick up where you left off on your tablet: ideal for playing on the go or when one device's battery dies!
Jetpack Joyride is an older game. However, the most recent versions continue to receive great reviews. Join the nearly 500 million gamers who have downloaded it (including us) and have a great time.
Type Racer
If you've spent most of your life working on computers, this is the game for you. Consider a game that is dependent on typing speed. Is it boring? No way. The game provides you a little passage to write down a word in the least amount of time possible while racing against other online players. Go ahead and put your typing talents to the test here.
Card Games
Cards Against Humanity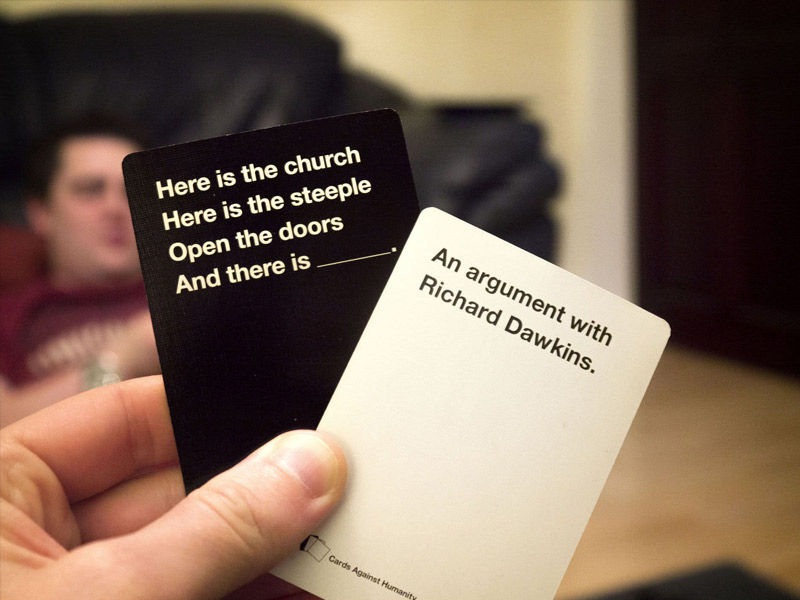 It has 31,000 five-star ratings and is adored by horrible…y humorous individuals all across the world. It's safe to say it's good if 31,000 people think it's good.
Ages 17 and older are advised to watch. Don't forget to stock up on expansion packs to keep the game fresh for as long as possible!
This game is fantastic as long as you play with individuals you know will not be offended by anything that may appear in the cards. Several times throughout a game, you will laugh so hard that you will cry. The main disadvantage is that certain people who are very sensitive may have problems with remarks on cards. This is a game for adults only.
The Game of Things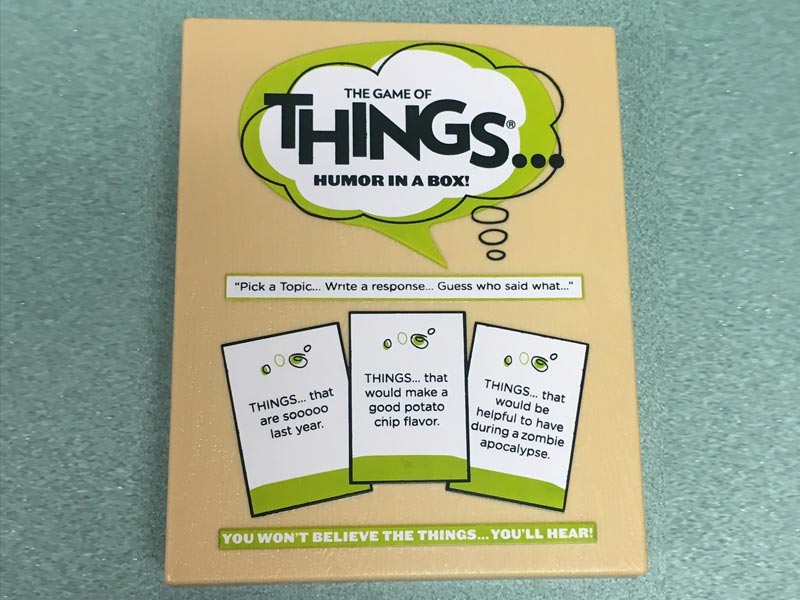 A humorous and simple-to-play game that will elevate family game nights to a whole new level of enjoyment, all because to you.
My family and friends, by the way, are completely engrossed in this game.
During the family gathering, I believe we had 15 people playing it at one point. It was a huge success for everyone. I intend to give it as a present to other game enthusiasts. We had to skip a few themes for the younger kids (ages 7-8) due to context, but they had a great time playing. We also had to provide some additional paper because there were so many people playing. I strongly advise you to try this for parties and gatherings. It's a terrific way to get to meet new people while having a good time.
Jenga
The classic game of concentration…and a little bit of luck. It's time to get this kid in your gaming stockpile as soon as possible.
This is a fantastic game that can be enjoyed by people of all ages and maybe played alone, with others, or in a group. There are so many options. This is a fantastic game for game night. This game improves your critical thinking abilities since each move must be well-thought-out, or you will lose in the blink of an eye. As a result, it is tough, enjoyable, and competitive all at the same time. Essentially, each player builds on the move of the previous player until the bricks collapse. The player who makes the final move is the loser.
UNO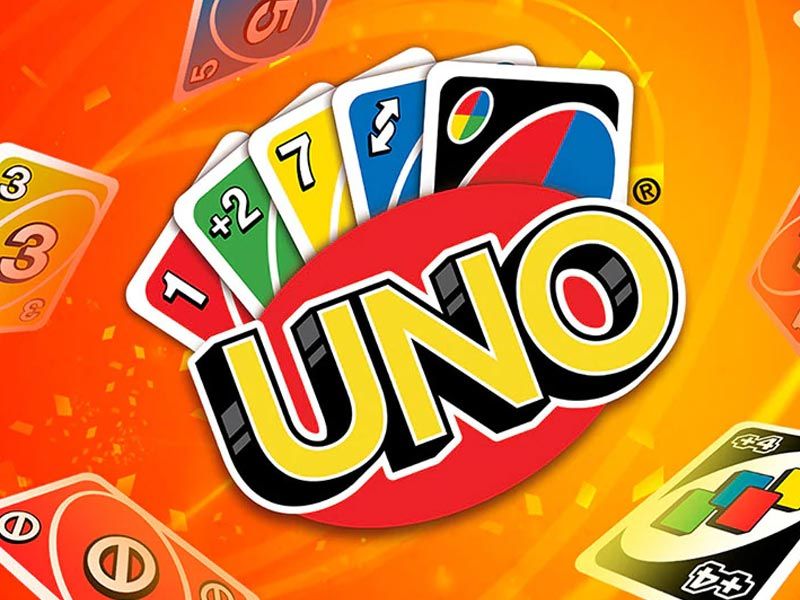 UNO is a popular card game that is simple to learn yet difficult to master! Players take turns matching a card in their hand with the current card on top of the deck, either by color or number. Skips, Reverses, Draw Twos, Wild, and Draw Four Wild cards are among them.