What shows will it make you think of? Dirty Lines offers the same mix of drama and comedy that we've seen in other dramedies set in the 1970s and 1980s, such as GLOW and Minx. 
---
It's fascinating how kitschy stories about sex and gender upheavals in the 1970s and 1980s have evolved into their genre, with a distinct tone and balance of comedy and drama. Mrs. America and Minx appear to have started the pattern, which GLOW continued. The fad has now spread to Europe, with a new Netflix series about The Netherlands' first phone sex line.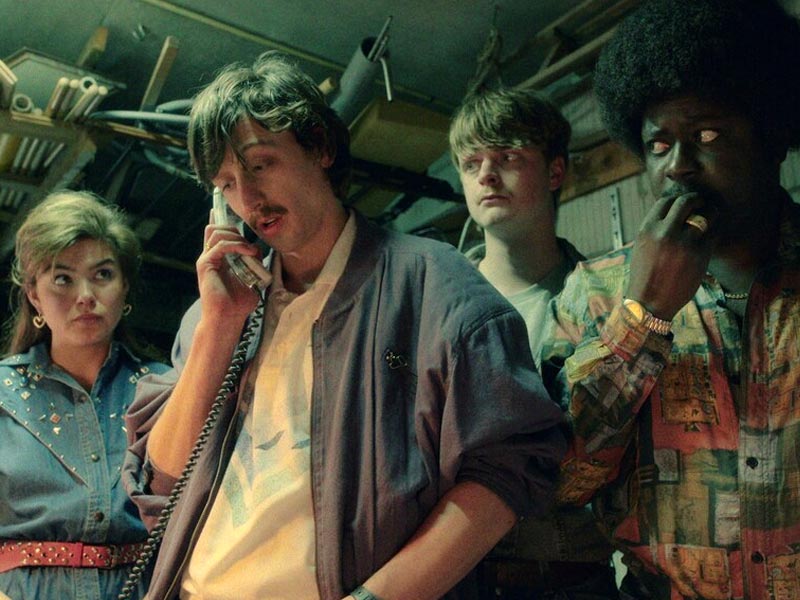 Opening shot: A nighttime zoom-in on a riverbank industrial site, with a voiceover saying, "It was in Amsterdam, in 1989." And my name is Frank Stigter, and he's preparing to plunge his Ferrari Testarossa into the sea."
Frank (Minne Koole) and his brother Ramon (Chris Peters) launched Teledutch, the Netherlands' first phone sex line. Because of the popularity of the line, both are quite wealthy. Marly Saolmon (Joy Delima), one of the top voices, performs the narration; we watch her in the booth doing her thing while admitting she's a prude.
We also see her at Club RoXY on New Year's Eve, where DJ Mischa Brandt (Joes Brauers) is getting head while spinning records; his girlfriend (and Marly's best friend) Janna (Julia Akkermans) is in the audience. Things appear to be going well. So, what is Frank's motivation for driving his new Ferrari into the river?
We're going back three years. Marly is a college student who still lives near Amsterdam with her traditional parents. Janna provides Marly a room in her flat and even tells her how she can get a job recording sex line tapes for a new firm called Teledutch. 
Frank and Ramon's sex line is already a success, and in a news interview, Frank tries to put a showman's face on his business, much to his brother's chagrin. Frank is a guy who has had a lot of business ideas over the years, but he thinks having guys call in to masturbate to a sexy voice talking dirty is his greatest; he was inspired by the awful VHS he had to watch when leaving a sample at a fertility clinic. The bartender at the restaurant where the Stigters ate every day didn't think so; when approached to invest in an offshoot, which Frank refers to as the "orgy line," he thinks it's a "crap idea." 
During the TV reporters' visit, Frank shows the cameras the orgy line recording and emphasizes that the majority of the money goes to the country's telecom regulator, which benefits taxpayers. "The Netherlands jerks its way rich," he says.
Marly, fed up with her parents' rules and her mother's insistence that she not reside in the "filthy city," visits Teledutch and records a tape. However, she is so stilted that the tape is ruled unplayable. However, when Frank shows the reporters around, she happens to be in the recording booth when the cameras begin rolling. She appears in the report that airs, humiliating her mother to the point where she kicks Marly out of the house. However, the line becomes so congested with callers that it effectively shuts down the country's whole phone infrastructure.
Our Opinion of Dirty Lines:
Based on Fred Saueressig's book 06-Cowboys and created by Pieter Bart Korthuis, Dirty Lines strikes the proper tone in portraying the dramatized narrative of the Netherlands' first phone sex line. But it's not only about individuals having false orgasms in recording booths or even Frank's over-the-top style of promoting the business. Korthuis, like the other two programs, combines some amusing moments with personal stories that have a lot of potential to carry this show into some interesting dramatic areas.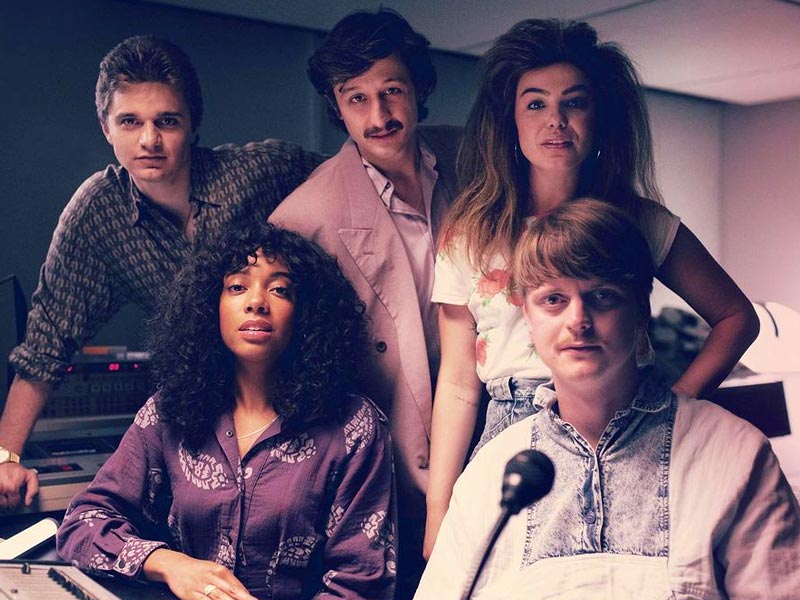 For example, Frank and his wife Anoek (Abbey Hoes) attempt to have children. Still, Frank's Teledutch fantasies are getting in the way. How did Marly, a self-avowed prude, become the company's top sexy voice? There's also the story of Mischa and Janna. They meet when Mischa explores the old sex theatre area behind the store where Janna works and how the Roxy evolves from an abandoned sex theatre to a popular club.
However, the episode shines in minor moments, such as the pre-house dance club tradition of women not appearing like they're having fun, being hit on by uncomfortable males in striped shirts, or Ramon's request that everyone buy him CDs for his birthday. Anoek speaks her way through her babymaking sex with Frank. Ramon can't have sex with his wife unless he sees a clothes ad with shirtless male models. A sexy new lecturer takes over Janna and Marly's sexology class. All of this backstory is amusing, but it also informs how the characters will evolve and behave in the future.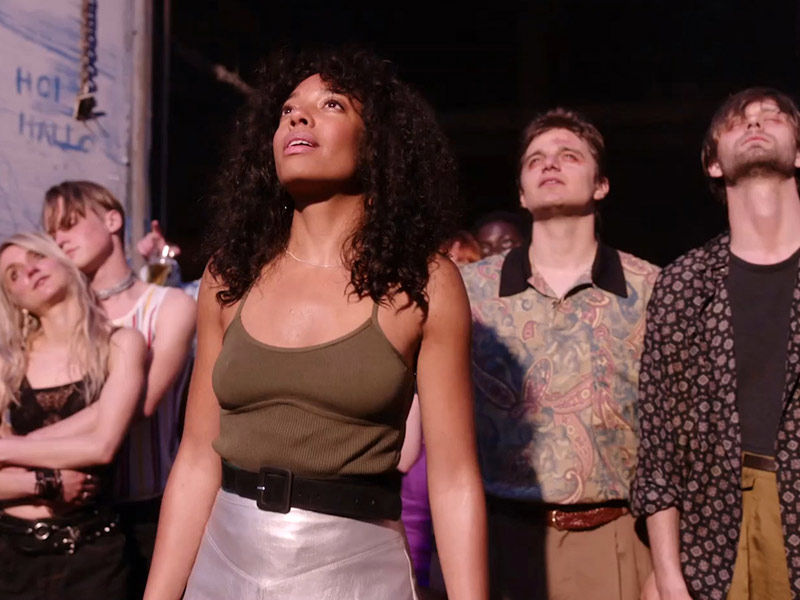 Because her presence is so captivating, Delima's performance as Marly pulls it all together. She does an excellent job of portraying a prude who doesn't want to be one. It'll be interesting to see how Marly evolves during the three years this season is likely to occur. 
Given that it's a program about a phone sex line, there's bound to be a lot of sex in the first episode. Anoek phones the fertility clinic to inquire about the results of the tests on Frank's sperm and discovers that he was present but did not leave a sample.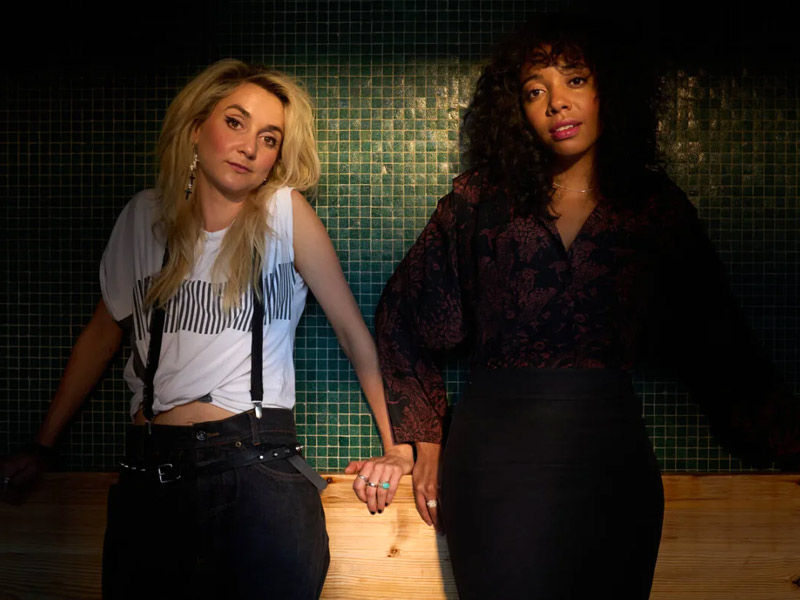 Julia Akkermans is amusing as Janna, especially when she attempts to persuade Marly to be less of a prude. Dirty Lines does a wonderful job tackling a lighthearted subject with a decent blend of humor and emotional drama.