The Bullet Train voyage, as frantic as it is dirty, has its moments of joy with Brad Pitt aboard. The thrills (big dollops of it) and humor (of a generally inconsistent sort) in this bursting-at-the-seams action comedy are entirely dependent on the lead performer. Not all of the action in the franticly-paced film is in the correct direction. 
The film is peppered with short, incomplete flashbacks attempting to piece together the back stories of the colorful and dangerous men and women who unleash mayhem on a Tokyo-to-Kyoto shinkansen – "bullet train."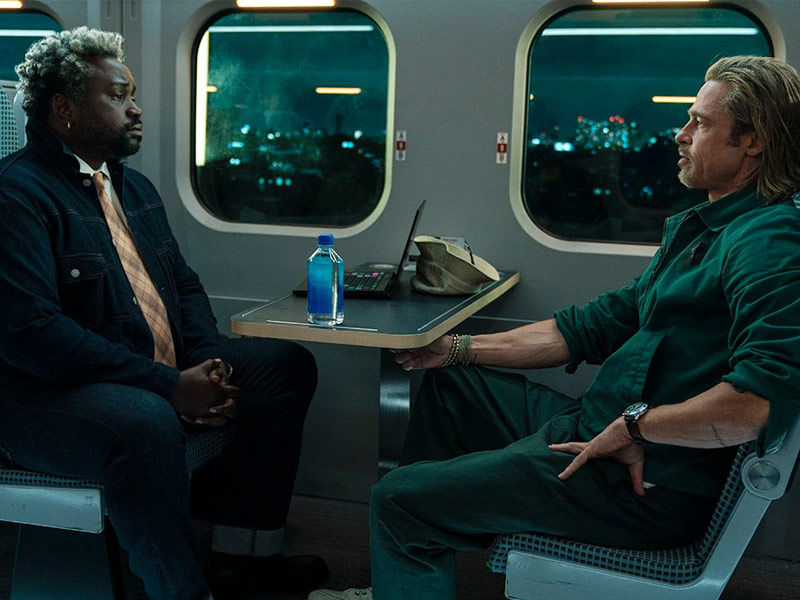 The bewildering rapidity at its pulpy heart is intended to disguise the film's numerous shortcomings. The cavernous gaps in the narrative are obvious – unavoidable in a production that relies on conventional tactics to generate huge, brassy action, riding on the shoulders of a star eager to reinvent himself for the next phase of his career. 
Indeed, despite the efforts of director David Leitch (Atomic Blonde, Deadpool 2) and writers Zak Olkewicz, the flaws of Bullet Train are obvious. The picture is always high on energy and color, but it lacks actual propulsion and struggles to create a cohesive whole out of its diverse pieces.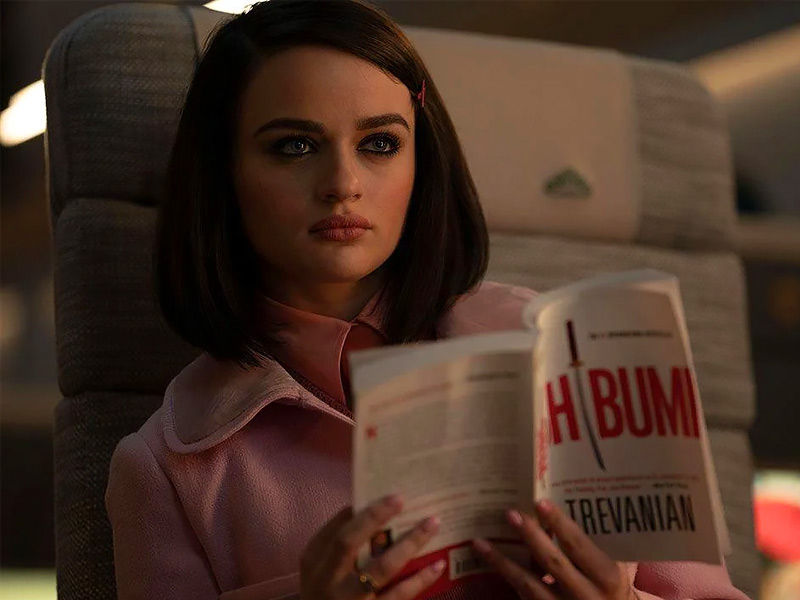 Bullet Train, adapted from Kotaro Isako's Japanese novel Maria Beetle, takes liberties with both the characters and the storyline intricacies that made the book a twisting, darkly comedic story. Many of the main characters are white in the film, which would have made more sense if it had taken place in an American metropolis. Because it doesn't, the lack of space for Japanese faces in the actioner is evident and infuriating. 
The protagonist, a hesitant, down-on-his-luck hitman, and a motley crew of other killers join the high-speed train in pursuit of unique aims that, as it turns out, are intertwined at each other's throats.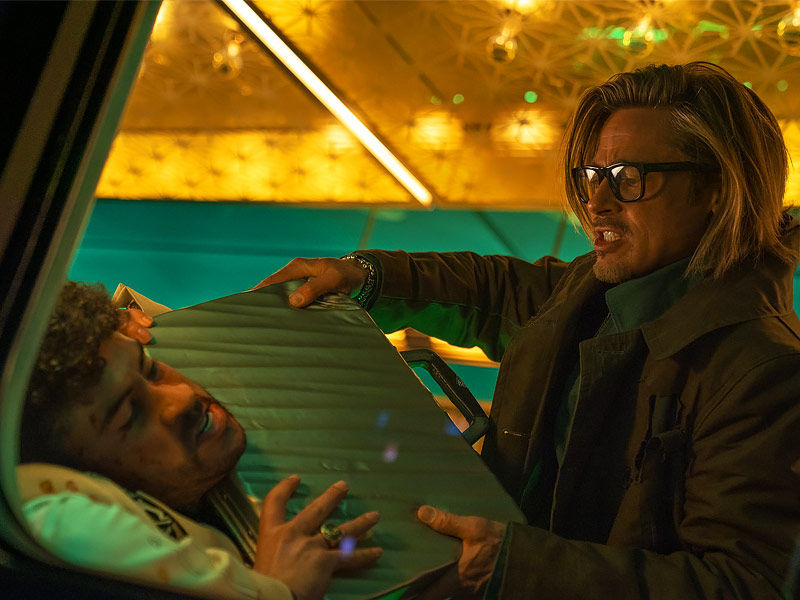 Brad Pitt plays a hitman known as Ladybug. He hopes the title will put an end to his bad luck and botched missions. But that isn't his only problem; the man has lost his hunger for acts of violence after discovering the benefits of inner and outer calm. 
His handler Maria Beetle (Sandra Bullock, mostly a disembodied voice), who delivers commands through the protagonist's earpiece, convinces him into taking the seemingly innocuous snatch-and-grab job of recovering a briefcase from the bullet train. Ladybug isn't Maria Beetle's go-to guy. Her first-choice operative has a stomach illness, leaving the handler with no choice except to rely on Ladybug.
Ladybug gets on the train half-heartedly, and without a pistol, only to discover that there are numerous other assassins on board, all with different goals but overlapping motives. Aside from the threats, they bring to Ladybug, a very deadly snake that was taken from a zoo is wild on the bullet train and poses a serious menace to the passengers.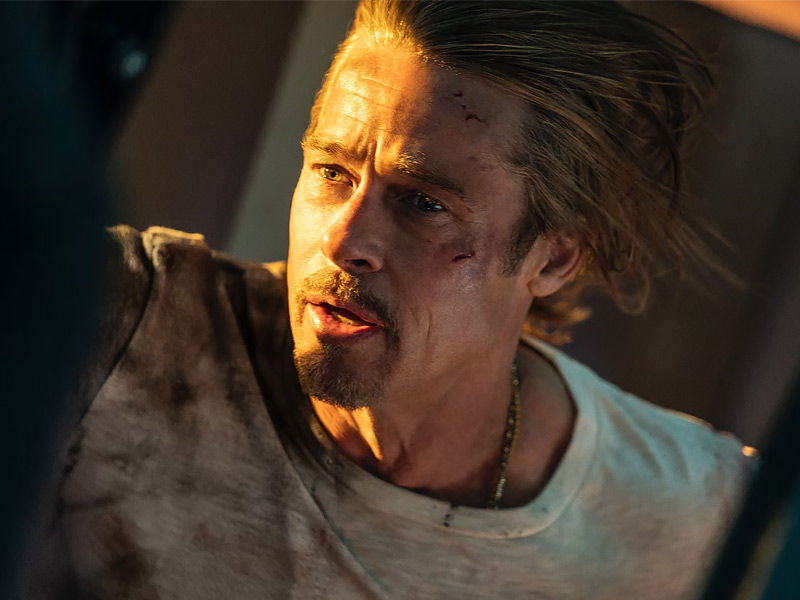 Tangerine (Aaron Taylor-Johnson) and Lemon (Brian Tyree Henry), two mismatched British assassins, are on the train to protect a brutal crime boss's kidnapped son (Logan Lerman) and ensure that the suitcase does not fall into the wrong hands.
Tangerine, conceited and cold-blooded, and Lemon, whose work ethics and judgment of people are based on lessons learned from a children's television show, are temperamentally and physically opposite. They are known as the Twins.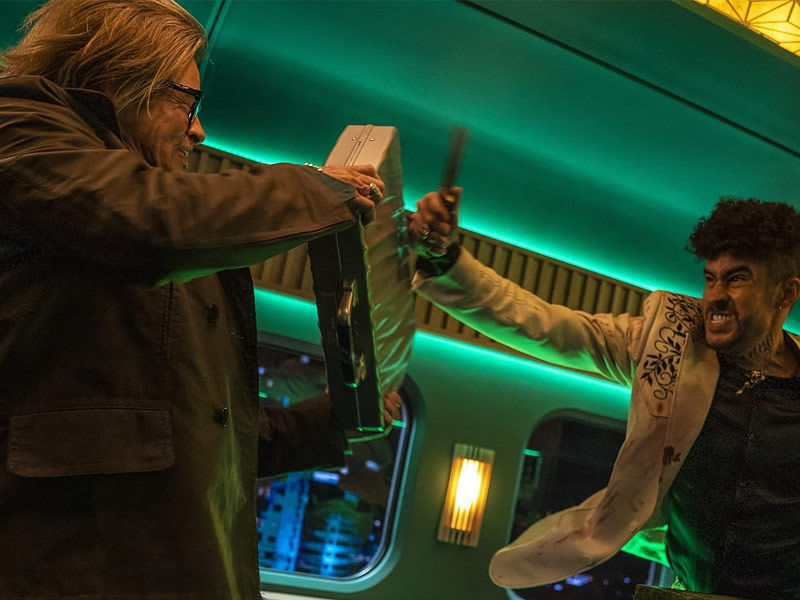 They have a history with Ladybug and would like to see him go. The Zen-like Ladybug, on the other hand, goes about his job with eerie restraint – a trait Pitt relishes embracing. He is an action hero who has learned to accept his misfortunes and is eager to show the rest of the world how to do the same.
Although the violence on the screen is more Guy Ritchie and Quentin Tarantino than Takashi Miike and Takeshi Kitano, it is over-the-top and merciless.
In Bullet Train, Prince – a young man in the book – is a female (Joey King) whose luck never deserted her and she appears to be a naïve, schoolgirlish damsel. On her own, she draws a Japanese hitman Yuichi Kimura (Andrew Koji) to the train using brutally self-serving and unethical methods. As the train approaches the point of no return, several other trained killers materialize one after the other.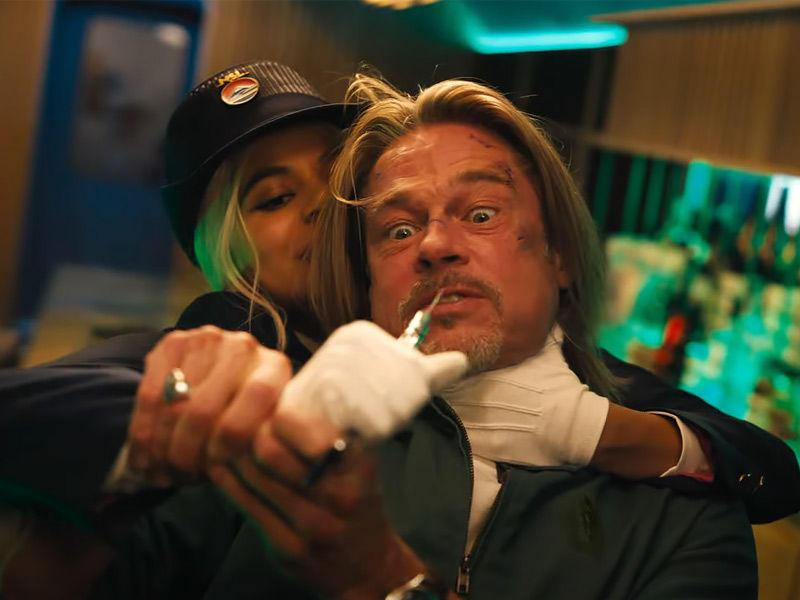 Yuichi's father, The Elder (Hiroyuki Sanada), a Mexican criminal Wolf (Bad Bunny) determined to avenge a murderous attack on his boss at a wedding feast, and Hornet (Zazie Beetz), who, like Ladybug, is madly in love with her.
The yakuza ruler, White Death, who has given Tangerine and Lemon a task and regularly sends his men to keep track of their progress, connects all the assassins on the bullet train.
Tangerine urges Lemon at one point to shoot first and then look for replies. That appears to be the film's guiding principle. It moves at a breakneck pace, relying on half-baked witticisms about peace, fortune, and the futility of rage.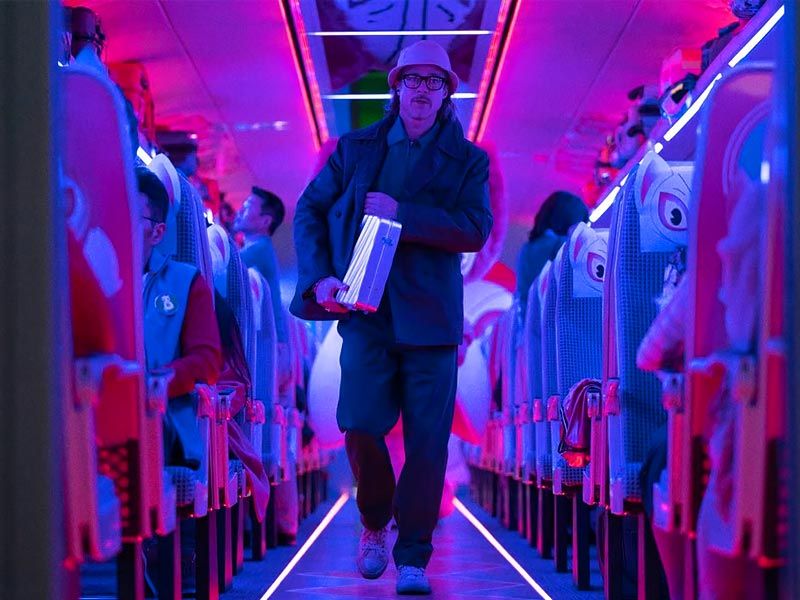 Needless to say, the majority of these lines are reserved for Brad Pitt, who delivers them with unmistakable delight. But that's not nearly enough to keep the action from getting off track. 
While the star appears to be having a good time, the frenzied action and garish color palette suffocate any chance of Bullet Train being a consistently riveting actioner.
The whitewashing of the characters is compensated by one throwaway comment spoken by a Japanese criminal when challenged by two White men dressed as The Twins. "You look like twins," says the yakuza. Isn't it what visitors to Japan may say if they can't tell one local from another? The temporary shift in gaze is insufficient compensation for White/Black stars taking roles that should have gone to Japanese actors. 
Bullet Train has a lot of speed. What it quickly runs out of is consistency. No matter how hard he tries, Brad Pitt does not have enough support from the screenplay to pull off a miracle and keep the trip from coming to a halt.