Sandra Bullock and Channing Tatum are both talented actors.
---
The Lost City satisfies the same Channing Tatum itch as his directorial debut Dog, in which he once again takes the title of Himbo Supreme. His silly charisma, along with Sandra Bullock's radiant and dependable presence — who, at the age of 57, manages to lead action and romance like nobody's business — keeps the picture afloat, even when its 112-minute duration begins to feel forever, and fewer of its gags begin to fall.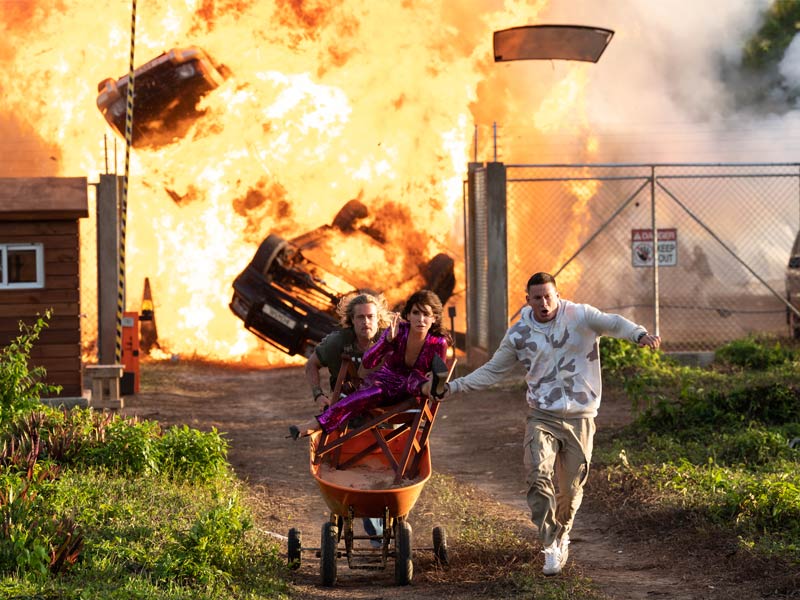 It is directed by Aaron and Adam Nee, who co-wrote the script with Dana Fox and Oren Uziel. Whether or not the production had too many cooks, it frequently feels like it, with its abandoned threads, unfunny (albeit fortunately brief) plotline detours, and a barrage of gags added through ADR and delivered from off-screen, only about half of which work in any given moment. When a picture is this sure of its stars and what they bring to the table, no amount of sloppy production can keep it from being pleasant.
Bullock portrays burnt-out romance author Loretta Sage, who is dissatisfied with the prospect of yet another book tour where her heartthrob cover model — Tatum's Alan Caprison, who plays her golden-maned hero Dash McMahon — steals the show. After twenty volumes, she unexpectedly decides that her most recent erotic paperback, "The Lost City of D," will be her final and, therefore, Alan's swan song, resulting in an exchange of angry words between the unwilling couple.
However, before Alan can apologize, he observes Loretta being kidnapped by Daniel Radcliffe's shady businessman Abigail Fairfax, who plans to utilize Loretta's real-world skills as a former archaeologist to decipher and locate a buried treasure if only to show his family that he can. Fairfax may have located the lost city Loretta had been writing about, incorporating pieces of her previous career into works of fiction that she now feels burdened by.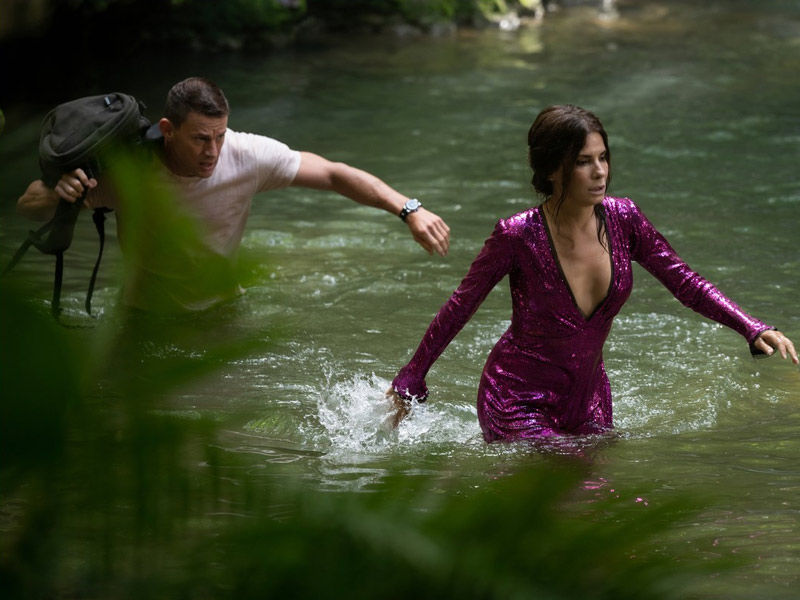 Alan plans a rescue attempt with the aid of his suave former trainer, the mysterious mercenary Jack (Brad Pitt), whose likeness to the legendary Dash generates sparks between him and Loretta and fuels Alan's envy. However, the mission quickly deviates, and Alan and Loretta are left to their own devices, tasked with navigating their way off a mystery Atlantic island while perhaps unearthing its ancient secrets.
Bullock's role receives more emotional weight than the trailers suggest. For starters, The Lost City introduces us to Loretta through photographs of her with her now-dead husband, whose absence has caused her to grow estranged from the rest of the world. It's a major emotional shift from a film full of humor. Still, it allows Bullock to convey seriousness to even her quippiest interactions and physical comedy, creating a lovely contrast with the seemingly airheaded Alan.
Whereas Loretta's problems are openly displayed, Alan is more of a closed book that she (and the spectator) discovers chapter by chapter, primarily via his genuine care for her. Everything that doesn't function in The Lost City has a long list! — Almost all of them are compensated for by Loretta and Alan's simmering-yet-slapstick romance.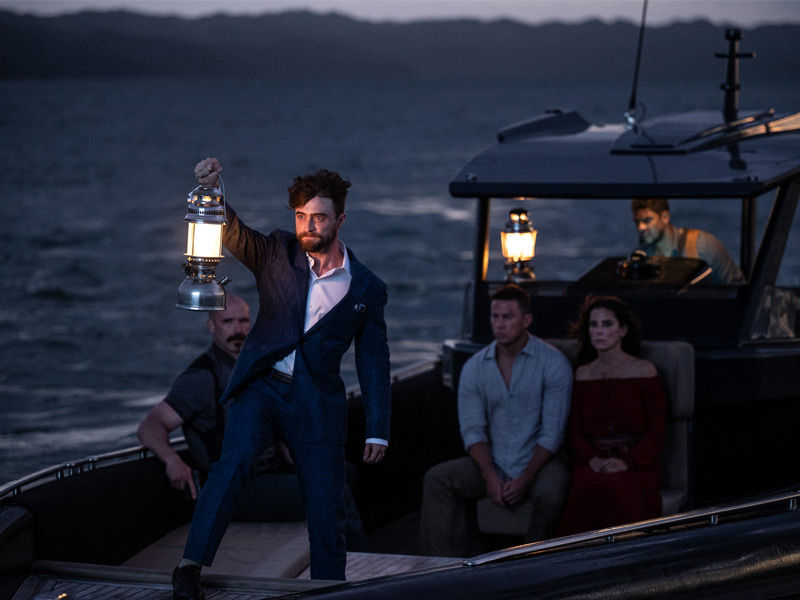 Its emotional thread doesn't work as well as it should. Loretta has to cease living in the past to get out of her rut. Still, the road laid out before her — of exploring, rediscovering old joys, and eventually uncovering the ruins for which she and her husband had been looking — is opposed to this notion of going ahead. The drama in the picture tends to drag things to a standstill, functioning as more of a pause button on the comedy than a complimentary force. Still, happily, Tatum and Bullock's banter is always right around the corner.
It's a drag every time the focus shifts away from Tatum and Bullock, even if it's relatively inoffensive.
Even when they don't work, the supporting cast is mostly amusing. Pitt is ridiculously, even satirically hyper-capable in character tailor-made for him as an action hero. Radcliffe's Napoleon complex makes him a colorful treat as a spurned millionaire, whipping between soft-spoken and megalomaniacal. A couple of his key minions stay around throughout the plot, bringing their color to the proceedings. Rafi, one of them, even has a link to the island's mythical culture and so gets his confusing storyline.
Elsewhere, Loretta's search is aided by her public relations team, which includes her hilariously misguided social media manager Allison and her dedicated publisher Beth, who unfortunately finds herself on the receiving end of the film's least funny dialogue — mostly alongside The Office's Oscar Nunez as an eccentric pilot with too much screen time and yet too little to do.
Every time the focus shifts away from Tatum and Bullock — notably, their quick-fire humorous exchanges — it's a drag, albeit relatively inoffensive. However, as the tale returns to them and enables them to let free, they individually portray their characters' darkest moments with such tenderness that it's difficult not to love their presence.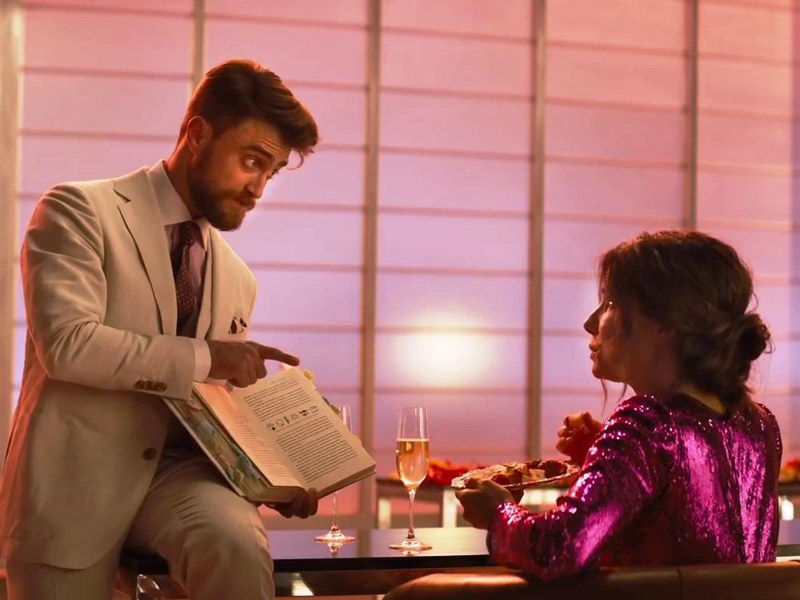 They're not just humorous, but they're funny in a very honest manner, with each jab, dispute, and, finally, an action-packed moment of reconciliation coming from a character-centric place.
When Sandra Bullock and Channing Tatum aren't on screen, The Lost City is boring and clumsy. Fortunately, their comic interplay is front and center for the whole of the picture, with Bullock, who plays a kidnapped smut novelist, demonstrating why she still shines at action and romance, and Tatum, who plays her well-meaning cover model, proving once again that he's Hollywood's best Himbo.
Some may criticize "The Lost City" for being predictable and ridiculous, yet it accomplishes many things well. It's both aesthetically and atmospherically vibrant. It's a unique narrative done by directors who understand what type of picture. Most significantly, the fundamental connection has a genuine grasp of the emotional sensitivity and fragility that make romance appealing as a genre. Finally, "The Lost City" is interested in confronting viewers' assumptions. It accomplishes so on a level that may appear apparent but is done with the care that will stand up to many viewings.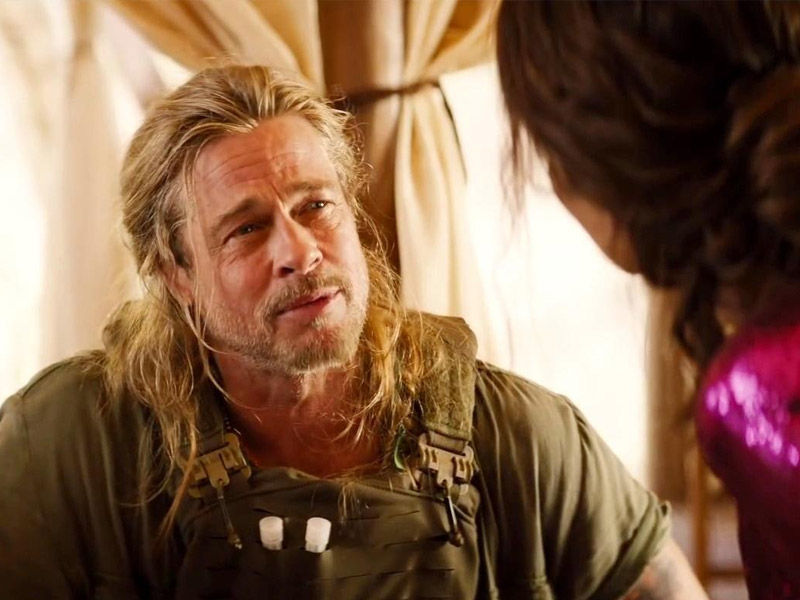 The Lost City persevered through a slew of half-hearted moments and mishandled punchlines to become an adventure that's inoffensively amusing and simple to enjoy. Bullock is in top shape. While Tatum's hero may not reach the dizzying heights of Chris Hemsworth's side-splitting himbo in Ghostbusters, his Alan is tremendously enjoyable. Radcliffe's abilities are wasted, but Da'Vine Joy Randolph, Patti Harrison, and Brad Pitt make the most of lesser supporting roles that provide some edge to the otherwise vanilla adventure.
The Lost City floats around for lengthy periods on the charm of its stars and the outrageous feats of its quest, but there are few laughs worth remembering. It's entertaining, but it's not the wild explosion that its idea and cast imply it should have been.