Battlegrounds Mobile India (BGMI, formerly known as PUBG Mobile India) is the Indian version of PUBG Mobile, available only to Indian gamers. Krafton created and published this online multiplayer battle royale game.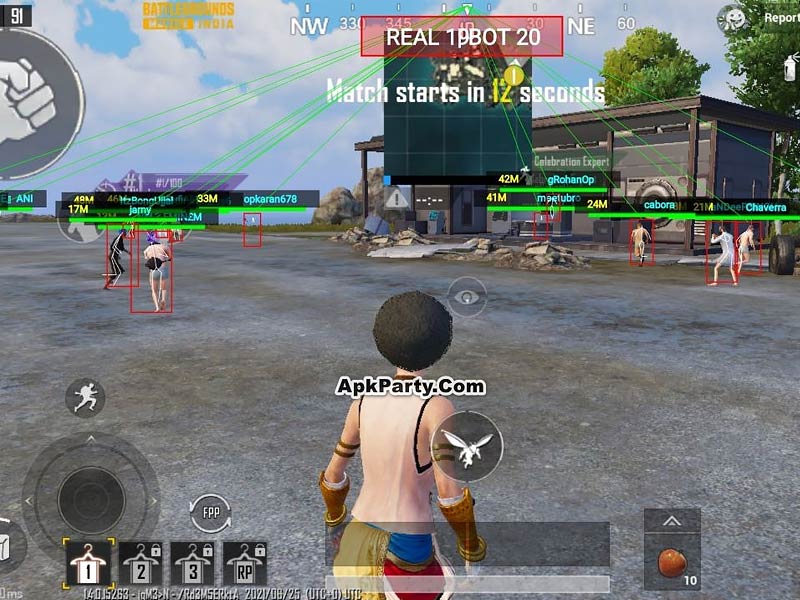 The game was released on July 2, 2021 for Android smartphones and August 18, 2021 for iOS devices.
BGMI had 50 million downloads on Google Play as of August 2021.
Gameplay
Battlegrounds Mobile India, or BGMI, is a shooter game in which up to 100 players compete in a battle royale, a form of large-scale last man remaining deathmatch in which players compete to be the last one standing. Individuals or small groups of up to four players can compete in the match. 
Each match begins with players parachuting from a plane onto one of the six maps listed below: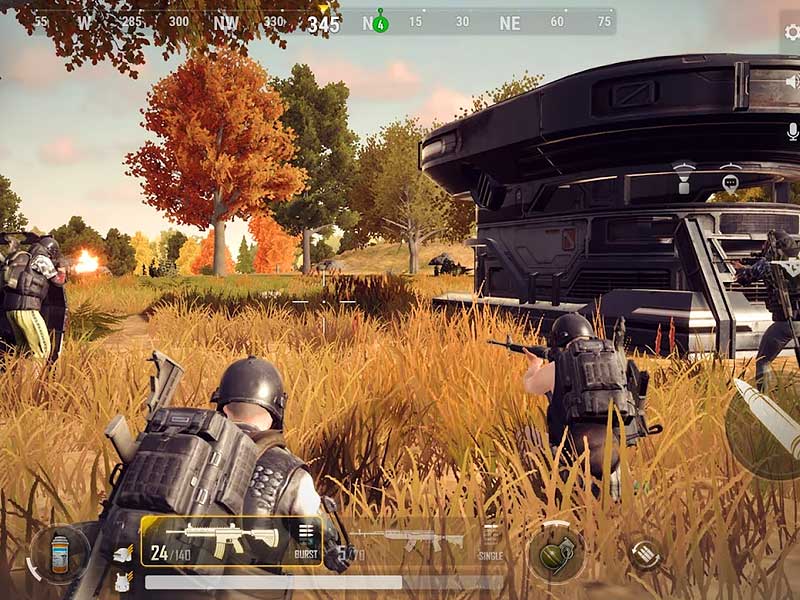 Erangel (Themed / Regular) 
Miramar
Sanhok 
Vikendi Livik (Normal / Themed) 
Karakin 
The plane's flight route across the map changes with each round, forcing players to quickly decide the optimal time to escape and parachute to the land. Players start with nothing but personalized wardrobe options that have no influence on gameplay.
Once on the ground, players can seek guns, vehicles, armor, and other goods in buildings, ghost towns, and other locations.At the start of a match, these items are procedurally distributed over the battlefield, with higher-risk zones typically having better equipment. Completed players can also be looted for their equipment.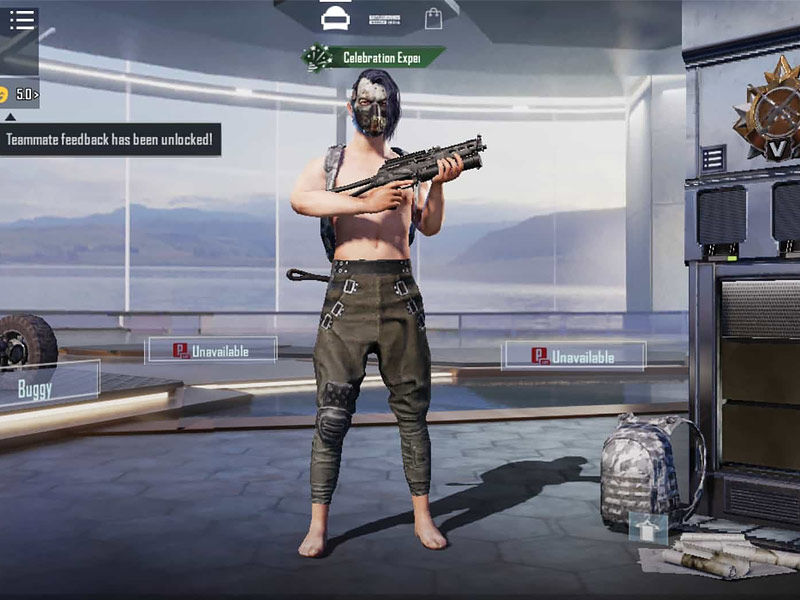 Players can choose between first-person and third-person perspectives, each with advantages and disadvantages in combat and situational awareness; however, server-specific settings can be used to compel all players into one perspective, reducing some advantages.
The map's playable region shrinks to a random position every few minutes, with any player caught outside the safe zone incurring progressive damage and finally being removed if the safe zone is not entered in time; in-game, the border appears as a shimmering blue wall that contracts over time.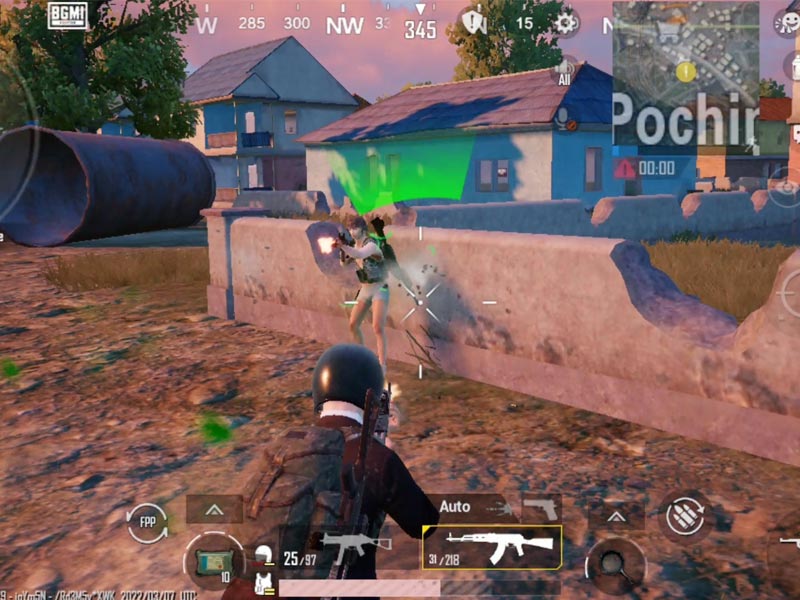 As a result, the map shrinks, increasing the frequency of encounters. During the match, random sections of the map are highlighted in red and bombed, offering a hazard to players who remain in that area. In all circumstances, players are notified a few minutes before these occur, giving them time to relocate to safety. 
A plane will fly randomly over different portions of the playable map, or anywhere a player uses a flare gun, and drop a loot box containing goods that are generally unobtainable during normal gameplay. These bundles create very visible red or yellow smoke, attracting attention and resulting in additional clashes. On average, a round takes roughly 30 minutes. 
At the end of each round, players win in-game cash based on their performance. In-game cosmetic goods can be purchased using cash.
Development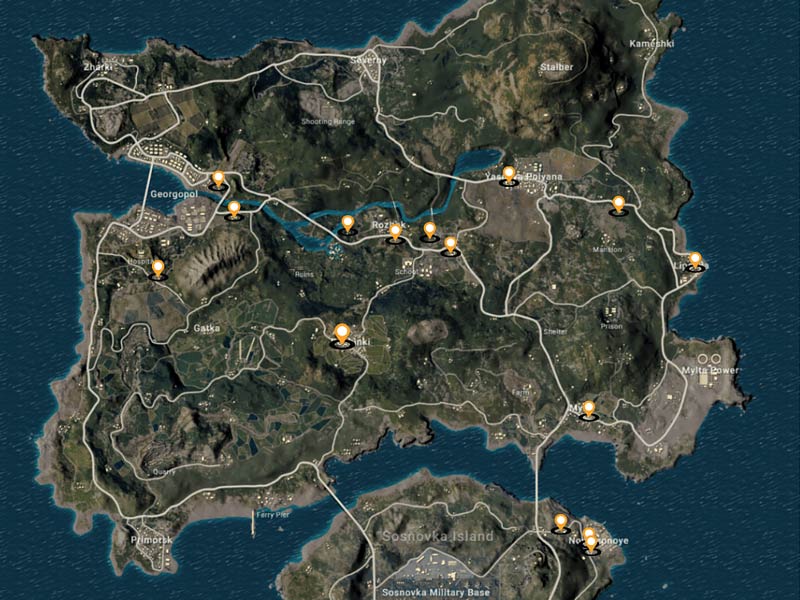 On September 2, 2020, the Government of India's Ministry of Electronics and Information Technology banned PUBG Mobile, as well as 117 Chinese applications, citing detrimental activities and a threat to India's sovereignty, integrity, defense, state security, and public order under Section 69A of the Information Technology Act, 2000. 
It was rumored in November 2020 that PUBG Mobile would be relaunched in India under the name PUBG Mobile India. The Times of India announced on November 24, 2020, that PUBG Studios and South Korea's video game business Krafton had filed PUBG India Private Limited under the Ministry of Corporate Affairs, Government of India, to relaunch PUBG Mobile in India.
To reach the Indian gaming market, PUBG Mobile was rebranded as Battlegrounds Mobile India in May 2021. Following that, on 7 May 2021, The Indian Express stated that Krafton revealed in a press statement that they were planning to debut Battlegrounds Mobile India, a game identical to PUBG Mobile.
Release
On May 6, 2021, the game was announced. Pre-registration for the game began on 18 May 2021 for Android users, and an early access beta version of the game was published on 17 June 2021 for Android users alone. The game was released on July 2, 2021 for Android smartphones and August 18, 2021 for iOS devices.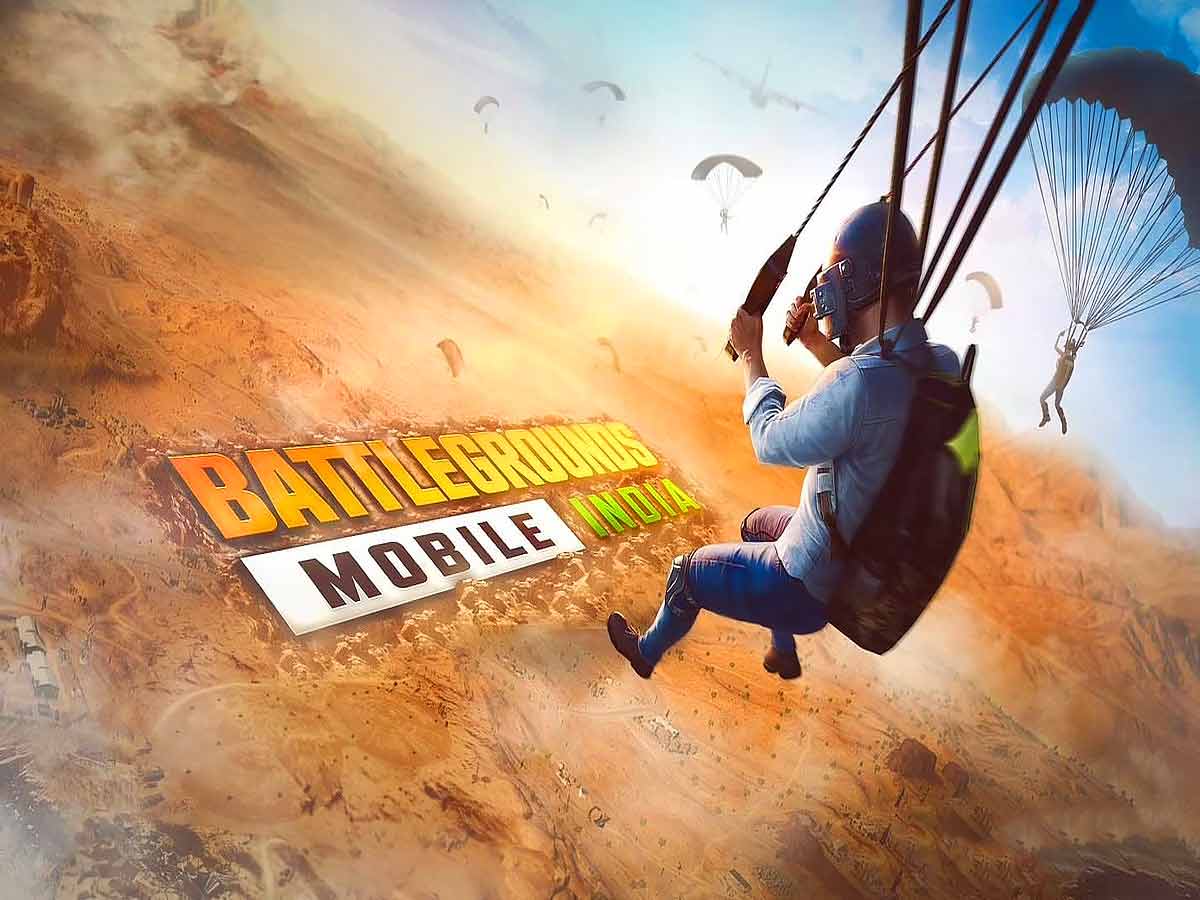 IGN India initially reported on 21 June 2021, following the early beta release for Android users, that data from users' Android smartphones were being transmitted to Tencent-owned China servers. According to The Times of India, "one reason for this could be that Krafton is allowing BGMI users to transfer their account and gaming data from PUBG Mobile to BGMI until December 2021."
Following the violation of data sharing, Krafton, the developer of BGMI, provided a minor in-game update on 22 June 2021 to remedy the data-sharing issue with China-based servers. However, it has been claimed that deleting the application data causes the game to ping Chinese servers.
How has Battlegrounds Mobile India differed from PUBG Mobile India? 
It is accessible on-demand for everyone on the Google Play Store, and anyone interested may head over there to get it. Are former PUBG Mobile India players satisfied with their new avatar? Let's see what's changed since the popular battle royale game PUBG Mobile was relaunched in its new form after being banned in India in September 2020.
PUBG Mobile vs Battlegrounds Mobile India 
The first thing that gamers notice is the most crucial thing of all. With a few visual differences, Battlegrounds Mobile India is nearly identical to PUBG Mobile India. That should warm everyone's heart because the fundamental aspects that have earned the game so much popularity are still present. It is a hugely popular game that is expected to remain so. Perhaps Krafton decided that if the game isn't broken, why try to improve it?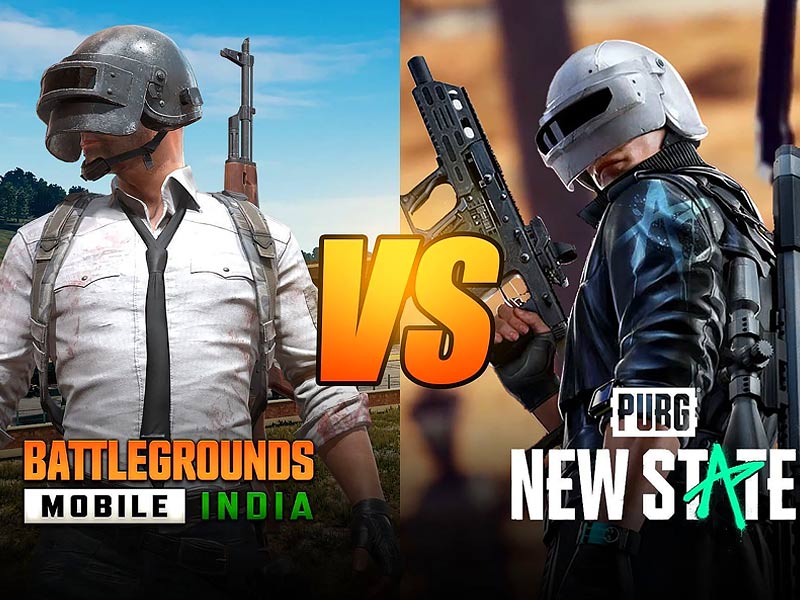 Graphic Design 
So, what has altered? Some cosmetic improvements to the game have been implemented, such as converting red blood splatter to green blood in an attempt to tone down the visual and excessive violence in this battle royale game. In fact, it constantly informs players that the game is not for real. 
A word of caution for game junkies 
Limits on the amount of time and money that underage players can spend on the game have been put as an important change to cater to the community that does not want young gamers to play the game for long hours and become addicted to it. 
The BGMI Account 
Given that PUBG Mobile India is effectively dead, a new account structure has been implemented, according to TechCrunch.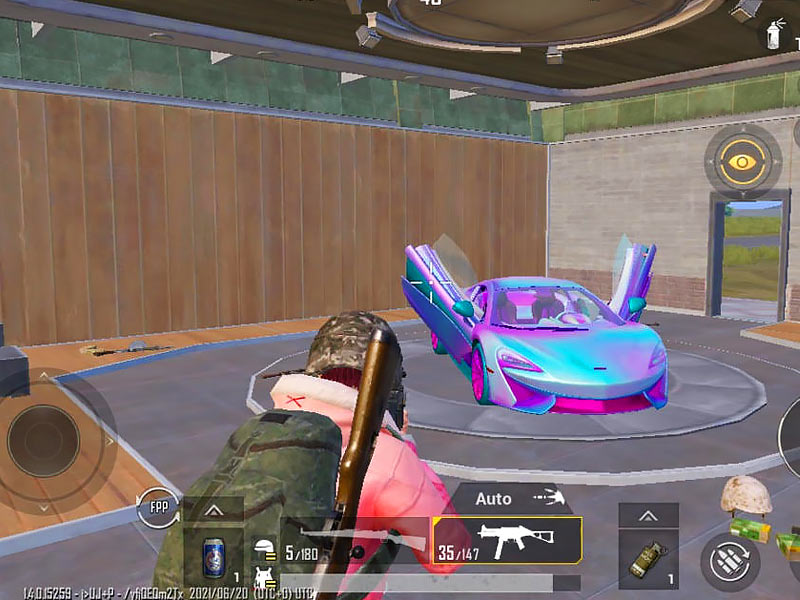 Indigenization 
Yes, and there is another topic being discussed: indigenization. The background/maps in Battlegrounds Mobile India would look extremely familiar to you. It will make you feel at ease. 
Exclusively for India 
Whether it bothers you or not, Battlegrounds Mobile India is available only here and nowhere else in the world.
Calls are prohibited on Battlegrounds Mobile India. 
While the Battlegrounds Mobile India game is now live, players should keep in mind that the PUBG Mobile India shadow and its past ties to China remain. Various MPs in India, as well as a trade association, continue to demand its prohibition. So, while you enjoy your gaming, keep an eye on that space as well.