Disclaimer: The Link to watch the movies for free is there, search it if you can!
In India, comedy films are referred to as "family films." There are no points for guessing that they fare very well at the box office. So much, so that romantic and comedic films ranked equally in the box office. While most comedy films today are 'escapist,' some old gems from back in the day boasted impeccable storylines. Nonetheless, decent comedies are still made today.
We've compiled a list of the 10 Old comedy Hindi movies that were the best. We promise ticklish ribs and hysterical laughter if you watch all of these. Let the stomach aches begin!
Bawarchi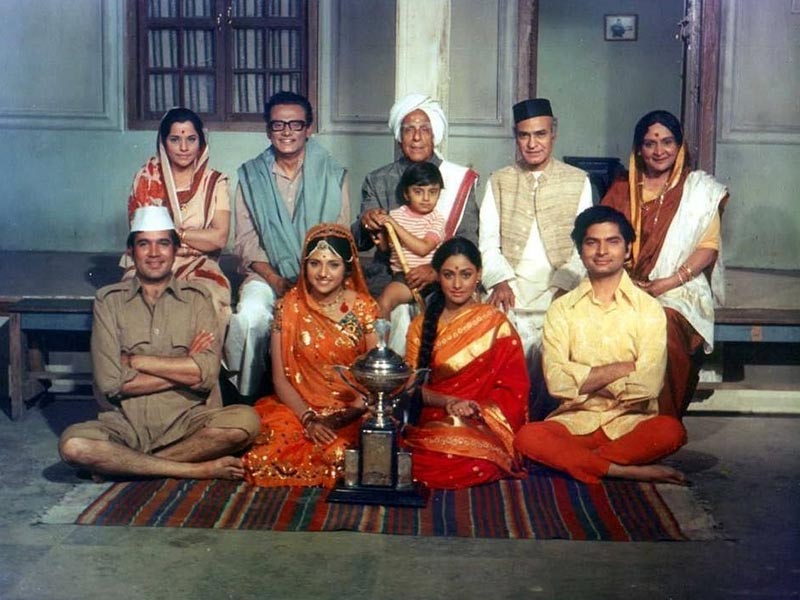 No chef wants to deal with the Sharmas, who are still bickering. When Raghu enters the frame, the family is reunited. But is Raghu completely safe, or is there anything he's keeping hidden? Rajesh Khanna was fantastic as the lovable, eccentric, and good-hearted servant. Bawarchi is Indian cinema's family entertainer.
The influence of their young multi-talented household servant transforms a broken middle-class family – but he may be too nice to be true.
Chupke Chupke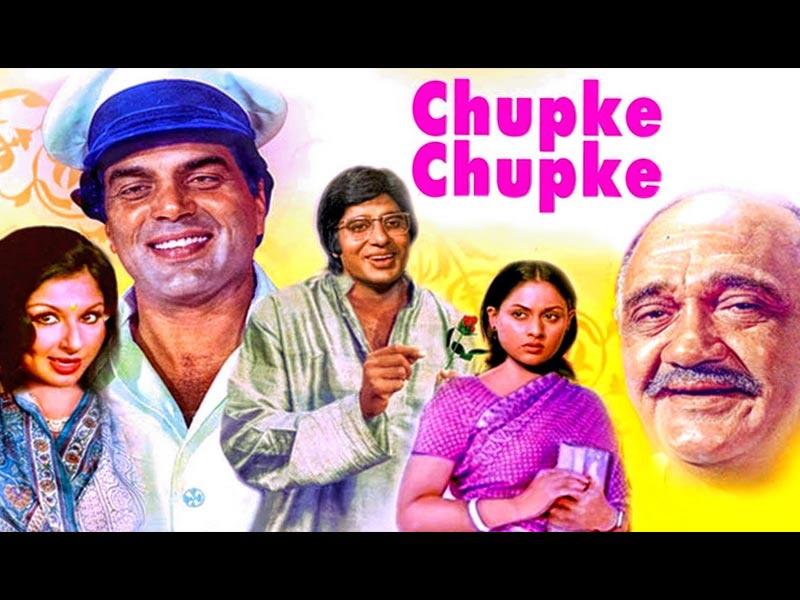 This film is a relic from a gentler era of Hindi cinema when comedy was not crass or mindless.
Chupke Chupke is a movie about a man impersonating a driver and duping his wife's brother-in-law to show that the 'genius jijaji' is not, in fact, a genius at all. So Dharmendra's character, Dr. Parimal Tripathi, a botany professor, takes on the role of the quirky chauffeur Pyare Mohan.
Pyare Mohan keeps on speaking in shudh Hindi, referring to himself as a 'Vahan chalak.' To make matters more complicated, Parimal's friend Sukumar, played by Amitabh Bachchan, then pretends to be Parimal. Before the jijaji, played by Om Prakash, admits loss, there is much misunderstanding and laughter.
Padosan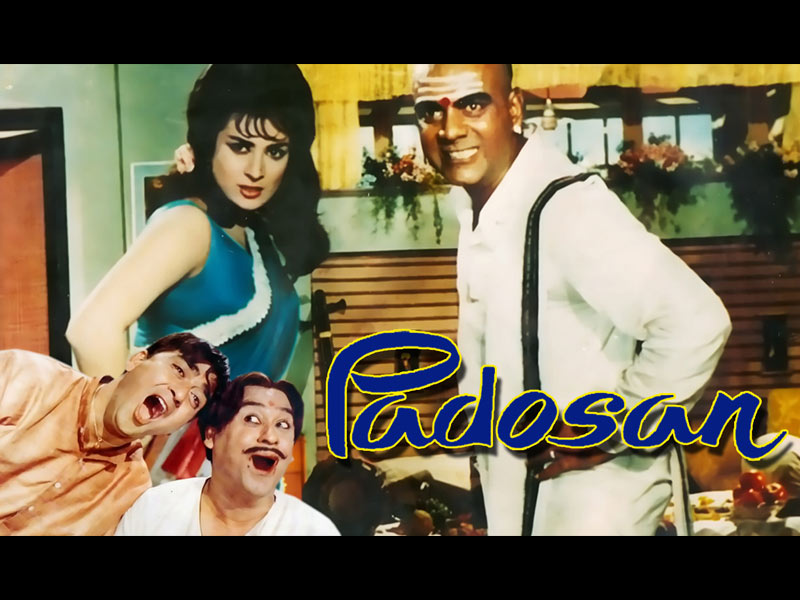 This is unquestionably one of the greatest comedic films of all time. A simple guy falls in love with his lovely neighbor and enlists the assistance of his friends to attract the lady, who is becoming more interested in her music teacher. The right chords were struck by the words "fun" and "music." Sunil Dutt's and Mehmood's characters' singing battles are legendary. Kishore Kumar is the comic heart of this film.
Padosan is a musical comedy film about a simpleton named Bhola (Sunil Dutt) who falls in love with his neighbor Bindu (Saira Banu). He needs to sing to her to please her. He isn't a decent musician, so he finds the assistance of his friend, Guru (Kishore Kumar). Guru, a well-known musician, offers to assist his pal.
And the rest is history…
Gol Maal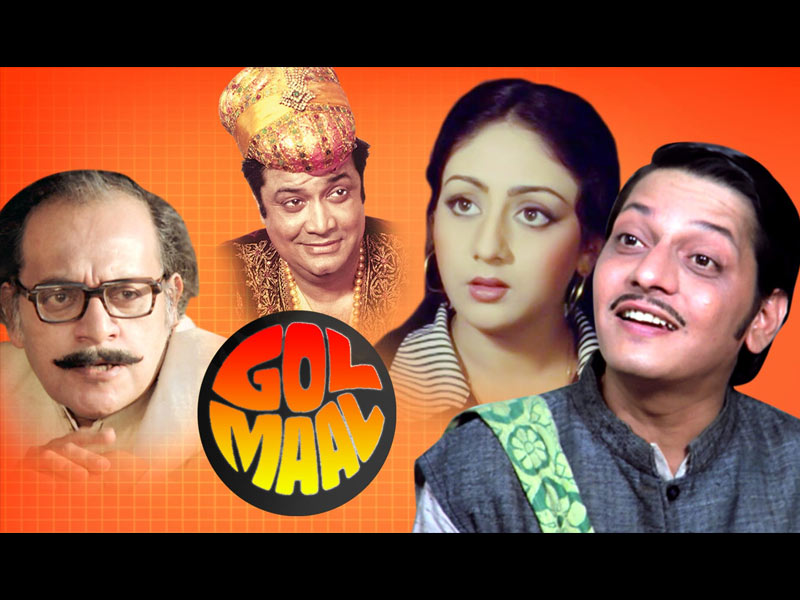 Gol Mal has been lauded by reviewers and fans alike as one of the best Bollywood comedies ever made. A career search, a false mustache, a hockey game… perplexity has never been so amusing. Utpal Dutt's shrieks and raucous laughter are now legendary.
Gol Maal by Mukherjee was more than just an amusing film. It was contemporary and made a bold statement about the middle class's burning question of survival in the 1970s. Although Salim-Javed wrote rage-filled dialogues for Amitabh Bachchan in The Angry Young Man, Mukherjee stretched the envelope more softly, commenting on issues like unemployment in his trademark lighthearted manner.
Jaane Bhi Do Yaaron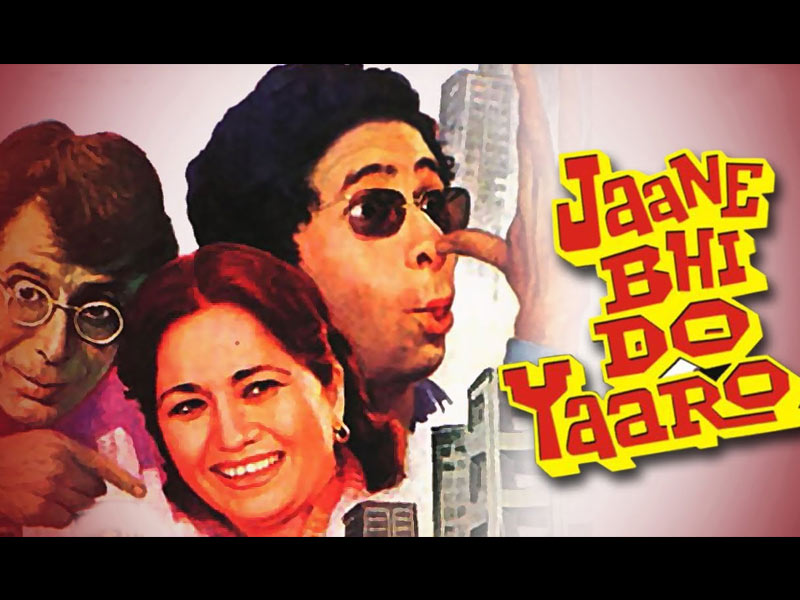 The film is a satirical satire on Indian politics and injustice, featuring two friends who must defend themselves against gangsters, mafia, and politicians. The characters are insanely funny, with Naseeruddin Shah and Ravi Baswani escorting the corpse (played by Satish Shah) in a series of fit-inducing gags. The climax, which features a corny stage adaptation of the Mahabharata, is arguably the funniest scene in Hindi film history.
Vinod (Naseeruddin Shah) and Sudhir (Ravi Baswani) are two talented photographers attempting to open a photography workshop. The first real assignment they have, from the activist magazine Khabardar (which means "beware"), takes them into the shady world of Bombay real estate. They learn that Tarneja, one of Bombay's largest contractors, is attempting to blackmail Municipal Commissioner D'Mello (Satish Shah) into awarding him a bridge deal. Meanwhile, D'Mello is in talks with Tarneja's archrival, Ahuja (Om Puri). Finally, the deal is awarded to a third party. By chance, Vinod and Sudhir discover Tarneja's murder of D'Mello…
Chashme Buddoor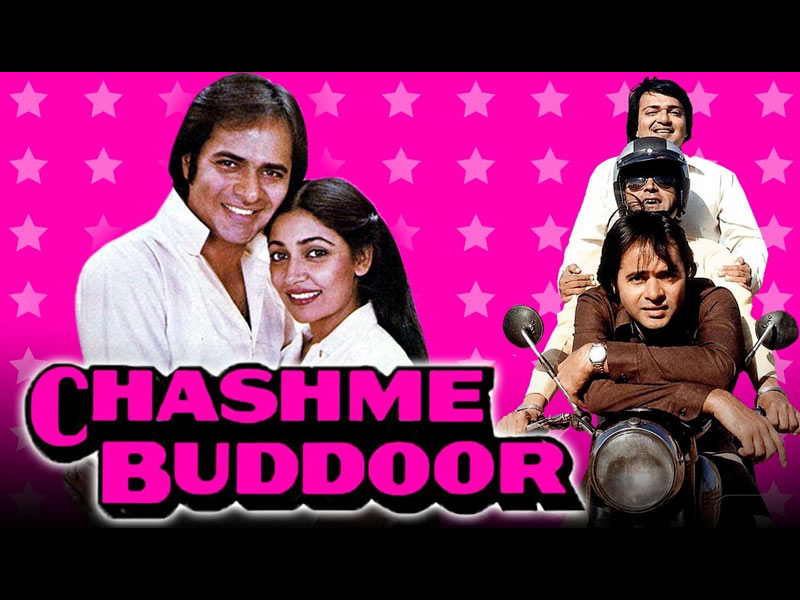 Two roommates fall in love with the same girl, but only one wins her heart. Anything that happens with the other two attempting to break them up and a happier ending is met with laughter. Chashme Buddoor was the ideal comedy for college students, and it was really relevant in the early 1980s.
Omi and Jai (Rakesh Bedi and Ravi Baswani, respectively) are two womanizing slackers who try – and fail – miserably to woo the new girl in the neighborhood. Their third roommate, who is reserved and a bookworm, succeeds, much to their surprise. The two concoct amusing schemes to separate the two lovebirds so that their lies and embarrassment are not exposed.
Click here to watch
Angoor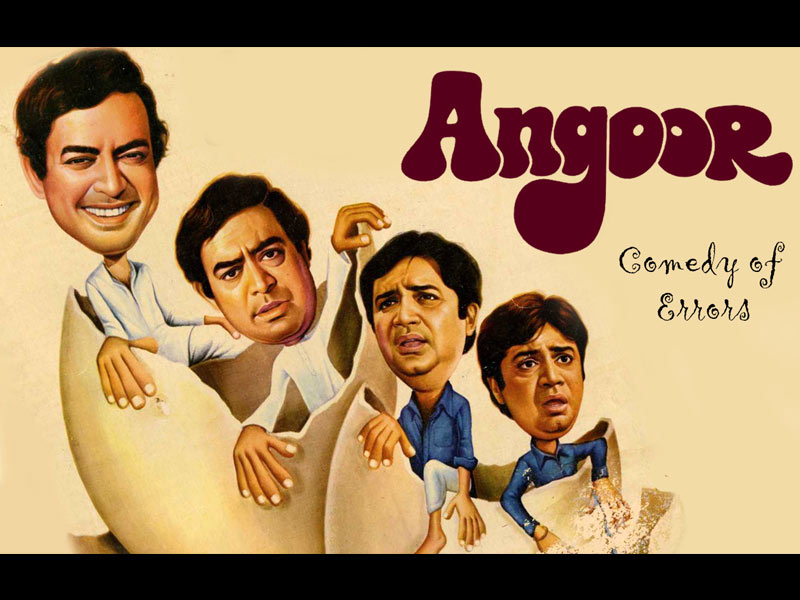 It's based on Shakespeare's 'A Comedy of Errors,' in which two sets of identical twins are split at birth, and their lives take an unexpected turn when they reconnect as adults. It contains one of the best comedy works by an Indian actor ever. This was pure Sanjeev Kumar's brilliance!
Angoor is a light comedy with a lot of laughter and drama. Angoor is a full family entertainer that you will enjoy watching with your whole family. Making a hilarious film of so many funny incidents, confusions, and double roles was difficult.
However, Angoor is a one-of-a-kind film. Several contemporary double-role films are influenced by the old comedy Hindi movie Angoor.
The celebrity cast of Angoor adds to the film's uniqueness. Every character in the film is well carved and does complete credit to their respective roles. The key actors, Sanjeev Kapoor and Deven Verma delivered outstanding performances. Deven Sharma has done an outstanding job with his flawless gestures that are unforgettable. Overall, Angoor is a must-see evergreen comedy film.
Satte Pe Satta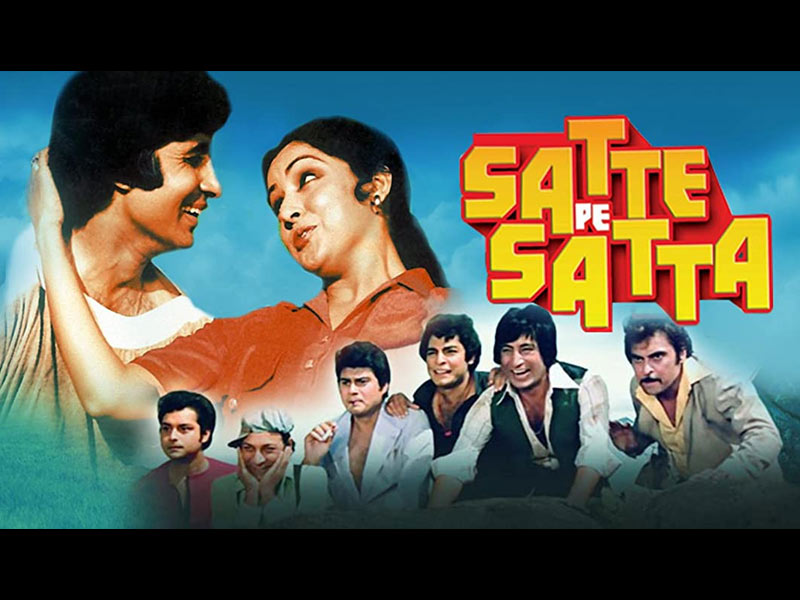 Seven brothers live in a run-down farmhouse under the care of the oldest. Surprisingly, they are both named after a certain day of the week. Ravi's formal name is Ravishankar (for Sunday). They grow up in squalor, unwashed, unkempt, ill-mannered, and usually boisterous and boorish, so they lack parental guidance. When Indu (Hema Malini) enters their lives, the cleaning begins.
Seema, Indu's friend, is a wealthy but wheelchair-bound heiress who lives in a mansion with her uncle and six other children. Babu, Ravi's doppelganger, takes Ravi's place, while Seema and her friends become house guests in the boys' home. Seema is the target of a plot to assassinate her. The story revolves around the selfish uncle. Click here to watch!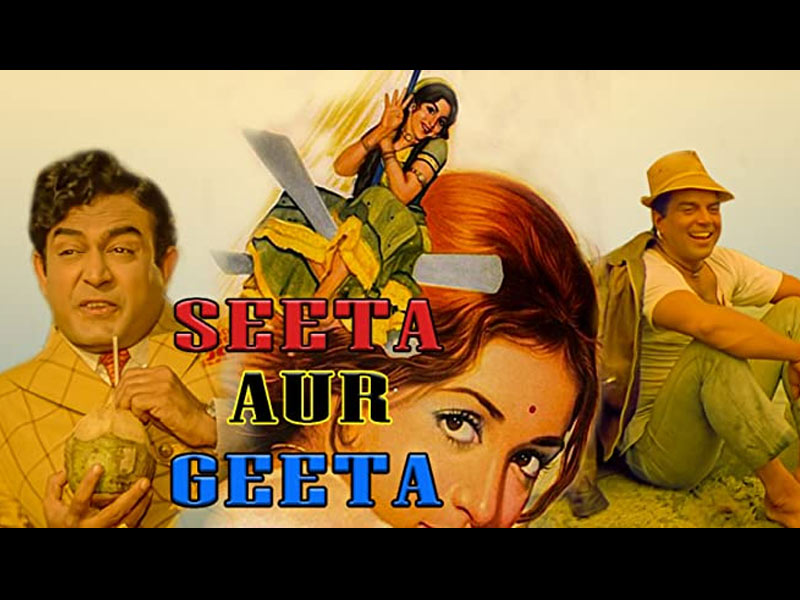 An heiress with a long history of pain, Her manipulative money-grubbing aunt, treats Seeta like a servant. Meanwhile, her long-lost twin sister Geeta matures into a fearless street artist. The girls accidentally swap places one day.
Seeta suffers at the hands of her evil aunt Kaushalya. Seeta, tired of her atrocities, leaves the house one day and runs into Raka. Meanwhile, her impersonator, Geeta, is arrested and taken to Kaushalya by the cops. Geeta, unlike Seeta, is fearless and quickly seizes hold of the house. Geeta's mask is blown, however, and she is arrested for impersonation.
Meanwhile, Seeta is unwilling to fulfill life's harsh demands, such as street dance, Geeta, and Raka's career. As Geeta is dispatched, Kaushalya tracks down Seeta and returns her to her life of silent slavery, violence, and imprisonment.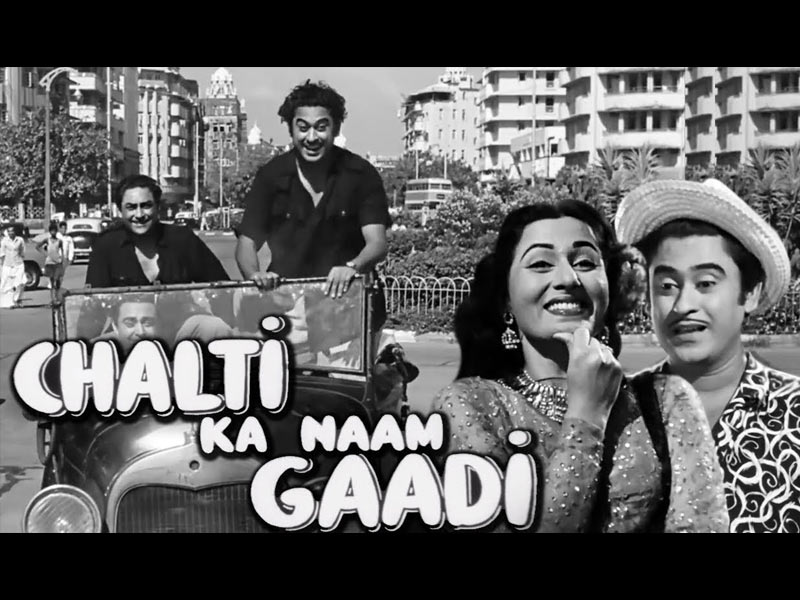 Excellent film. We are impressed by the time and effort put in by the cast and crew. The connection between repair tools and music is fantastic. And the protagonist is stunningly gorgeous and daring. Her dominant personality encourages the crowd. Her companion is also well-versed in the mechanics of cars. A comedy film that makes you laugh while still being high in content and message.