This review contains spoilers for the sixth episode of Marvel's Loki, 'For All Time. Always,' which is currently accessible on Disney+ Hotstar. Check out our Loki episode 5 review to catch up on where we left off.
Loki's season finale has saved the best for last, bringing massive, universe-altering events to a little stage. It's a confluence of issues, character relationships, and potential that resulted in a wonderfully compelling yet shockingly quiet 40-minute film. A fantastic script and a stunning debut performance combine to produce a television show that should permanently impact a world (or multiverse).
After a brief nostalgia-soundtracked voyage across space, Loki's season finale drops us precisely where we want to be — at the end of episode 5. Loki and Sylvie are greeted with a magnificent gothic castle beneath an iridescent sky, and they are just as curious as the spectator to find out who is behind all of this. We won't have to wait long to find out.
Following a pleasant meeting with Miss Minutes' more evil side – who acts as a warning to save your progress before a final boss battle in a video game – the performance doesn't waste any time in ripping back the curtain. But, unlike an action-packed boss battle (which Marvel fans are used to), this is more of a war of words. It's a fight better suited to Loki than Sylvie. The latter would prefer to negotiate their way out of a situation than engage in battle.
When an elevator door opens, the tables are turned. The variations are surprised to discover a mere man standing before them. While the couple may be amused, anybody who has kept half an eye on Marvel casting rumors will have a smile on their face the minute Jonathan Majors comes on screen. A smile that won't go away for another 30 minutes or so.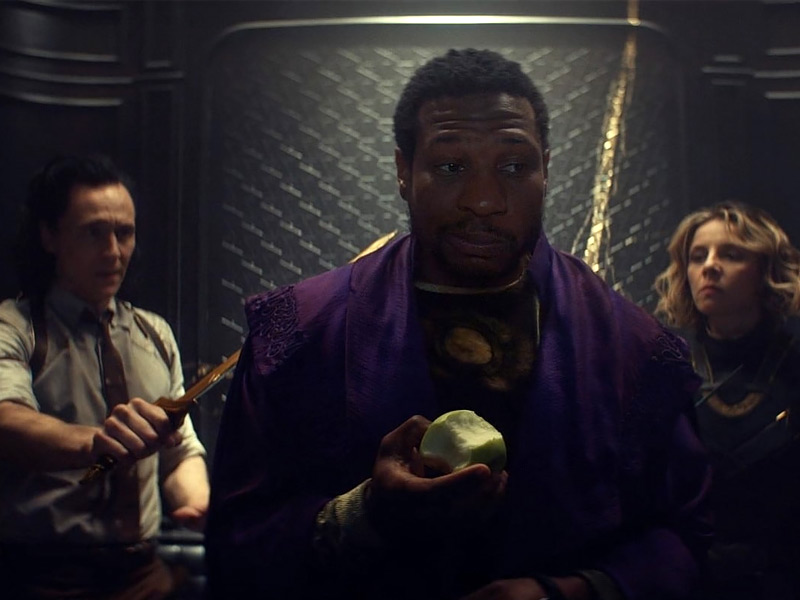 It's delightfully Shakespearean, a stage established by Tom Hiddleston's Loki but totally taken by Majors throughout the show. This is primarily due to excellent writing (some of the best in the MCU to date) and Majors' apparent delight in delivering every line. The Lovecraft Country actor commands the screen as the enigmatic "He Who Remains," and even if you know not to trust him, you can't help but be lured into him. It's a blunder that Loki, predictably, commits.
It's delightfully Shakespearean, a stage established by Tom Hiddleston's Loki but totally taken by Majors throughout the show.
The villain we anticipate becoming a twist on the comics' Kang the Conqueror behaves as though he is a director, happily watching the screenplay he has spent an eternity drafting being performed for the first time. It's entertaining to see him play with both Loki and Sylvie. At one point, he says, "We're all villains here," masterfully connecting to them and tempting them with every word. He's fully in charge – until he realizes he has no idea what's going to happen next in the tale.
After a whole show based on a lack of free choice, it's a great moment when (if you believe him) you're prepared for anything and, more importantly, anything seems like it might happen. The entire passage is a masterclass in suspense, built up through compelling dialogue and Majors' heavyweight performance.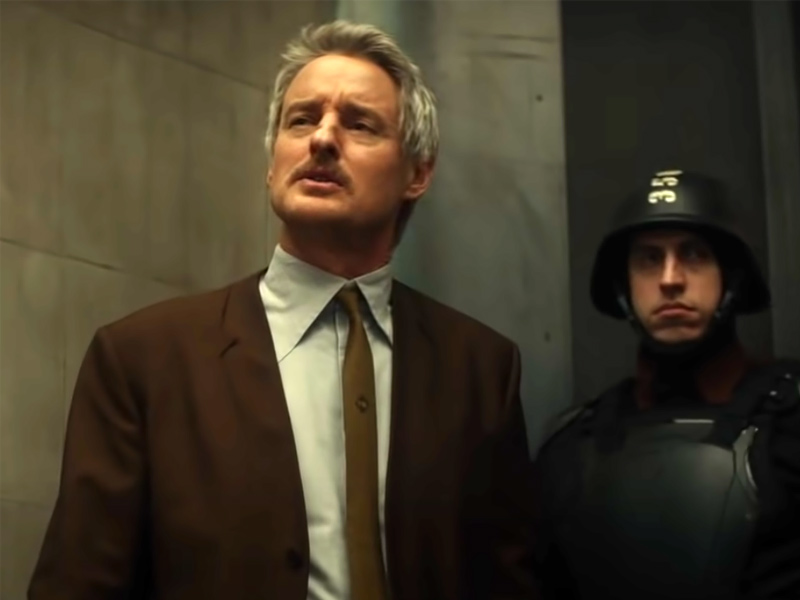 He Who Remains is friendly and charismatic but also feels like a shark lurking in the shallows, ready to pounce at any time, channeling the crazy energy of Gene Wilder's Willy Wonka and the underlying dread of Denzel Washington's Detective Alonzo in Training Day. In many ways, he's a metaphor for the series as a whole: a lighthearted appointment with a sinister undercurrent.
All of this culminates in a climactic sequence. Hiddleston's Loki and Sophia Di Martino's Sylvie clash, kiss, make out and then clash again. Again, the writing and directing are superb, resulting in manipulating both versions, their real natures set against one another. The episode's lone action sequence is a quick but exhilarating flurry of blades that culminates in a heartwarming moment that I'm sure all Sylki shippers out there appreciated – even if the genetic parallels of the situation make me feel a bit uneasy. Given that nearly the whole 40-minute runtime is spent sitting at a single desk in an office, this is no small achievement.
Villain monologues with a lot of exposition may frequently drag everything to a stop, but that isn't the case here.
When the story moves away from this desk, the less interesting parts of Loki emerge. Renslayer remains a mysterious figure, but not in a good way. We still don't know much about her, and the little encounters we have with her here don't help much. The brief appearance of a Renslayer version is more of a Season 2 set-up (which was verified in a mid-credits scene) than a real storyline pay-off.
Mobius is back, but Owen Wilson isn't given the finest material to work with, and it feels like a step back following his dramatic leave last week. While these people can't be ignored entirely, I did find myself wishing I was back at the end of time every time I visited the TVA.
Loki delivers its spectacular conclusion at the end of time. Whereas WandaVision, The Falcon, and The Winter Soldier all struggled to cross the finish line, showrunner Michael Waldron and director Kate Herron do it with ease. Sylvie's decision is aesthetically stunning, causing real ripples in time as the branches emerge in the stars like fractures in the ice. It's a decision that not only makes perfect sense for Sylvie's character growth but also has the potential to transform the MCU as we know it. For all eternity. Always.
Verdict
A fantastic script and a stunning debut performance combine to produce a television show that should permanently impact a world (or multiverse).
What was new?
The villain has been exposed.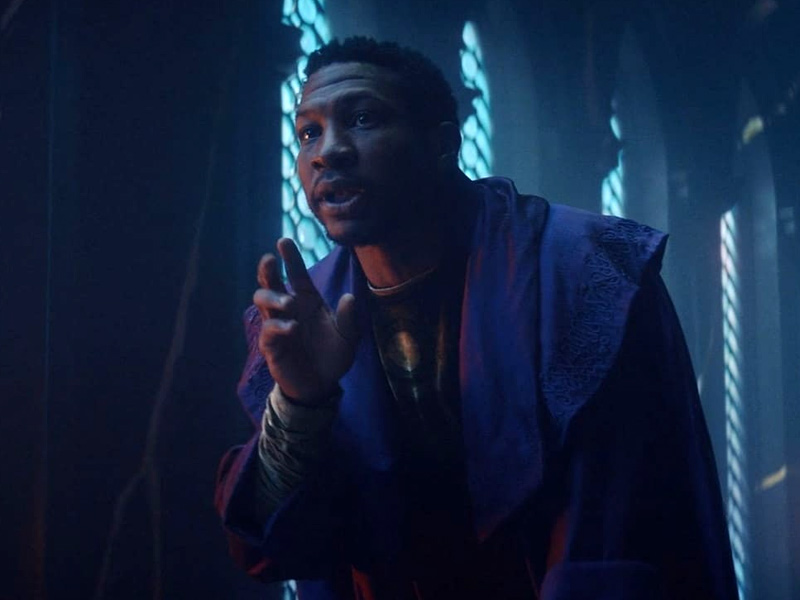 When Loki and Sylvie enter the Citadel at the End of Time, they meet He Who Remains (Jonathan Majors), who seems to be a time-traveling comic villain named Kang the Conqueror. We already knew he'd be making his MCU debut in Ant-Man and the Wasp: Quantumania in February 2023.
Because he is never referred to as Kang in this episode, it appears that Kang has not yet shown. He Who Remains claims to be the sole survivor of a multiversal war that erupted after many versions of himself made contact following the discovery of the universe in the 31st century.
The Multiverse has been restored.
Loki and Sylvie engage in an epic battle for He Who Remains' fate. The latter emerges victorious (after a little Variant kissy time). She flings Loki back to the TVA and slays He Who Remains, causing the chronology to branch wildly, allowing various versions of Kang to run rampant across the multiverse.
"See you soon," he whispers creepily as he dies.
When Loki attempts to alert best bud agent Mobius (Owen Wilson) and Hunter B-15 (Wunmi Mosaku) about the threat, their impact is immediately felt in the TVA.
They can't recall Loki, and as he looks around, he sees a monument of Kang in his comic outfit towering over the TVA — it appears the God of Mischief has been transferred to another timeline's version of the agency, one that a Kang Variant openly controls. And he's instructed his operatives to allow the chronology to fork.
This presumably leads directly into Doctor Strange in the Multiverse of Madness, which is set to be released in March 2022. Ties into the WandaVision finale, Wanda heard her lost sons calling out from some plain of reality – Wanda's search is likely to continue in the Doctor Strange sequel. Loki is also anticipated to appear in the film.
The animated series, which premieres on Disney Plus on Wednesday, Aug. 11, examines other universes based on events in the MCU that play out differently. It also most certainly opens the way for What If…? to become canon. And maybe, just maybe, it'll help Spider-Man: No Way Home break down the barriers between worlds.
And it may have paved the way for the Deadpool-Korg Free Guy response video. It's all official now.
Announcement after the credits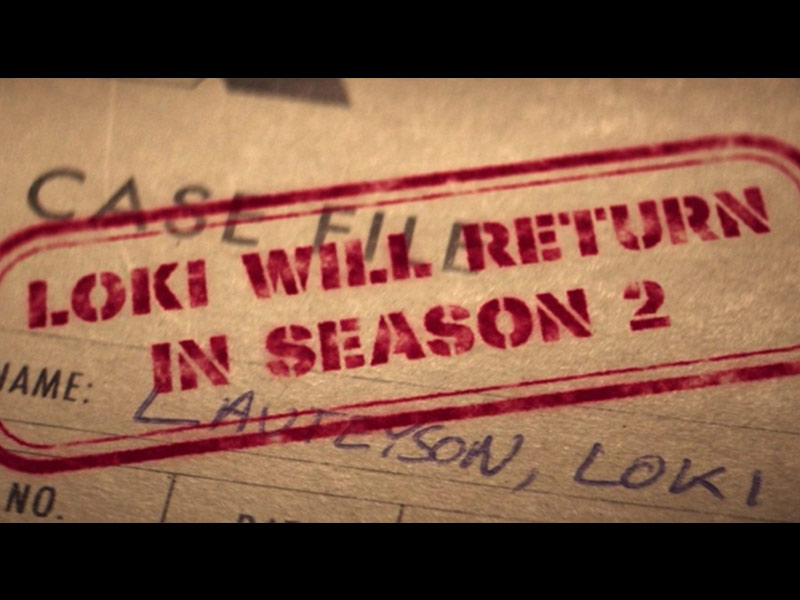 A stamp appears on Loki's TVA case file, stating that "Loki will return in season 2" – the chronological nonsense continues.
The first Disney Plus live-action MCU show will be renewed for a second season since WandaVision, and The Falcon and The Winter Soldier's narrative will allegedly take up in the upcoming Captain America film. So, Laufeyson, congrats.
Miss Minutes Is a Danger
Miss Minutes (Tara Strong) greets Loki and Sylvie at the Citadel with the most ominous "Hey y'all" in history. She was, in fact, a puppet for He Who Remains all along.
Instead of suffering so many humiliating defeats, Loki may defeat the Avengers at the Battle of New York, killing Thanos, grab the Infinity Gauntlet, and retake the throne of Asgard. Sylvie may forget about her time running from the TVA and "wake up tomorrow with only a lifetime of good memories."
That's all, Folks… 
If you have more theories regarding the finale of LOKI, let us know in the comments section.