If you are looking for something in a romantic comedy genre to give a watch, we have something for you. Aafat e Ishq is something that you can give a try. The movie is available on the OTT platform of Zee 5. Here is a review of the movie, Aafat e Ishq, to give you a glimpse of it so that you can decide whether you want to watch it or miss it!
STORY OF AAFAT E ISHQ
The story of Aafat e ishq revolves around Lallo (Neha Sharma) is a 30-year-old loner who works as a caregiver for the bedridden BahuJi played by Ila Arun. Also, she inherits Bahuji's home after her untimely and unexpected death and starts her search for the love she so desperately desires. However, everybody is drawn to start dying in some mysterious circumstances, and then she starts to believe that she is the only fabled 'Laal Pari,' who has been cursed to see her lovers die soon after meeting them.
REVIEW OF AAFAT E ISHQ
Aafat e Ishq gets off to an unusual start, with a traumatised woman (or is it a woman?) Then we go to a haunted house… or rather, the house before it became haunted. Lallo, the orphan caregiver for a paralysed woman, is one of them. When the latter passes away, she inherits her home, which is where the problems begin.
The movie will not automatically make you laugh out loud. It does, however, have a very amusing aspect to it. When you first meet Lallo, Aafat e Ishq has sinister undertones. Then there's Namit Das, who just shimmies and laughs.
Liza—The Fox Fairy is an Indian version of the Hungarian film Aafat-e-Ishq (2015). It begins on an intriguing note, with Lallo being questioned about the mysterious deaths of people around here by Inspector Ramdayal (Darshan Jariwala). And she responds by saying that she is the cursed 'Laal Pari,' and anyone who comes too close to her will perish. Despite being a remake of a foreign film, this is an intriguing premise at a time when the horror-comedy genre desperately needs reinvention.
However, the screenplay that is written by Indrajit Nattoji and Neha Bahuguna somewhere becomes monotonous and fails to captivate the audience. While you are waiting for something to happen, it does not surprise you in the least. Yes, there is an intriguing twist at the end of the film, but the journey there appears to be long and laborious.
Neha Sharma plays her part well, bringing out the various shades of her character, from the reticent girl to someone out to woo and win her Mr Right and the 'Laal Pari', who appears to kill everyone who comes close to her. Deepak Dobriyal's Vikram Kamal, an investigative cop, has a quirky personality. Ila Arun contributes to her brief role with some clever lines. Amit Sial and Darshan Jariwala are adequate in their roles, but there is only so much they can do. Only Namit Das appears to enjoy his role as the friendly ghost of Atmaram.
The cinematography of Shreya Gupta adds to the atmosphere and mood of the story. Gaurav Chatterji's music is enjoyable to listen to, especially the upbeat Love Ka Bhoot reloaded.
'Aafat-E-Ishq' is a refreshingly different take on horror and romantic comedy. The plot is original, and the film's technical aspects are excellent. The plot is entertaining and the film moves along at a good pace. The film's weakest point, however, is that it takes an innovative concept and overuses it. Men who seek Lallo's love die in mysterious ways, like flies around her. Those who simply look at her with admiration die horribly. The premise is amusing at first, but it quickly becomes tedious.
The plot becomes repetitive, especially when it becomes clear that several characters and subplots have been introduced into the narrative solely to lengthen the runtime. One such instance is Vikram Kochhar's segment. However, watching the same thing over and over again becomes tedious and boring to the viewer. We already know what happens to poor humans, and it gets boring sooner rather than later.
The most amusing aspect of Lallo's character is that once she puts on that hideous red outfit, she wears it constantly for the rest of the film. For Christ's sake, she even sleeps in it! To keep with the 'Laal Pari' theme, the creative minds behind the film could have at least given her a decent wardrobe. The poor girl would no longer have to wear the same outfit for the duration of the film.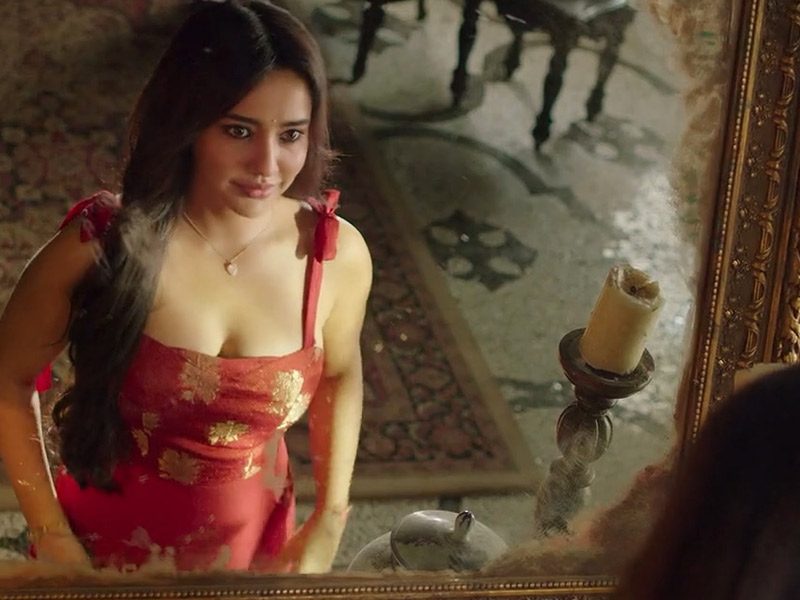 Overall, 'Aafat-E-Ishq' is a mediocre film with little to recommend it. If you have nothing better to do, watch it. Surprisingly, the film ends on a promising note for a follow-up. It remains to be seen if ZEE5 will approve it.