India is a country rich in its culture and heritage and so is the case with the fashion of India. India is a country with an ancient clothing tradition so you can guess how rich and vast the fashion of India is. From ethnic to the western, the fashion of India masters it all. A woman in an Indian traditional saree looks as pretty and beautiful as in any other western attire. The fashion of India is so elegant and graceful that the people from various parts of the world imitate the fashion of India. And typical Indian saree is something that every woman craves for be it Indian or foreigner.
The fashion of India reflects the culture, traditions, spiritualism, and purity of India. The fashion of India is not less than any when it comes to the comparison. Still, it is much more elegant and graceful. The fashion of India can enhance and compliment the personality of any person. The fashion of India is so vast and interesting. The fashion of India has faced so many changes and developments till now and to know about them is indeed great fun!
IF YOU ARE ALSO KEEN TO KNOW MORE ABOUT THE FASHION OF INDIA, THEN DO READ THIS BLOG AND DISCOVER SOME AMAZING FACTS…….
HISTORY OF THE FASHION OF INDIA
The history of fashion in India or clothing in India dates back to ancient times. It was then just traditional Indian clothing that developed so many variations and styles as fashion development in India took place. Be it a ghagra choli, saree, or a dhoti it all remained popular in India till the early decades of post-independence India. A common form of Indian fashion emerges from western culture.
Fashion includes a series of gold threads and sequins to attract customers and apply a statement to the Indian fashion community. The trademark of Fashion of India lies in the beauty of embroidery. Embroidery is the art of sewing different thread patterns and requires a lot of effort. And the traditional look with some new trends keeps on creating different and new fashion trends in India from time to time.
The fashion of India represents the influence of Western culture on the Indian tradition which makes it stand out from the crowd. If we come to the part of a larger revival of the fashion trends in India the credit goes to Ritu Kumar, a Kolkata-based designer and textile print- expert. He was the person who made it a part of the Indian Fashion industry and established 'ethnic chic'. She started working on reviving the traditional techniques of hand block printing of Bengal. Her first boutique was opened in Delhi in the year 1966.
In the year 1973, she showcased the Zardozi embroidery in her garments. The embroidery has its origin from the Mughal era's royal costumes. This attempt of her led to the revival of this lost art. Within no time, this art of hers became a prominent feature in Indian weddings and one of the country's biggest exports. This period witnessed the revival of various Indian techniques in weaving, dyeing, printing, or embroidery that includes shisha (mirror embroidery), bandhani (tie-dye).
In India, the early trendsetter of fashion was Bollywood. The costume designers like Bhanu Athiya started their experiments with film fashion. They introduced some amazing fashion trends in India through some classic movies of Bollywood. The movies such as Sahib Bibi or Ghulam (1962), Amrapali (1966), and so on set some amazing trends followed by the mass markets. Be it the beautiful purple embroidered saree worn by Madhuri Dixit in Hum Aapke Hain Koun or short Kurti suits in Bunty Aur Babli, every style contributed a lot to the Fashion of India.
Since then there are several amazing fashion trends have continued to prosper in the fashion of India.
CITIES IN INDIA THAT ARE THE HUB OF FASHION TRENDS IN INDIA
Several cities in India are the centers of fashion designing and manufacturing in India. These cities include Delhi, Kolkata, Chennai, and Mumbai. These cities play an important role in the fashion of India and are most of the time trendsetters. These cities are followed by Bangalore and Hyderabad too. Bangalore and Mumbai are home to some of the top fashion rental services in India.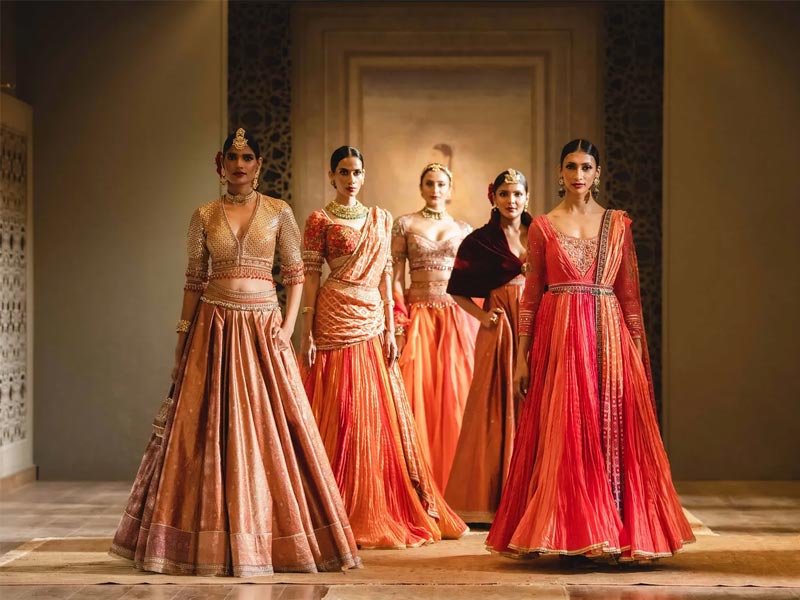 INDIAN SAREE COVERS MORE GROUND IN THE FASHION OF INDIA
Indian fashion is not about only sarees but yes! Sarees cover more ground than you think. Saree is the largest selling apparel. It trumps all other kinds of style and has continued to grow 8.8 %. There are abundant styles, materials, and patterns of saree available in India and contribute a lot to the Fashion of India. An Indian saree is the ultimate sophistication and adds unique grace and elegance to your look.
So, when it comes to Indian fashion, we have ample options but sarees are always on the top and steals all the thunder. Indian Fashion is still ornamental and decorative and will continue to prosper for sure.