Fashion is something that never goes out of trend but is the beginning of every trend. Fashion in itself is another whole world with a plethora of options and involves a lot of creativity. And as are in the ultra-modern age, everything is available to the people in just a few clicks. Everything is transformed onto the internet, be it sales and marketing or traditional journalism. So, when everything is so easily available, how can fashion lag behind? So, to stand in the race, a fashion blogger is the best option. And if you are in love with fashion, then fashion blogging is the perfect way to start your career.
If you are thinking that 'I am in love with fashion and want to become a fashion blogger so badly but don't know how…', then we are here with some secret tips that will make you a perfect fashion blogger. So, what are you waiting for? Keep scrolling!
WHAT IS A FASHION BLOG?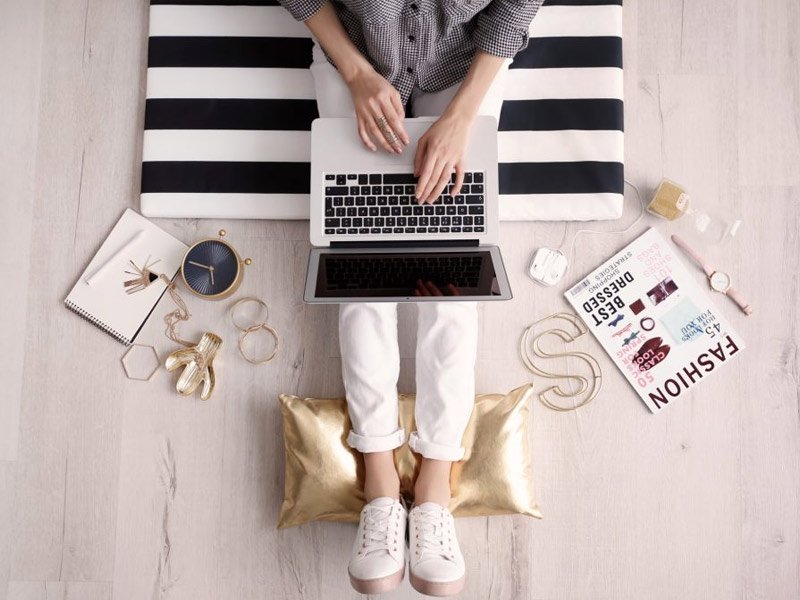 Before you proceed to the tips to become a successful fashion blogger, it is important to know a fashion blog. Fashion blogging can be anything, actually many things from clothing and accessories to beauty trips and new fashion trends. Fashion blogging is not just about a hobby. It is an occupation and hence requires a lot of effort, hard work, and creativity. Above all, you need to research well and keep yourself updated to become a fashion blogger. Most importantly, you should prepare yourself for some questions before starting a fashion blog. These questions include: Why do you want to become a fashion blogger, your audience, what you are good at, and what do you like?
So, before you know about the secret tips of becoming a successful fashion blogger, answer these questions first.
TIPS TO BECOME A PERFECT FASHION BLOGGER
DECIDE YOUR NICHE
Deciding on a particular niche is very important when you start a blog, especially a fashion blog. Fashion in itself is a very broad genre. It includes clothes, accessories, make-up, hairstyle, brands, and so on. All these things change from time to time, region to region and season to season. So, you must research and find out your interest because before you write something, it is very important that you know about it well and loves what you are writing. So, think about the niche before you start your blogging. Once you decide your niche, you can research it well and create the best content. Moreover, this will keep you more focused.
SELECT A RIGHT PLATFORM
Selecting the right platform for blogging is also very important. Selecting the right platform for your content helps you manage, optimize, and update the content and your blog according to you. Also, the selection of the right platform connects you with the right people. And connecting with the right people leads you to the way of success.
PICK A PERFECT DOMAIN NAME
A domain name is basically an online address for a website. So, it needs to be catchy, unique, funny, memorable, and importantly, it should convey a feeling of what your blog is about. But you need to check the names if they are available or not. So, it is better that you should think of two to three names before selecting a domain. Availability of options with you will not disappoint you; if you don't get the first one, you can try the next one without losing hope! Also, if you purchase your own domain, it will create a good impact and look more professional.
CUSTOMIZE YOUR FASHION THEME
You will be a fashion blogger, so show off some of your skills and passion on your website. If your blogging website will look amazing more and more people will get attracted. Fashion is very influential, and when you make your theme accordingly, it makes your content and blog look more attractive. The website's theme is something that people notice very quickly, and the theme plays an important role in deciding that they want to stick to this website or not.
Also, keep in mind that you decide and should be compatible with mobile and tablet devices because most people prefer mobiles and tablets only. You can follow these tips while selecting a theme for your fashion blogging website-
Easy navigation

Easy customization

Good readability of the content

A responsive design

Add a personal touch to your website

Add some plugins
CREATE CONTENT CONSISTENTLY
Content is the star! Be honest and consistent with your content because people need different, unique, and authentic content. And especially when you are a fashion blogger, you need to be consistent with your content because you must keep your audience updated with the latest and new fashion trends. If you are consistent in posting the content, your audience will be consistent too. Being consistent with your content also develops a sense of trust between you and your audience. The key to becoming a successful fashion blogger is great content. And to create the best content, just pour your heart out while writing and make unique and authentic content.
PROMOTE YOUR CONTENT
What is the use of content when nobody is going to read it? Promoting the content is one of the crucial parts when it comes to fashion blogging. You need to build your presence as a fashion blogger and make sure that people know you exist. Also, try to keep your way of promotion somewhat unique so that you can stand out from the crowd.
And when it comes to fashion, there can be many options to showcase your talent and skills to build your unique identity as a fashion blogger. There are many ways to promote the content besides social media marketing, such as mobile marketing, Email Marketing, Guest Blogging, Online and Offline networking, digital marketing, search engine optimization, and paid advertisement.
LOVE WHAT YOU DO
The best and most important tip to become a fashion blogger is that don't take any pain and pressure, just find it a pleasure. While writing or creating the content, just pour your heart out and share your creativity with your audience. Think about what they want from you as a reader and just answer them in the way you like. Just be in love with your job and be in love with fashion!
So, are you ready for our new fashion venture…….?