The wait for a perfect science fiction thriller film is now over as Reminiscence is finally here. Reminiscence solves the cravings for something interesting, sci-fi and science thriller. The film is written and directed by Lisa Joy as her directorial debut. Reminiscence follows the story of a man who makes use of a machine that can see the memories of people to find his missing love. The movie is overall engaging, and worth watching. The movie got released on August 20th this year in the United States. Reminiscence proved to be a box office bomb grossing $15 million worldwide against a $110 million break-even point.
CAST OF REMINISCENCE
The amazing cast of Reminiscence involves; Hugh Jackman as Nick Bannister, Thandiwe Newton as Emily "Watts" Sanders, Rebecca Ferguson as Mae, Marina de Tavira as Tamara Sylvan, Cliff Curtis as Cyrus Boothe, Brett Cullen as Walter Sylvan, Natalie Martinez as Avery Castillo, Angela Sarafyan as Elsa Carine, Javier Molina as Falks, Norio Nishimura as Harris, Roxton Garcia as Freddie and Nico Parker as Zoe.
PLOT OF REMINISCENCE
Soon, climate change has caused the flood of Miami and seas to rise. Also, the extreme daytime temperatures have forced most of the population to live at night. Nick Barrister and one of his friends Watts operate a business that helps people to relive the memories. One day, one of their walk-in clients, Mae, asks for their help in finding her keys that were missing. Nick gets attracted to her instantly; observing her memories of that evening. He observes and discovers that she is a nightclub singer and he feels a connection with her when she sings his favorite song, "Where or When". Then, a relationship begins between Mae and Nick. However, Watts distrusts her.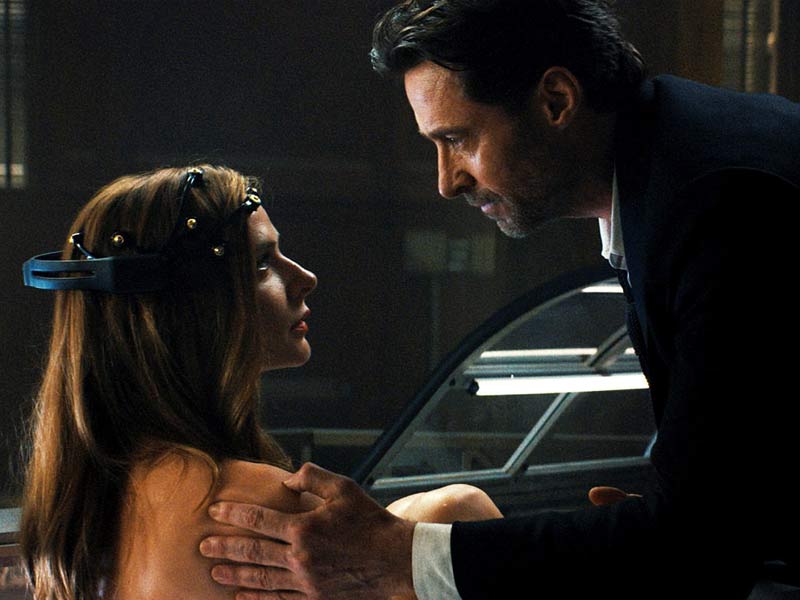 A few months later, Mae seems to be disappeared without a word. To find her or to get a clue where she is, Nick spends hours repeatedly reliving his memories of their relationship. However, it is a dangerous practice that could forever trap him in the memory. Avery Castillo hires Watts and Nick to recover the memories from a comatose suspect who worked for a drug kingpin called Saint Joe. In his memories, Nick finds Mae was Joe's mistress and had become addicted to a highly addictive narcotic, Baca. There he also finds that Mae stole a stash of Baca that belonged to Joe before fleeing. Nick gets devastated after finding this all, but it was something that Watts already knew.
Nick now travels to New Orleans and confronts Saint Joe, who reveals to Nick that he had not heard from Mae since he left him. Joe then tried to drown him down by his men, however, he was saved by Watts, who killed Joe and his men. Then back in Miami, Nick has Watts relive her last encounter with Mae and discovers that she broke into the vault where Nick and Watts stole the recordings of Elsa Carine, a client of Nick and Wats who repeatedly relived her trysts with an older and wealthy lover, Walter Sylvan, who was a wealthy 'land baron' who has recently died.
Investigating further, Nick comes to know that Elsa was recently murdered and her young son has been kidnapped by a woman. The woman matches the description of Mae. While Nick is on his search for Mae, Nick is attacked by a former Henchman of Saint Joe, Cyrus Boothe. After realizing that the kidnapped child is the son of Walter Sylvan and hence a potential heir of his fortune, Nick meets Sylvan's widow, Tamara, who was once their client whose memory has been damaged. Tamara gives a hint to Nick about a place where Mae and Boothe could be hiding. Nick then catches Boothe and then hooks him up to his machine to have a glimpse of his memories.
Boothe's memories explain that the relationship between Nick and Mae was a lie as Boothe enlisted Mae in a plan to con Nick. But Mae ends up actually loving him. After the murder of Elsa by Boothe, Mae kidnapped her son, and Boothe, after finding this kidnapping, forced Mae to reveal his location. Nick watches the memories and finds that Mae delivers a speech to Boothe, but it was actually for him. Indirectly, she revealed the location of the child and expressed her love for Nick. After seeing one day to find out her way, Mae took a lethal dose of Baca and jumps off a balcony to her death.
Then the devasted Nick forces, Boothe, to relive his worst memory and that was Joe's men burning his face as a punishment. Then Nick meets the legitimate son of Sylvan, who handled the murder of Elsa and wanted to eliminate his half-brother too. Nick then confesses to Watts that he intentionally burnt the memories of Boothe, which is a major crime and is then allowed to serve the rest of his life using his machine. Nick then recites to may the shorter version of the story of Orpheus and Eurydice, which finishes the lovers united and happy.