King Richard is a biographical sports drama film directed by Reinaldo Marcus Green and written by Zach Baylin to be released in 2021. It is based on the life of Richard Williams, the father, and coach of tennis star Venus and Serena Williams, who also served as executive producers on the film. Will Smith plays the title role. The cast includes Aunjanue Ellis, Demi Singleton, Saniyya Sidney, Tony Goldwyn, and Jon Bernthal.
King Richard premiered on 2nd September, 2021, at the 48th Telluride Film Festival.
It made $38 million on a $50 million budget and received positive reviews from critics, who praised the screenplay and the performances of Smith, Ellis, and Sidney.
Will Smith, who plays Richard Williams, speaks in a let's-go-to-work Loo-see-annah accent about being "in the champion-raising business." He loads his five daughters into a VW bus, and he drives them to the nearest tennis court in their Compton neighborhood. They sweep up the trash, hang homemade motivational posters, and load tennis balls into an old shopping cart. This is done so that Venus (Saniyya Sidney) and Serena (Demi Singleton) can fine-tune their swings, serves, and stances, with their three sisters acting as a cheering section and support network.
When a tough gang member from the neighborhood harasses one of the girls, Richard stands up to him, knowing full well that he'll take a beating — and that says a lot about who this man is. It says that he coaches his girls during the day and works as a graveyard-shift security guard at night, sitting at a desk with a pistol. Brandy (Aunjanue Ellis), his wife, shakes her head, doubting his ability to keep up such a relentless pace.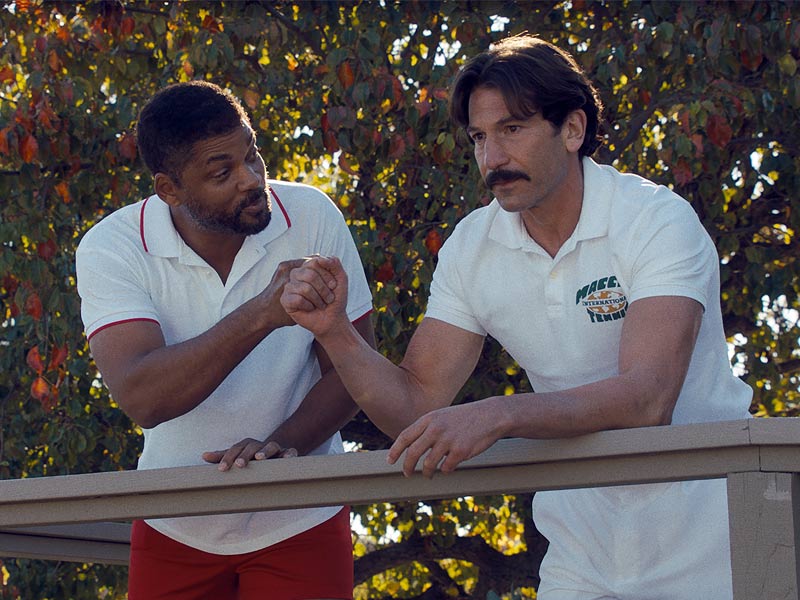 The American Film Institute and the National Board of Review named it one of the best films of 2021, with the latter also awarding Smith Best Actor and Ellis Best Supporting Actress. At the 94th Academy Awards, it received six nominations, including Best Picture, Best Actor for Smith, and Best Original Screenplay. At the 53rd NAACP Image Awards, it received seven nominations, including Outstanding Motion Picture.
It received six nominations (including Best Picture) at the 27th Critics' Choice Awards and four nominations (including Best Motion Picture – Drama) at the 79th Golden Globe Awards. Smith won Best Actor – Motion Picture Drama.
King Richard, which tells the origin story of tennis superstars Venus and Serena Williams (played by Saniyya Sidney and Demi Singleton, respectively), takes a long, hard look at the wind beneath their wings — their ambitious and their unapologetic father and former coach Richard Williams aka our King Richard(played by Will Smith).
King Richard delves into the complex mind of a father who will go to any length to realize the dream he has for his daughters. Richard Williams, a middle-aged man with no professional tennis training, overcame poverty and racism to coach his daughters himself. Confident and self-assured to the point of arrogance, though respected for his perseverance, he became notorious over the years for his overbearing ways and overprotective nature. Serena believes that this biopic accurately depicts her father's life.
A champion requires an army, and Richard led that army while also recruiting a few more nominal heads. He didn't follow the rules and never underestimated his daughters' abilities. He deviated from the traditional path of having his daughters compete in junior tournaments first. In 1994, a 14-year-old Venus Williams won her first professional match despite never playing a junior match.
Her father's methods and decisions were not always correct, but his point was simple: aim higher and never be afraid to ask for what you deserve. Not to mention a big fat paycheck. His excessive professional and emotional investment in his daughters, and at times, undue interference, compels you to consider the shifting parent-child relationship.
The sports biopic is fairly predictable and falls a little short of being iconic in terms of the canvas. It does, however, succeed in putting a controversial, cunning, and manipulative hero in the forefront, who is far from likable… an accurate portrayal of a tenacious father. You admire his tenacity in pursuing black dominance in a relatively privileged white sport (tennis), as he bulldozed his way to success rather than tiptoeing as was expected of him. After all, the poor are expected to be submissive.
Surprisingly, the bravery and sass on display do not wash away the controversies. The story revolves around the rising careers of Venus and Serena, two sisters on the verge of stardom, as well as their parents' turbulent relationship, class disparities, and social stigma.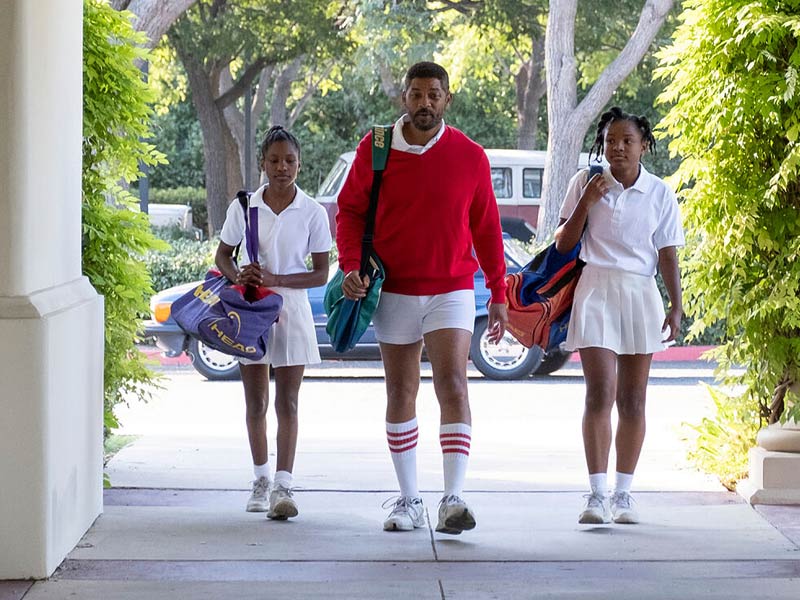 Tennis shots are well captured and add the necessary thrill and tension. Will Smith brings tears to your eyes as he plays an iron-willed father, a hustler who struggles to overcome his childhood abandonment and trauma. He's got the lisp, accent, and mannerisms down pat. Keep an eye out for Will Smith and Richard Williams in this one.