A meek little man named Trevor Bingley (Rowan Atkinson) is found guilty of 14 counts in court, ranging from car theft to setting a fire. He apologizes and says, "There was this bee," to justify himself.
Maddy's father, Trevor, is a bumbling but well-intentioned individual (India Fowler).
Finally, he has a job with a company that provides house sitting services for people like Nina (Jing Lusi) and Christian (Julian Rhind-Tutt), who are the owners of a contemporary mansion filled with priceless artwork and other items.
When the couple's regular sitter is transferred, Trevor offers to housesit.
They also have a very amiable sheepdog by the name of Cupcake, who immediately clings to Trevor's crotch. She has a severe nut allergy and must follow a very strict diet; otherwise, as Christian puts it, "doggie doo-doo everywhere."
There is a bee that enters Trevors' house which is the theme of this movie. He waves at the bee, breaking a statue inadvertently. Trevor tries to catch the bee many times but failed, in the end, he caught the bee in a cup but still, it flies away.
While that is going on, Trevor turns around and, by scratching the back of his head, discovers how to operate the automatic cabinets.
He then makes some soup while turning on the incorrect burner, destroying the manual that he had, for some reason, left on top of the stove.
Why is the manual required of him? Because dog toys that he unintentionally dropped wedged themselves in the library door—which is typically locked by the security system using codes corresponding to years' worth of unpronounceable battles—because they were dog toys.
Along with other expensive items that make it off-limits to Cupcake, it contains a priceless manuscript.
The library door is propped open, but Cupcake follows the bee as it stings her and flies in, and the door closes behind her.
The instruction manual has been destroyed, the security codes are unknown, and a dog with digestive issues is destroying the one-room Trevor isn't supposed to be in.
The Man Vs. Bee episodes, which were written and directed by David Kerr and William Davies and were created by Atkinson and Davies, are more like movies than anything else.
It could be due to the series' overall runtime of 108 minutes, which includes 9 episodes that last between 10 and 19 minutes each.
We start to wonder if the Man Vs. Bee was once a feature film that was later cut into these brief episodes at Netflix's request.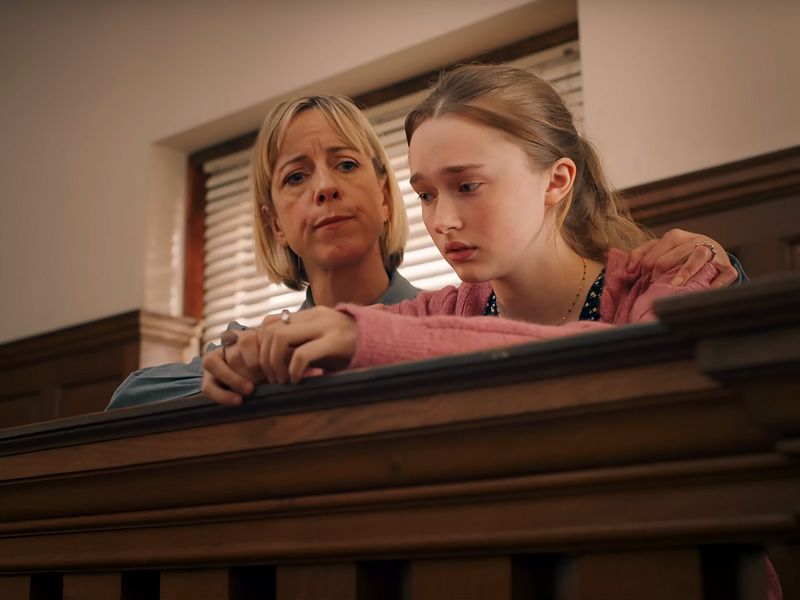 In any case, as we previously mentioned, it serves as a showcase for the distinct physical humor that Atkinson has been showcasing for more than 30 years, ever since Mr. Bean first appeared on the screen.
He excels at portraying the beaten-down character who can make exaggerated expressions and bulge his eyes as his characters suffer the consequences of their careless actions.
Additionally, everything about Man Vs. Bee is classic Atkinson, from his physicality to the way he so convincingly portrays a dim and bumbling character.
It helps that his character, Trevor, is assigned to housesit a mansion that is essentially a giant trap for a guy like him, with difficult-to-use faucets, priceless fragile items, and an untrained, poop-prone dog.
Do people actually live in homes with a crazy dog running around and priceless possessions? Perhaps, perhaps not. But Trevor could cause a lot of harm there because of how easily he makes mistakes.
Furthermore, some of the circumstances are blatantly manufactured. You are aware that the "manual" would eventually be destroyed, but who places a book on top of an unlit stove?
However, those are the kinds of mishaps that Trevor and all of Atkinson's bumbling characters experience because, well, the results are just too amusing to ignore.
The romance between Trevor and Maddy and, of course, the scenes where Atkinson gets very physical, such as in Episode 3 when the bee shoots up his pants as a police officer (Tom Basden) responds to the alarm going off, are where this show really shines.
Before it's all over, Trevor will have to deal with burglars and Cupcake becoming very ill, but we can't wait to see how that damn bee will make Trevor act in his most destructive manner.
Unquestionably a slapstick comedy, Man Vs. Bee requires the right attitude to enjoy. Rowan Atkinson, however, is the world's best slapstick performer, and this series highlights all of the skills that have helped him take his career to such heights.