Here is the fifth installment of the Despicable Me family of animated films, which centers on the east European supervillain Gru and his bug-eyed, yellow henchmen who speak sped-up Franco-Italian nonsense. Even though it is the second in the specifically Minions-focused film series, Minions: The rise of Gru might as well be called Gru: The Origin Myth Prequel because it brings Gru and his followers together.
There are a few chuckles, mostly at the expense of character names, and a clever and unexpected allusion to the "Don't tase me, bro" meme. However, the MacGuffin plot is superficial, and frankly, this franchise is now barely holding on.
Gru (voiced by Steve Carell) is an 11-year-old schoolboy whose ancestry is still a mystery in 1976 California. He is met by these strange little things, who appear to have responded to his wanted ad for help around the house and whose own biological origins are also a mystery when the other popular kids are picked up after school by their families.
Anyway, that's less of an artistic consideration and more of a business one (Minions made $1.1 billion in 2015, while Despicable Me 3 made $1 billion and Despicable Me 2 made $968 million in 2013), but to be honest, this most recent franchise entry almost defies artistic consideration. That's not entirely a criticism because the movie is just one more illustration of how Illumination develops and becomes a powerhouse in animation without ever seeming overly flashy or "for the sake of razzle-dazzle."
Young Gru has a hero-worshiping crush on the Vicious Six, a hip group of supervillains with a hideout beneath the Criminal Records music store in San Francisco. The audience must be wondering where this story is going and how many draughts it went through because they were once led by a grumpy old man named Wild Knuckles (voiced by Alan Arkin), who has a beaky nose that makes him look a lot like Gru. The ancient mega-powerful amulet that Wild Knuckles had taken for the Vicious Six was stolen by Belle Bottom (Taraji P. Henson), who then sentenced him to an assumed death.
When Gru's application to join the Vicious Six is humiliatingly rejected, he decides to prove his worth by stealing the ancient amulet that the Six and Wild Knuckles (who are secretly still alive) are both desperate to get back. However, Gru's crazy minions manage to misplace the amulet that Otto, a cool biker, acquires (voiced by RZA). As a result, absurd "quest" plotlines are activated, such as the Minions learning kung fu from an acupuncturist named Chow (Michelle Yeoh).
My personal opinion is that the Gru/Minions franchise never quite reached the inspirational heights that Pixar occasionally attained. Its crowning achievement was probably the inclusion of Happy by Pharrell Williams on the Despicable Me 2 soundtrack album. Gru is a mildly entertaining character, but the minions are not funny without him, and they have never successfully established themselves as spin-off heroes.
The part of the movie where Minions take center stage and Michelle Yeoh plays an acupuncturist who is also an expert kung-fu practitioner is better. There is a case to be made that Minions: The Rise of Gru is essentially Illumination riffing on both martial arts movies and (mostly via Belle Bottom) Blaxploitation movies since the movie does take place in the 1970s.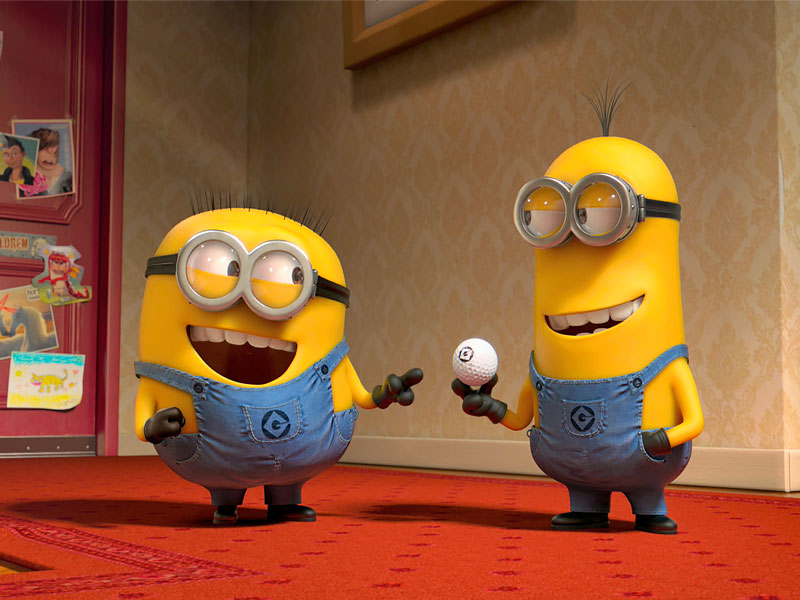 The Vicious 6 are, for the most part, only known by their names and a single attribute due to the Despicable Me mythology and Gru's backstory being the main focus (Nunchuck is a nun who wields nun-chucks). Like several Covid-delayed movies (F9, No Time to Die, Ghostbusters: Afterlife, and, yes, Top Gun: Maverick), Minions: The Rise of Gru feels like it was developed and produced when Hollywood believed Star Wars: The Rise of Skywalker would be a critical and financial success.
Unfortunately, The Rise of Gru only serves to pointlessly link the first Minions and the first Despicable Me. Nothing in The Rise of Gru justifies this storytelling that fills in the blanks where none exist, as it was the ending of Minions where the titular yellow goons were essentially adopted by a young Gru.
To not pick on Star Wars, but this prequel/sequel is similar to the recently finished Obi-Wan Kenobi series on Disney+ in that it provides answers to questions that were never asked and connects dots that hardly needed to be connected.
The differences are that A) it is only 80 minutes long instead of 3.75 hours and B) it is more about "Minions grossed $1.1 billion, so I guess we need to make another one!" rather than "We need to appease respective fandoms." To my knowledge, nothing is changed, at least. It definitely caters to children and has some visually creative and humorous moments. But even my children argued that it required more Minions rather than less Gru.