In Olivia Wilde's shaky feminist gothic, Florence Pugh plays a seemingly happy housewife whose world begins to crumble.
Olivia Wilde hints her hand early in the candy-colored feminist gothic "Don't Worry Darling." Victory, a desert town, is the setting for the film, and everything appears nice and pretty, especially the midcentury mansions at the end of a cul-de-sac. It's a nice neighborhood that's more diversified than you'd anticipate given the story's setting in the 1950s. But Wilde makes it clear right immediately that something is wrong: everything is too tidy, too uniform, and too, too flawless, even the women's smiles.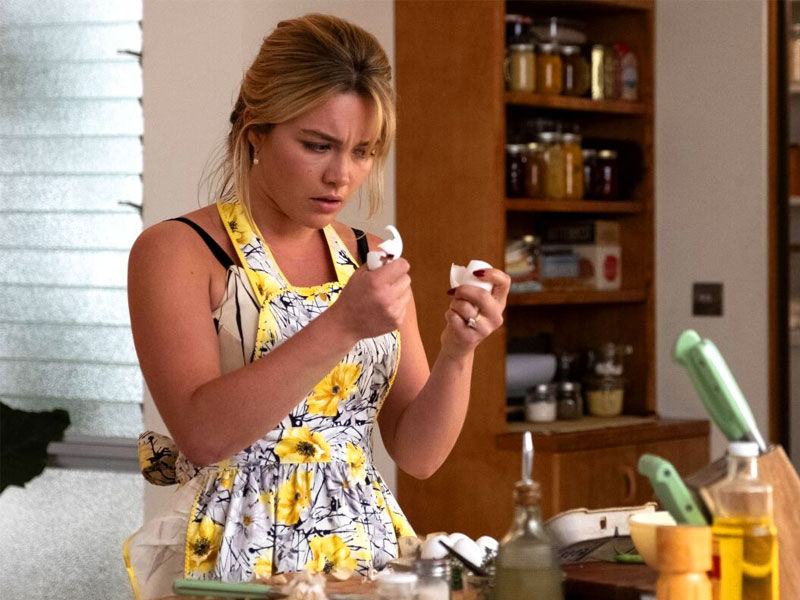 Shy, confident, coquettish, or mocking, a woman's smile is profoundly symbolic, as Wilde, an actress turned director, is well aware.
It might be a mystery, an invitation, or a deflection; it can also be a reward, albeit one that comes at a cost. As Simone de Beauvoir says in "The Second Sex," "it is the Sleeping Beauty's smile that crowns Prince Charming's efforts," the captive princess' appreciation validating the prince's heroics. The males in the film aren't appealing or courageous, but the ladies grin all the time, stretching their lipsticked lips so wide that their faces don't crack.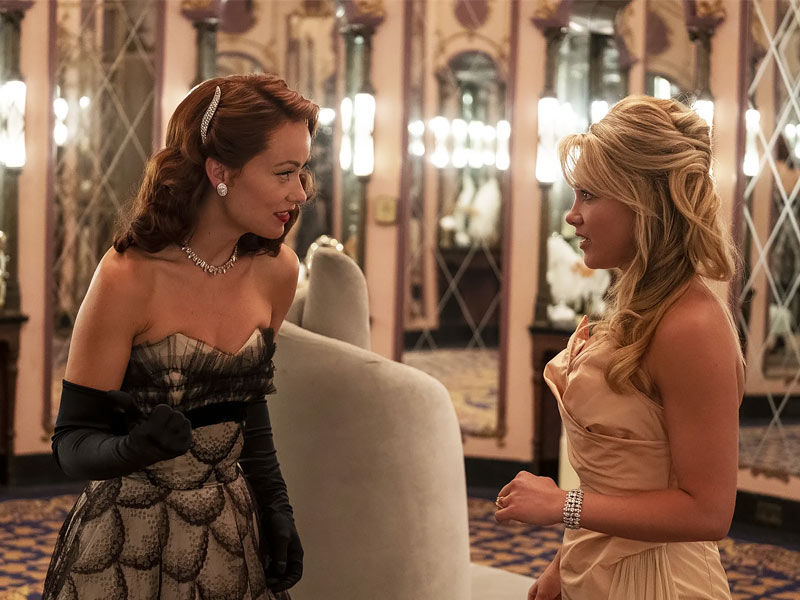 One may, though it takes an eternity for the fissures to become seismic. Soon after the film begins, something begins to bother Alice (Florence Pugh). She lives in a cul-de-sac, and she, like the other wives, waves farewell to her husband, Jack (Harry Styles), as he drives away to work.
At night, Alice greets him with a martini in hand, a perfectly coiffed and dressed present that he eagerly unwraps. The remainder of the time, she cleans their house, shining, vacuuming, and washing — the cinematography is sufficiently bright and crisp — to the droning voice of an unknown man.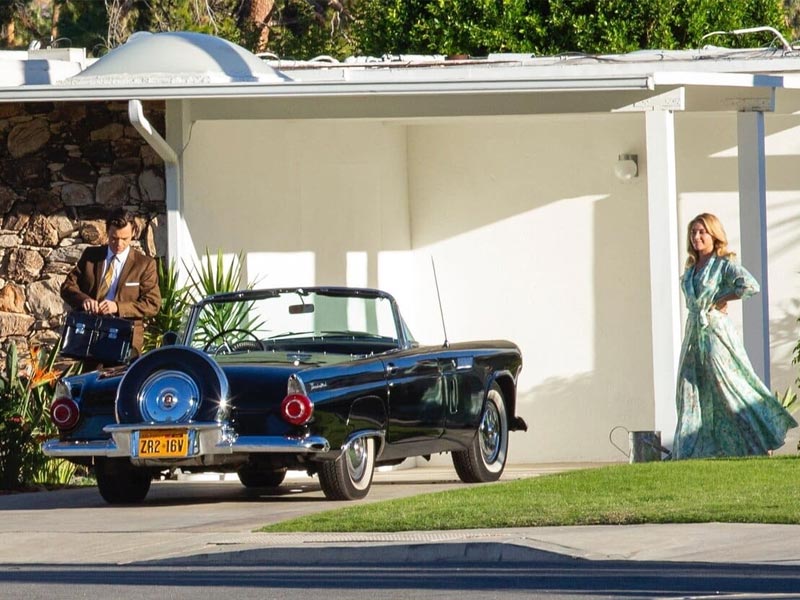 It's an interesting setup. Everything is gleaming, even Wilde, who portrays Bunny, one of Alice's neighbors. But you rapidly notice the lack of turmoil, particularly the absence of those agents of chaos, a.k.a. children.
This bright, sparkly establishment has a Stepford vibe about it, with a splash of comedy in its excesses. But it's blatant and brutal, and early on, when the spouses wave goodbye in unison, I was reminded of the wicked planet in Madeleine L'Engle's novel "A Wrinkle in Time," where everything — houses, adults, and children bouncing balls — appears frighteningly similar.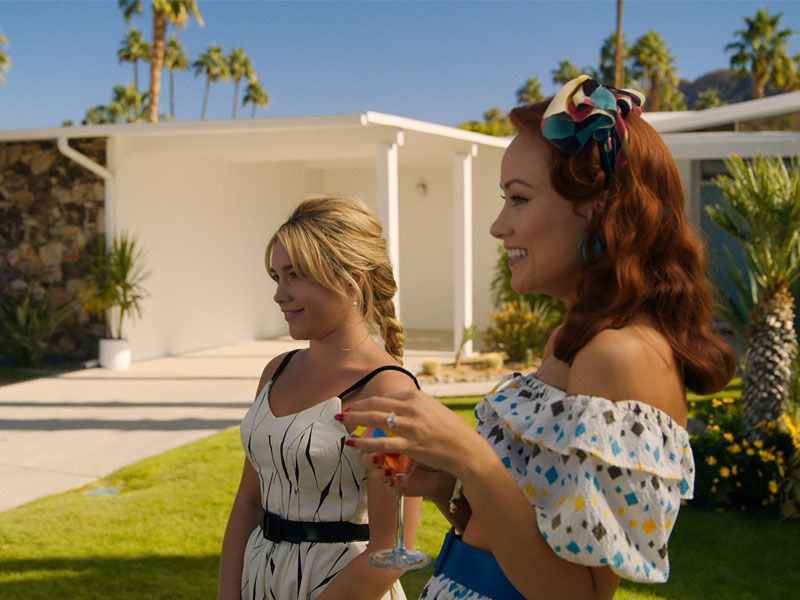 Alice has certainly fallen down a strange rabbit hole. But one issue with "Don't Worry Darling" is that Wilde is too attached to the world she's lovingly crafted — with its colorful veneer, martini glasses, and James Bond poster — to let it go.

Also read: 5 OF ZENDAYA'S BEST FILM AND TV PERFORMANCES
As Alice floats through her dream life, Wilde shows off this dollhouse, taking her to a country club, onto a trolley, and to visit Jack's charismatic boss, Frank (a silkily menacing Chris Pine), whose home looks like a bachelor's pad out of an antique issue of Playboy, except this one comes with a wife, Shelley (Gemma Chan).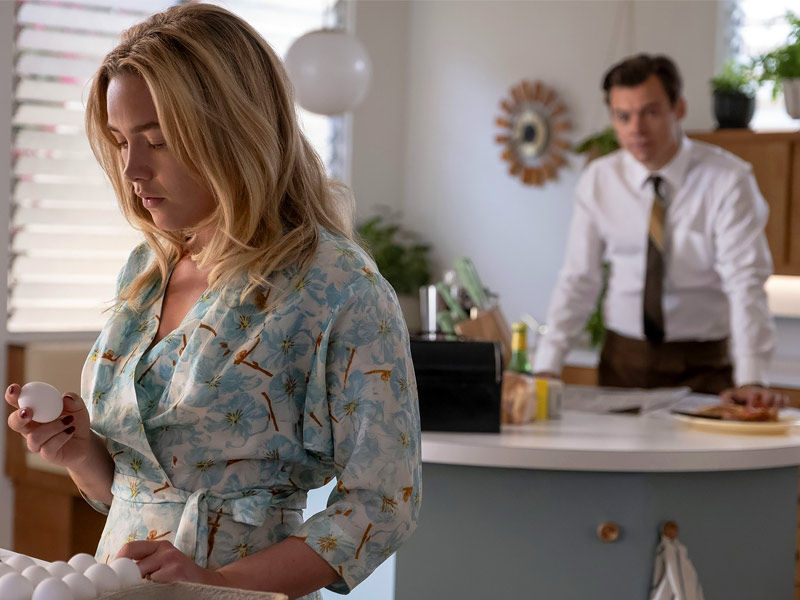 The tremendous devotion shown by Frank and his male colleagues to him suggests that there is more to this world than its gleaming façade, as do several period-inappropriate aspects, such as the topless woman walking poolside in public and Alice wearing only a man's dress shirt outside her front door.
Even as the dissonance grows and Alice realizes something is wrong, the film comes to a halt. Alice becomes lost in thought, appears puzzled, hallucinates, appears less puzzled, and so on as Wilde embraces a visual motif — the circle — that loses its punch and usefulness after the second, third, and fourth time she employs it, becoming an unintended metaphor for a film that keeps returning to the same point.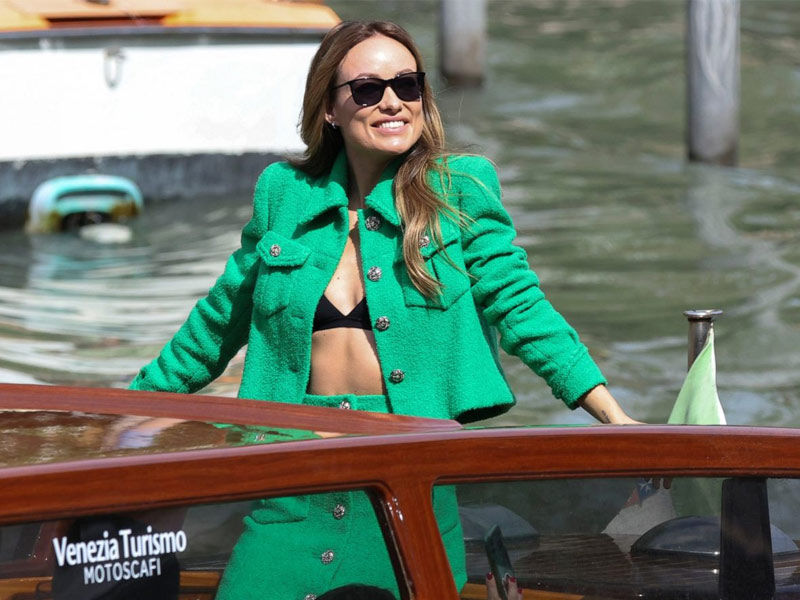 Despite hitting the same notes early and repeatedly, Wilde performs some excellent work here. (The screenplay is by Katie Silberman, one of the writers of Wilde's more successful movie directing debut, "Booksmart.") But she isn't a strong enough director at this point to work around the story's flaws, let alone overcome them.
That's especially hard on the actors, who, except for Pine, provide one-dimensional performances that never hint at what's going on inside their gorgeous minds. Pugh, for her part, is too lively, too alive, and simply too vigorously full-bodied from the start for a role that requires a slow-dawning awakening.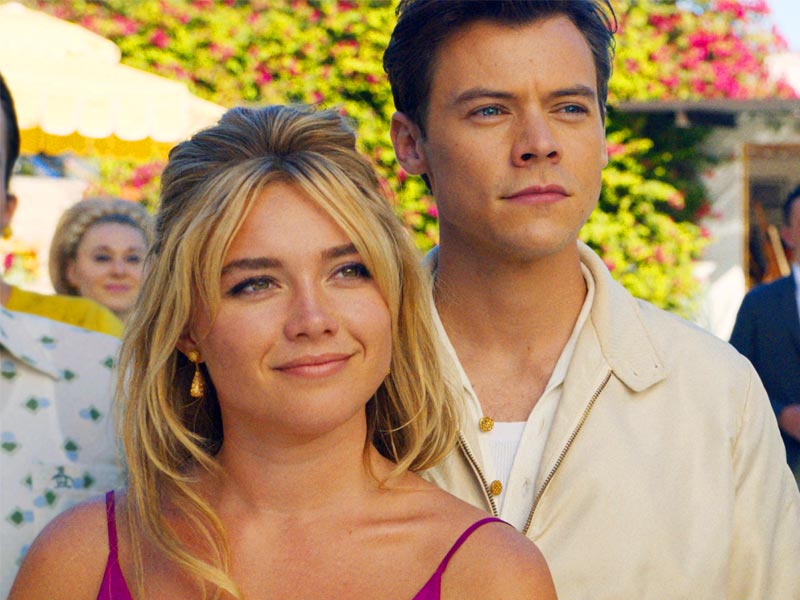 If Pugh's performance never penetrates under the satirical surface, it's because there isn't anywhere for it or her to go. The film's take on gender roles is stinging, but its targets are amorphous (yes, sexism is bad) and carefully nonpartisan, and its take on the prison-house of the traditional feminine role — what Betty Friedan referred to in her 1963 classic "The Feminine Mystique" as the "happy housewife heroine" — is shallow.
Since then, there have been many cycles of feminist progress and sexist backlash, but the current political atmosphere and assaults on women's rights deserve more than a smart mash-up of "Mad Men" and "Get Out."