Bansi Keswani (Vinay Pathak) is a chartered accountant whose clients include a  very high-ranking official and an experienced builder. While things are already difficult for him and his family, which includes his wife Pooja (Gul Panag) and son Amit (Shush Kalra), things get much worse when he is arrested for theft, forgery, and bank fraud. He employs lawyer Birbal Chaudhary (Rohan Mehra) to help him fight his case, but he soon realises that there is more to it than meets the eye.
Plot of 420 IPC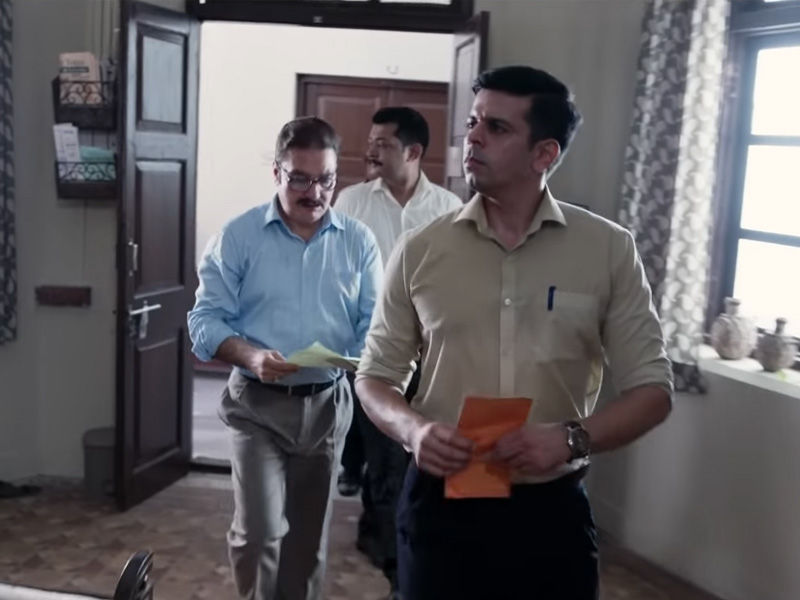 The film starts off with Bansi visiting his client, Deputy Director Sandesh Bhonsale (Mahesh Pillai), at the MMRDA (Mumbai Metropolitan Road Development Authority) work place to discuss ITR filing for him and his family. Pooja also informs him of the bank's eviction notice for failing to pay the last several EMIs on his house loan shortly after he arrives his home. CBI officials arrive at his door just as they're attempting to think out a way out of this problem. They invite him to accompany them to their work place after a thorough investigation of his home. That's where Bansi hears of Bhonsale's arrest in the Airoli Flyover Scam for stealing Rs 1200 crore.
He's been released because no evidence of his guilt has been discovered. Bansi resumes his work as normal and felt relieved. A few days later, meanwhile, he is arrested at his workplace for stealing checks from his builder customer, Sinha (Arif Zakaria), as well as forgery and bank fraud. Despite a very strong opposition from Public Prosecutor Sewak Jamshedji, Bansi maintains his innocence, and it is up to his lawyer Birbal to secure his release (Ranvir Shorey).
When narrated via several schools of filmmaking, certain screenplays might result in a whole new screenplay and, ultimately, a completely different film. 420 IPC is what it turns out to be. While director Manish Gupta does an excellent job of cramming a lot into this 90-minute story, albeit rather realistically, if it had been about Abbas-Mustan, it could easily have been dubbed Race 4 or Humraaz 2, with sibilings, old foes, new enemies, and a dash of extra marital with a few murders set in. Not only that, but the film would have featured Pritam's songs as well, turning it into a 140-minute whodunit drama.
Manish Gupta, who previously directed 'Rahasya' and wrote 'Section 375,' doesn't waste any time or film in getting right to the tale from the opening shot. He has come up with an intriguing tale of forgery, bank fraud, and economic wrongdoing for this courtroom drama, which is rarely tried in Hindi cinema. He's handled the story deftly, with a few surprising turns, until black, white, and grey are clearly distinguished in the end.
Manish's research into such instances, which includes forensics and handwriting analysis, appears thorough and real, ensuring that you are fully immersed in the proceedings both inside and outside of the courtroom. The writing is tight and keeps you guessing until the very end.
Vinay Pathak's sincere Bansi is controlled, and he expresses his chartered accountant character's suffering admirably. He once again proves that if given an unusual role, he can achieve marvels. Another example is Ranvir Shorey, who plays Parsi public prosecutor Savak Jamshedji with delicacy and without reverting to clichéd mannerisms or cultural traits. Pooja, Bansi's strong supporting wife, is played well by Gul Panag. Balbir Chaudhary is played by Rohan Mehra, a young lawyer who would go to any extent to get his client out of jail.
Arif Zaharia, Manali (as Balbir's female police pal Vidhi Chitalia), and the rest of the supporting cast deliver the goods. Arvind Kannabiran and Raaj Chakravarti's cinematography complements Bhavani Patel's art direction, while Ranjit Barot and Som Dasgupta's background soundtrack adds to the drama.
There are a few red herrings put in, twists and turns abound, some of the hints push you to use your intellect to stay one step ahead of the actors, and you never know what the true reason and aim behind the drama on screen is. You're certain that a crime has been done, but it's the who, why, and how that keeps you interested.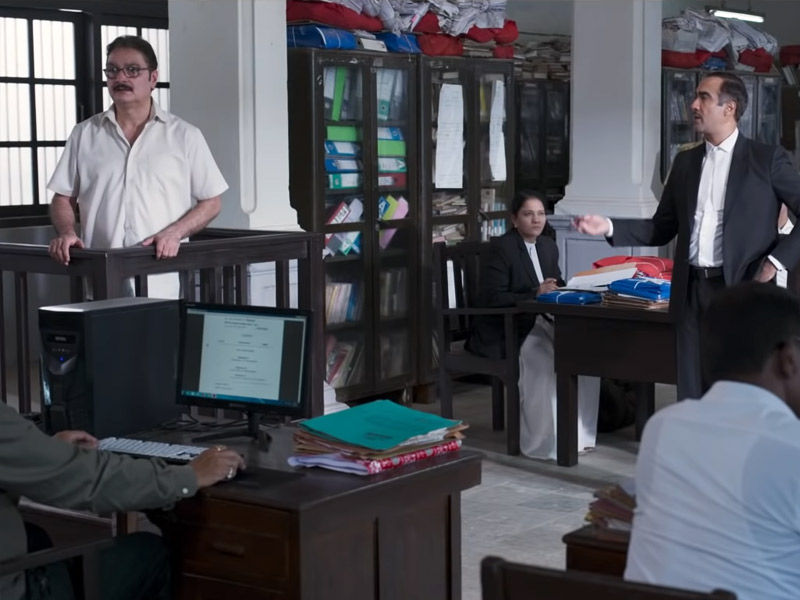 The picture is indeed entertaining, but it must be watched carefully. Furthermore, the final 15 minutes are overly rushed. It would have been much more entertaining if a more tense atmosphere had been generated here, because as a spectator, you are actually astonished by the turn of events. The film's last shot is well-placed and in keeping with Manish Gupta's concept.
420 IPC, which is streaming on ZEE5, is a good follow-up to Scam 1992: The Harshad Mehta Story. While that series had a very slow-burning plot, this film has a lot crammed into its 90 minutes, making for an interesting watch.