The film, which first aired in 2015, introduced a new audience to the story of kidnapper Ariel Castro. 
Cleveland Abduction, an actual crime film released seven years ago, has been described by Netflix viewers as the "most disturbing" thing they've ever seen. This is all you need to know.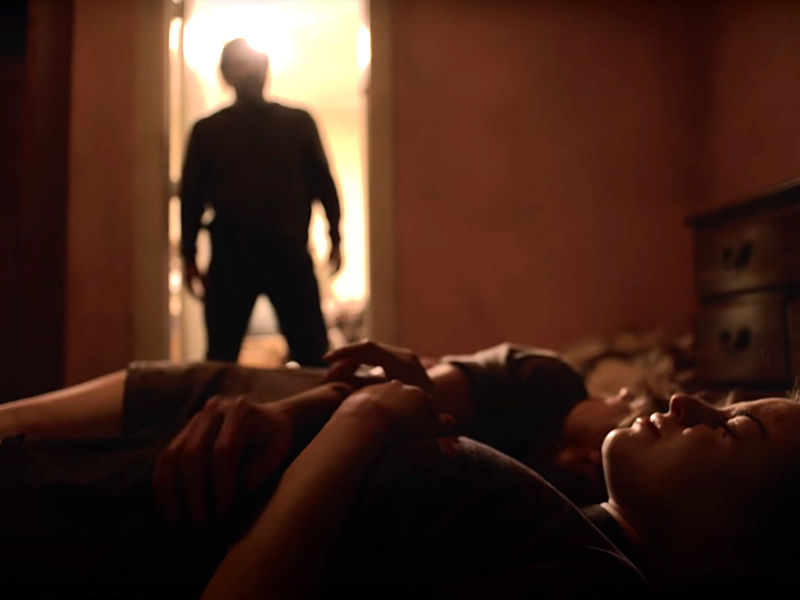 Is the 17 a true story?
Cleveland Abduction is a 2015 film directed by Alex Kalymnios based on the Ariel Castro kidnappings in Cleveland, Ohio, between 2002 and 2004. 
Castro kidnapped three women – Michelle Knight, 21, Amanda Berry, 16, and Gina DeJesus, 14 – over two years and held them captive for 11 years.
He offered his victims a ride in his car and drove them to his home at 2207 Seymour Avenue. Castro lured them inside and took them to his basement, where he restrained them. 
Castro's sentencing memorandum, filed by Cuyahoga County Prosecutor Timothy McGinty, stated that the women's diaries "spoke of forced sexual conduct, of being locked in a dark room, of anticipating the next session of abuse, of the fantasies of someday escaping and also being reunited with family, of being chained to a wall, of being held like a prisoner of war, of having missed the lives they once enjoyed, of emotional abuse, of his.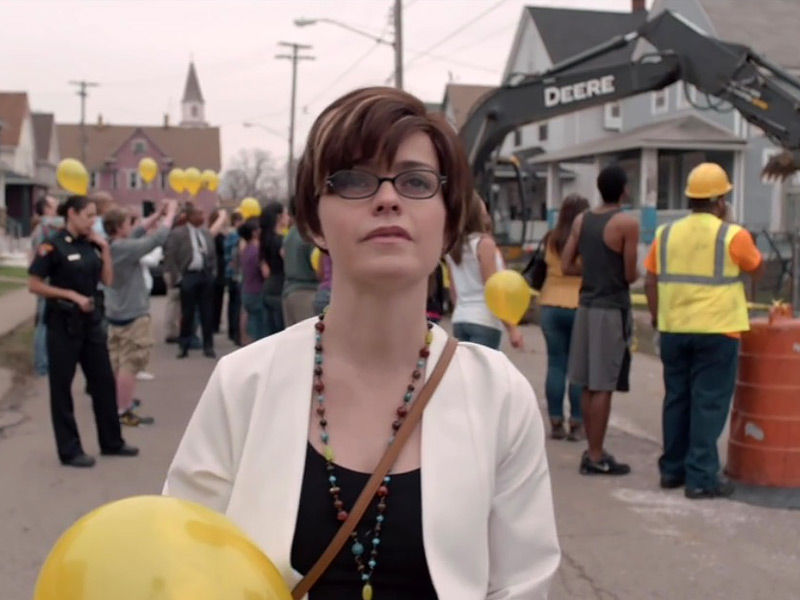 According to the memorandum, the women "only had access to plastic toilets in their bedrooms," which were "emptied infrequently." According to the report, Castro used "a program of prolonged physical, psychological, and sexual violence" to keep the women "power-less."
Berry gave birth to a baby girl conceived through rape on December 25, 2006. Castro's paternity has been confirmed through DNA testing. "[Castro] denied Amanda Berry any medical assistance while she was pregnant and at labour," according to the memorandum. "She was not breathing when the baby was born." 
"Michelle Knight attempted to save the baby by CPR and Mouth to Mouth Respiration. [Castro] threatened Michelle Knight with death if she did not save her life. The baby miraculously survived."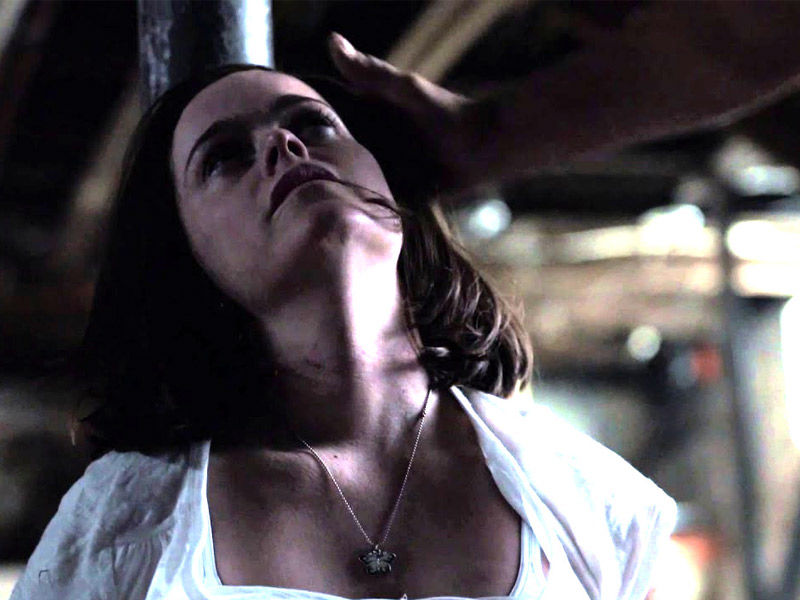 As a result of Castro's sexual abuse, Knight became pregnant; however, he "punched and kicked her stomach, jumped on her stomach, and starved her for days to terminate the pregnancy." 
Castro's criminal history was also listed in the document, which, while not extensive, "indicated a strong pattern of violence and abuse." Castro was arrested on several occasions for physically abusing his wife at the time, Grimilda Figueroa. 
Castro was also involved in "an assault incident where he threatened to hit the victim, Ernesto Santiago, with a shovel and "take care of him" on November 20, 1994."
Castro was involved in two altercations in 1996 that resulted in police reports for "menacing." 
Castro was also accused of kidnapping and endangering children in 2004 when, while working as a bus driver for the Cleveland Metropolitan School District, he left a child on the bus while he went to a Wendy's for food.
The horrors inflicted on the three young women — Michelle Knight, Amanda Berry, and Gina DeJesus — by now-deceased kidnapper Ariel Castro in his Cleveland home between 2002 and 2013 are unpalatable. It's a heinous tale of beatings, rapes, psychological terror, forced miscarriages, and other heinous details.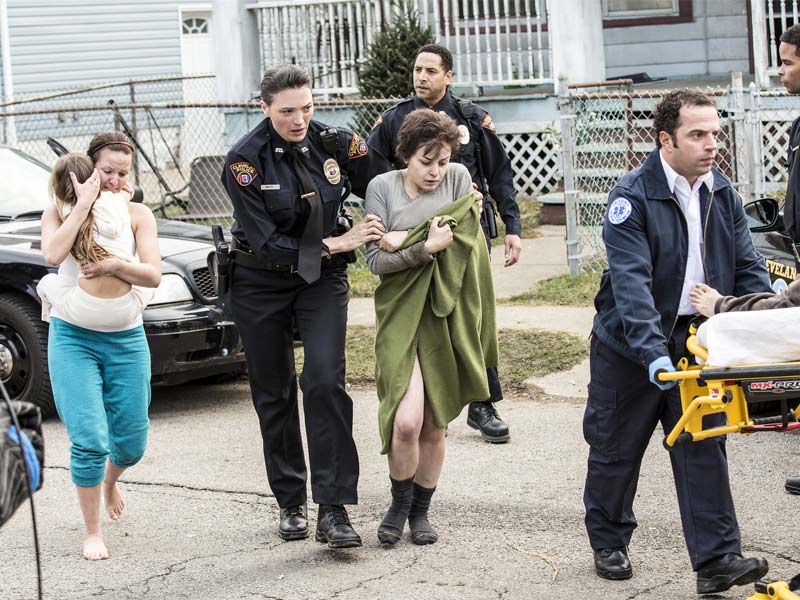 That doesn't stop the Lifetime network from trying to wring some facile triumph-of-the-spirit pathos out of the affair in Finding Me: A Decade of Darkness, a Life Reclaimed, an unpleasant and unnecessary television movie based on Knight's 2014 memoir. (Berry and DeJesus' account of the ordeal was recently published in a book titled Hope: A Memoir of Survival in Cleveland.)
The story of Cleveland Abduction is primarily Knight's: Taryn Manning, from Orange Is the New Black, plays her with pasty makeup, Coke-bottle glasses, and a harsh regional accent. When we first meet Knight, she is nearly at her wits' end, unable to find a steady job and raise a young son in the company of her negligent mother. Knight is more determined than ever to straighten out her life after social services take her son away.
However, on her way to her final custody hearing, she becomes disoriented and accepts a fateful ride from Castro's chance acquaintance (Raymond Cruz). He promises to get her to the courthouse on time, but first, he wants her to stop by his house and buy a puppy.
Soon after she enters Castro's dilapidated mansion, he knocks her. He ties her up — the first of many horrifying humiliations to come over the next decade and change. The actors' commitment to their roles and the claustrophobic setting that director Alex Kalymnios uses for maximum oppressiveness create tension in these early scenes. It's difficult not to sympathize with a woman who has been hog-tied and left alone in a padlocked attic, forced to soil her clothes and satisfy her tormentor's sexual desires.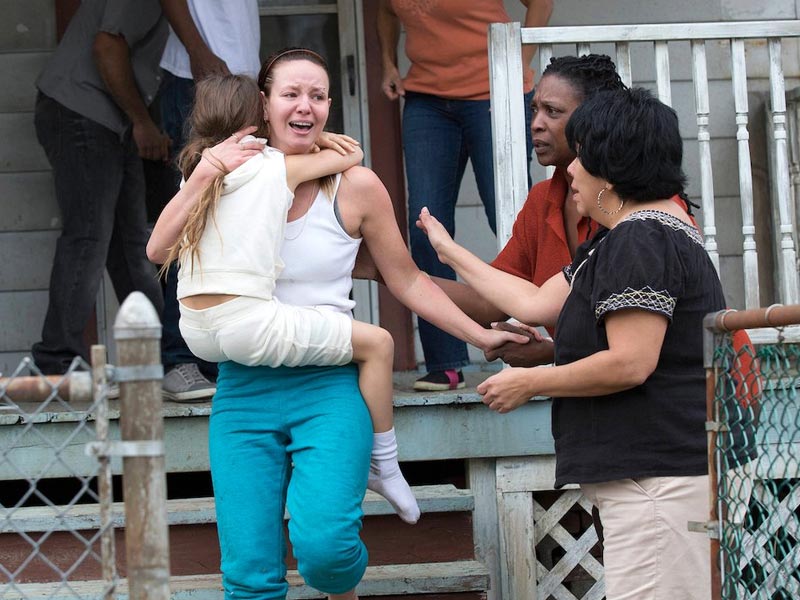 Because basic cable only allows for so much explicitness, nudity is nonexistent, and the rape scenes barely convey the full horror of Knight's situation. On the other hand, we see almost all of the gruesome detail and the first of Knight's five compelled miscarriages, as Castro manages to beat her mildly swelling belly with a barbell until she bleeds out.
There's something deeply unsettling about condensing Knight's years-long ordeal into an hour-and-a-half of extreme highs and lows. On her son's birthday, Knight marks the passage of time by putting handmade numbers on the wall (she starts at "4" and ends in the lower teens) — a too-sentimental ploy, however well-founded in fact, that shamelessly tugs at the heartstrings. When Berry (Samantha Droke) and DeJesus (Katie Sarife) arrive, the three become de facto martyrs, cutting their hair short of resembling Joan of Arc and defiantly dancing to pop music between Castro's numerous assaults.
Cruz is good at playing a monster (as anybody who has seen his Tuco on Breaking Bad and Better Call Saul will attest). Still, aside from a few halfhearted attempts to humanize his terrible character, it never feels like the actor is doing more than serving tabloid fodder.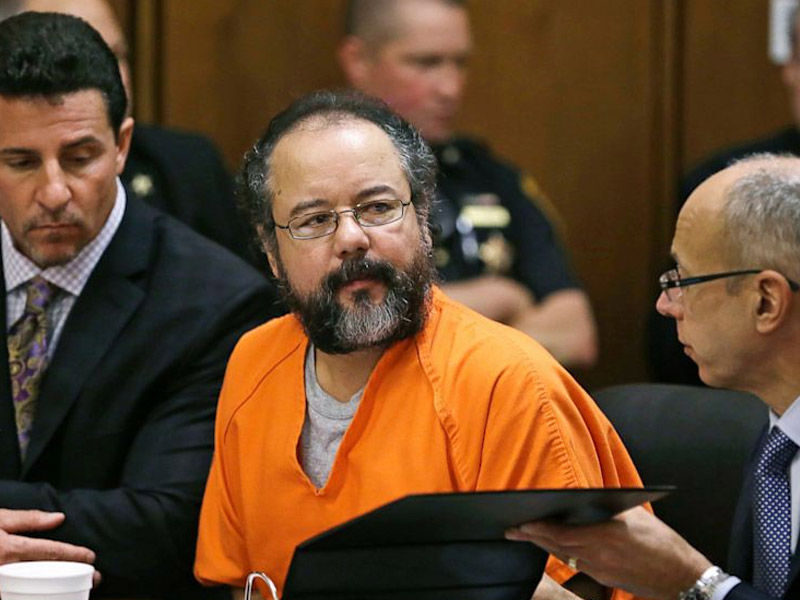 True empathy is finally provided by Joe Morton, who plays the government agent assigned to Knight after she escapes Castro's clutches, as well as the always-welcome Pam Grier, who plays a nurse who serves as a sounding board for our injured heroine as she adjusts to life in the real world. Because of their efforts, this hollow and repetitive horror show temporarily assumes a potently tragic dimension.
Yet, the picture rapidly reverts to syrupy, empowering uplift for an outcome that dulls all of this horrible story's jagged edges.