Dexter New Blood is a Showtime miniseries based on the American crime drama series Dexter, created by original series creator Clyde Phillips and directed by Marcos Siega.
Michael C. Hall and Jennifer Carpenter reprise their roles as Dexter and Debra Morgan, respectively, and are joined by newcomers Jack Alcott, Julia Jones, Johnny Sequoyah, Alano Miller, Clancy Brown, and David Magidoff. The plot takes place ten years after the events of the original series finale "Remember the Monsters?" which aired in 2013. On November 7, 2021, it debuted on Showtime.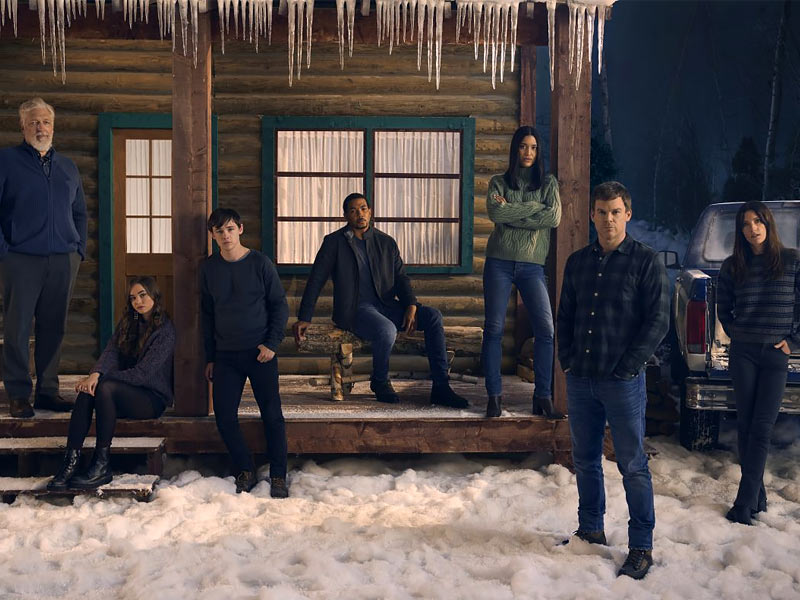 Dexter Morgan has relocated to the fictional tiny town of Iron Lake, New York, assuming the persona of Jim Lindsay, a local shopkeeper, ten years after faking his death. He has formed a friendship with Angela Bishop, the town's head of police, and has repressed his desire to commit serial killings. A series of occurrences around Iron Lake make Dexter fearful that the "Dark Passenger" within him may emerge.
Phillips' disconnection from Dexter's dark years appears to help the new series get off to a good start. The programme isn't a soft reboot in the same way that the new Halloween flicks are. Nobody denies that Dexter rode a sailboat into a storm, pretended to die, and then became a lumberjack. However, because Phillips was not there for those decisions, he may regard them with a nonchalant shrug. As a result, New Blood is astute and quick. This contrasts with later Dexter, who had become ponderous and self-serious. One may not understand how much Dexter Morgan's (Michael C. Hall) basically affectless caustic narration was missed. If you've ever liked the character, this comes as a pleasant surprise.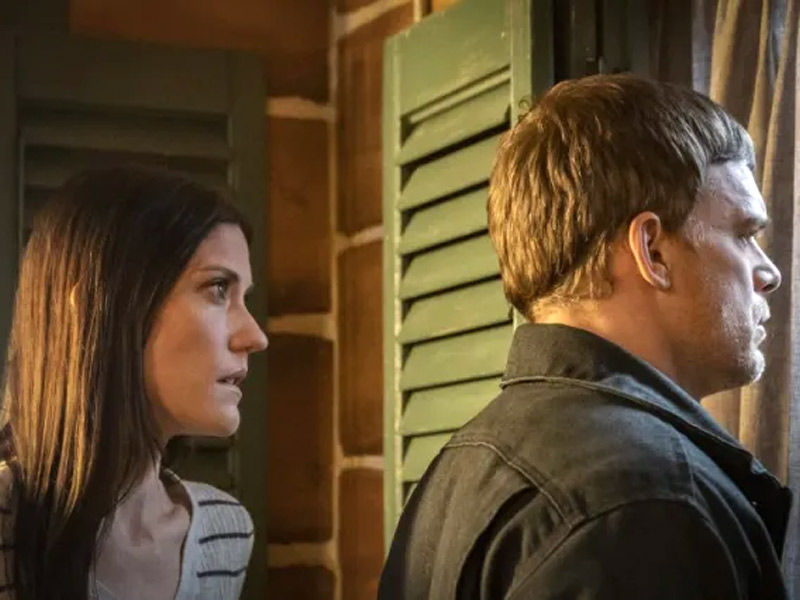 Former vigilante murderer Dexter Morgan (Hall) is enjoying a tranquil life on the other coast, in the frigid upstate village of Iron Lake, N.Y., ten years after faking his death and escaping into the forests of Oregon. Everyone knows him as Jim Lindsay, the friendly cashier at Fred's Fish & Game and the lover of Iron Lake's police chief, Angela Bishop (Julia Jones from The Twilight Saga). However, Dexter's sole genuine friend is a hallucination apparition of his deceased sister, Deborah (Jennifer Carpenter), a one-woman Greek chorus and a constant reminder of Dexter's violent history.
When we first meet him, our antihero has been murder-free for over a decade — until an upsetting meeting with an annoying client (Steve Robertson), who also happens to be the wayward son of a local tycoon (Clancy Brown), causes Dexter to abandon the killing game. To make matters worse, Dexter's gory relapse coincides with the unexpected homecoming of Dexter's adolescent son, Harrison (The Good Lord Bird's Jack Alcott), who sought out his father after discovering he didn't die in a boat accident all those years ago.
Dexter Morgan's connection with his tempestuous, foul-mouthed sister was always at the core of the original series. Phillips and his colleagues put an intriguing new twist on the situation here: Unlike Dexter's adopted father Harry (James Remar), who acted as a moral counsellor from beyond the grave, the ghost Deb is more tormentor than mentor, prone to jump-scare attacks and expletive-laden rants. She's particularly irritated by Dexter's choice to rekindle his friendship with Harrison, who — spoiler alert — may have inherited some of his father's "evil inclinations."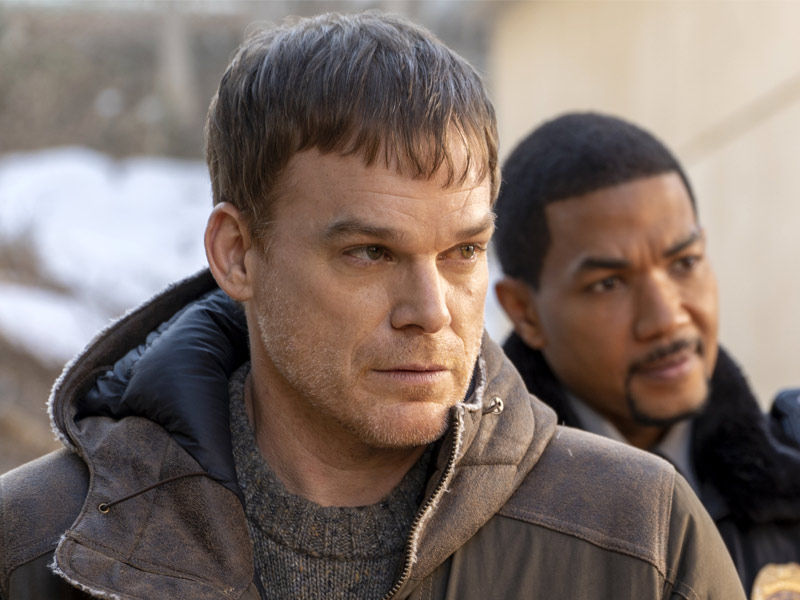 Alcott, a newcomer, has a melancholic fascination for Harrison, a self-sufficient outsider who resents Dexter for abandoning him while yearning for his affection and acceptance. As Harrison settles into Iron Lake High School, he befriends a harassed loner (Christian Dell'Edera), which he does with a winning confidence. Though the adolescent drama aspects feel out of place in the Dexter world (and it's unclear what function they'll serve in the end), Alcott is compelling enough to make them work.
The first Dexter finale was terrible, and fans were rightly dissatisfied. Nonetheless, it is safe to say that the majority of us were able to move on. Was there a demand for more Dexter? No. But it's difficult to blame Phillips, Hall, Carpenter, and the rest of the cast for taking Showtime's opportunity to restore the tarnished memory of this once-great series. It's hard to judge whether New Blood will succeed until all ten episodes have aired. The resurrection has some of the same issues as the original, including as a tendency for toothless "will Dexter be caught?" fakeouts to sloppy logistical swindlers (wander right into that crime scene, Dexter, yet you now work in retail).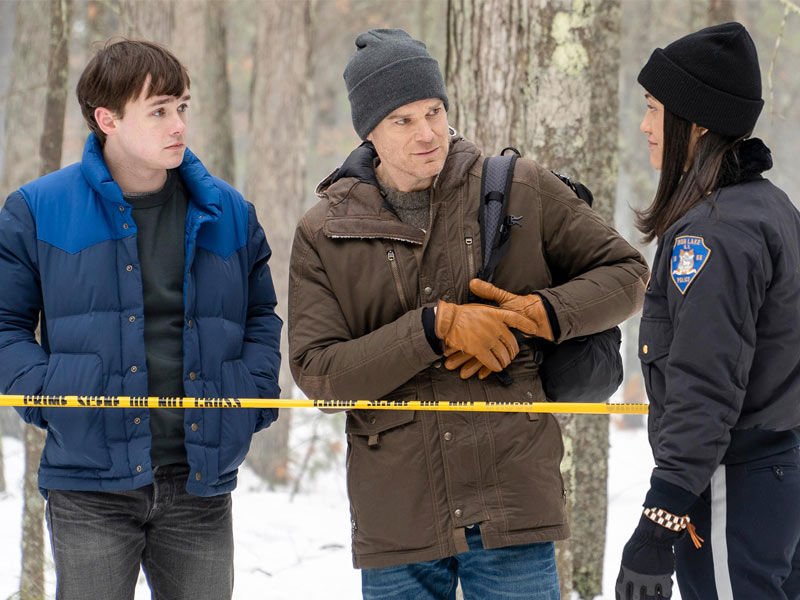 There's also a distinct and all-too-familiar absence of nuance. The opening sequence is set to Iggy Pop's "The Passenger," a direct allusion to Dexter's so-called "dark passenger," and the script contains a few groans. "Humans have traditionally coped with death via rituals," Dexter reflects in one of his numerous solemn voice-overs. "I think mine are a little different."
They were, and maybe still are. It's nice to see Dexter again in Dexter New Blood, with its serial killer-meets-dad-jokes appeal. As far as nostalgic remakes go, this one isn't great, but it's also not dead on arrival.