The Crown's fourth season just fell on Netflix, and there's a lot of chatter about how much Princess Diana looks like actor Emma Corrin.
Honestly, and? It's a bit unreal when you compare photos.
The new season pays tribute to many of the unforgettable fashion moments of Princess Diana. In dresses inspired by her royal tour in 1983 and other choirs she was pictured wearing throughout the '80s, Emma Corrin resembles Princess Diana.
In many respects, the late Princess Diana is regarded as a caring mother to her two heirs, Prince William and Prince Harry; a philanthropist; and an icon of the 80s and 90s era, whose sense of fashion has gone back decades.
A pair of pastel yellow overalls and the floral top worn by Princess Diana were emulated in the film.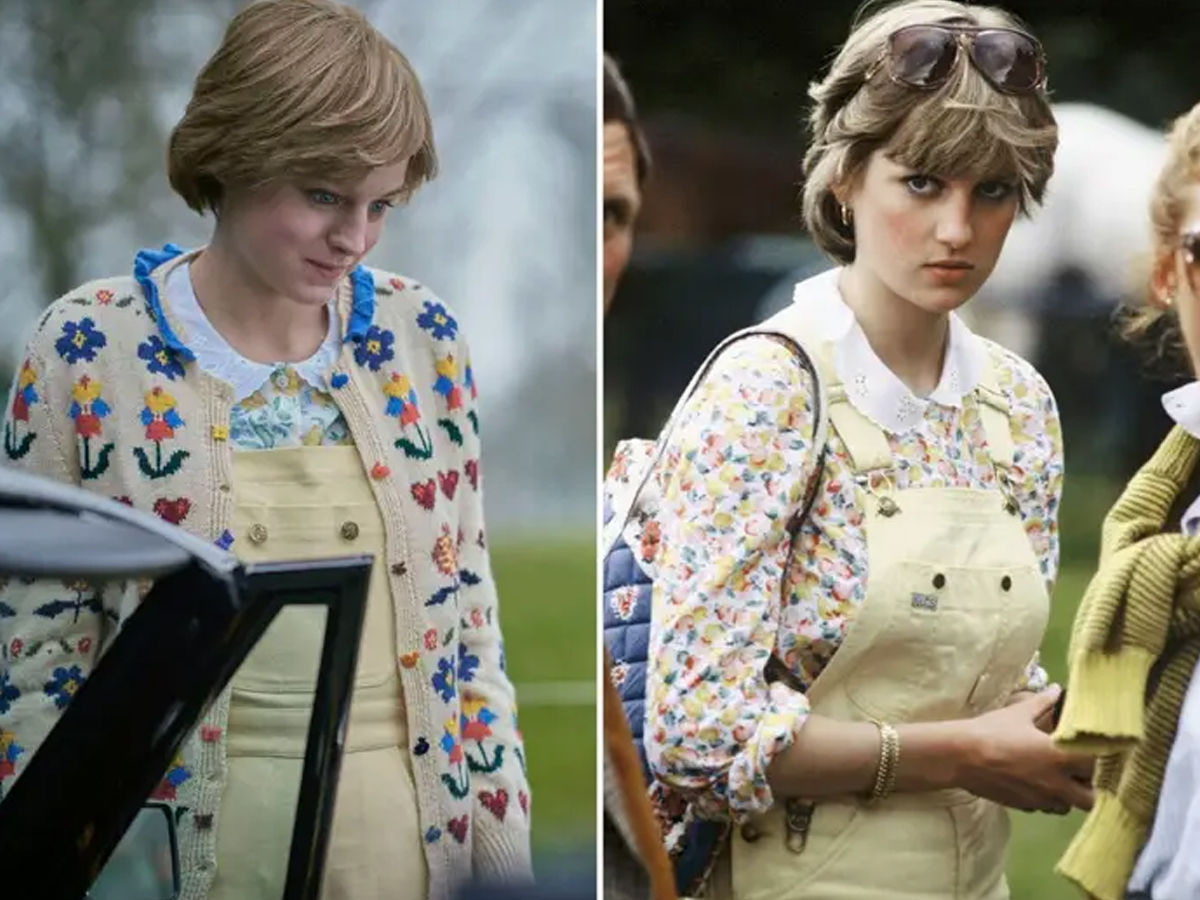 "After the Badminton Horse Trials, an equestrian event where Princess Anne competed, a young Lady Diana Spencer (Emma Corrin) falls into Prince Charles (Josh O'Connor) after the "The Crown" scene, wearing a pair of overalls that seem to be influenced by an outfit Princess Diana was pictured wearing in 1981.
"The Crown" has created a perfect copy of Prince Charles and Princess Diana's famous engagement picture.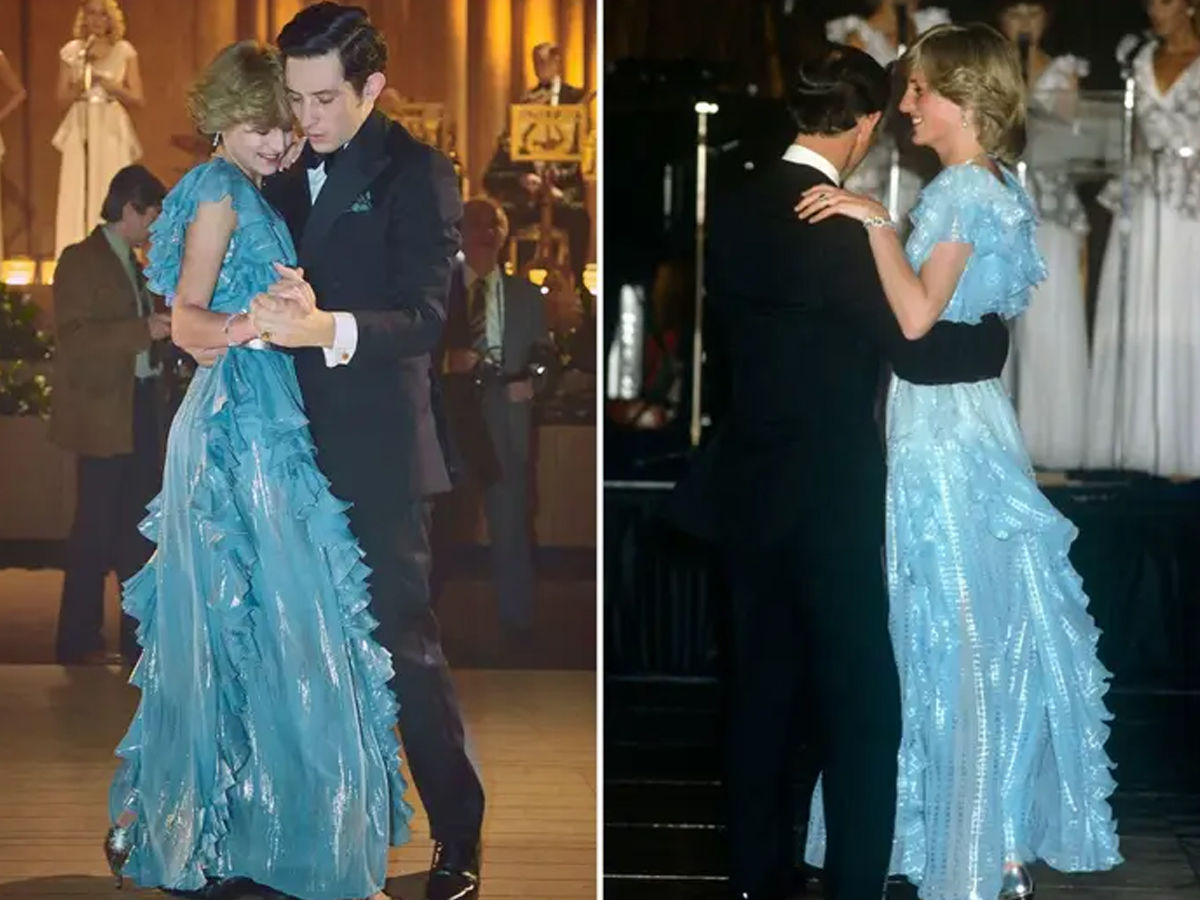 For the couple's engagement picture in 1981, then-Lady Diana Spencer purchased the blue suit from Harrod's department store herself. "The Crown" emulated not only the pose of the pair and the blue ensemble worn by Lady Di, but Emma Corrin also wore a replica of the engagement ring of the future princess. Princess Diana chose the diamond-surrounded, 12-carat sapphire ring from a House of Garrad catalogue herself in real life.
With Princess Diana's sapphire ring, Prince William proposed to Kate Middleton in 2010.
Actress Emma Corrin featured a replica of the wedding gown of Princess Diana, and many of the same details as the original were included.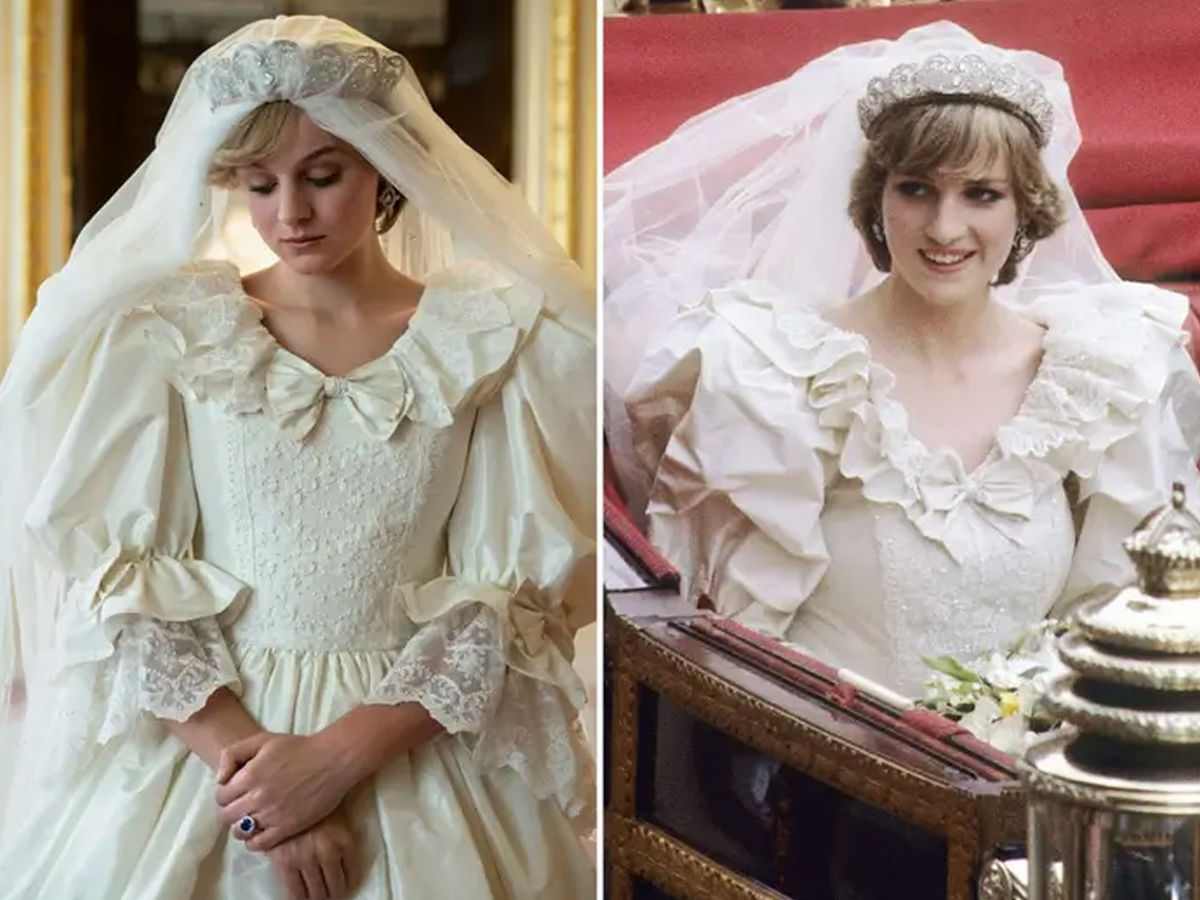 Princess Diana wore David and Elizabeth Emanuel's ivory silk gown for her marriage on July 29, 1981, to Prince Charles, at St. Paul's Cathedral in London. The gown's most unforgettable character was its 25-foot-long train, the longest parade of any royal bridal gown in Britain. "The Crown" costume designers emulated the features of the actual wedding gown of Princess Diana, including the dramatic train, bulky sleeves, and bow detailing.
"The Crown" recreated a hot-pink dress portrayed in the 1980s by Princess Diana.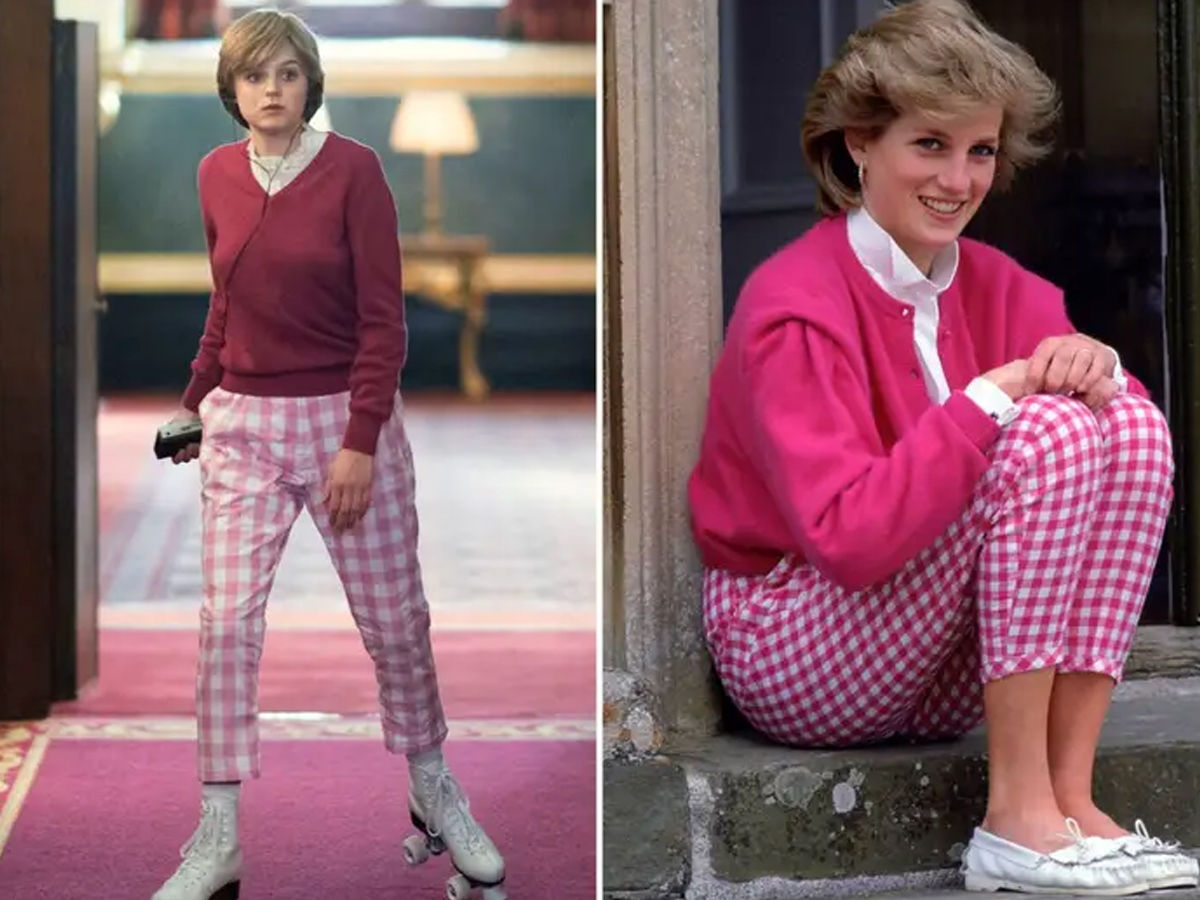 Around 1986, outside the Highgrove Building, Princess Diana was pictured wearing the pink dress, her primary residence in Gloucestershire, England, with Prince Charles, Prince William, and Prince Harry.
The show's designers dressed Emma Corrin in a similar ensemble, including a pair of lighter-pink checkered trousers and a magenta sweater with layers over a white top. For a depiction in season four of The Crown', a young Lady Diana Spencer roller skating at Buckingham Palace.
In the early 80s, Emma Corrin channelled Princess Diana while sporting a glittery red spaghetti-strap gown.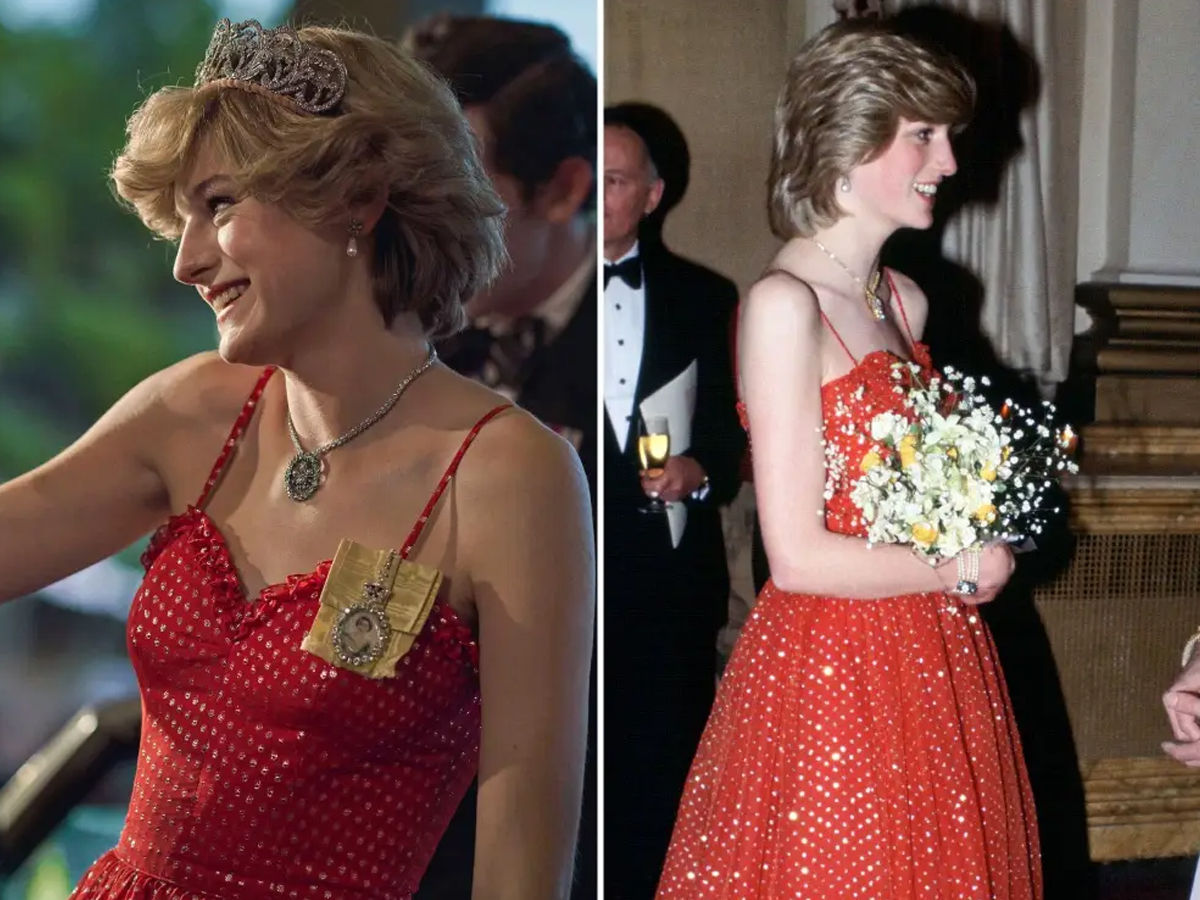 A scene from The Crown new season shows Emma Corrin as Princess Diana in a red dress with a sweetheart neckline and intricate glitter. The outfit appeared to take influence from a gown on many occasions that the Princess of Wales was seen wearing, notably the premiere of the James Bond film "For Your Eyes Only" in 1981, when she was still a royal fiancée, and an event at the Royal Opera House around 1982.
Emma Corrin wore a diamond necklace identical to one owned by Princess Diana, a tiara, and a badge reflecting Queen Elizabeth II's Royal Family Order for the scene in The Crown.'
Also Read, 5 Classic Movies Everyone Should Watch
"The Crown" paid homage, including this monochromatic blue ensemble, too many of Princess Diana's outfits from her Australian royal tour.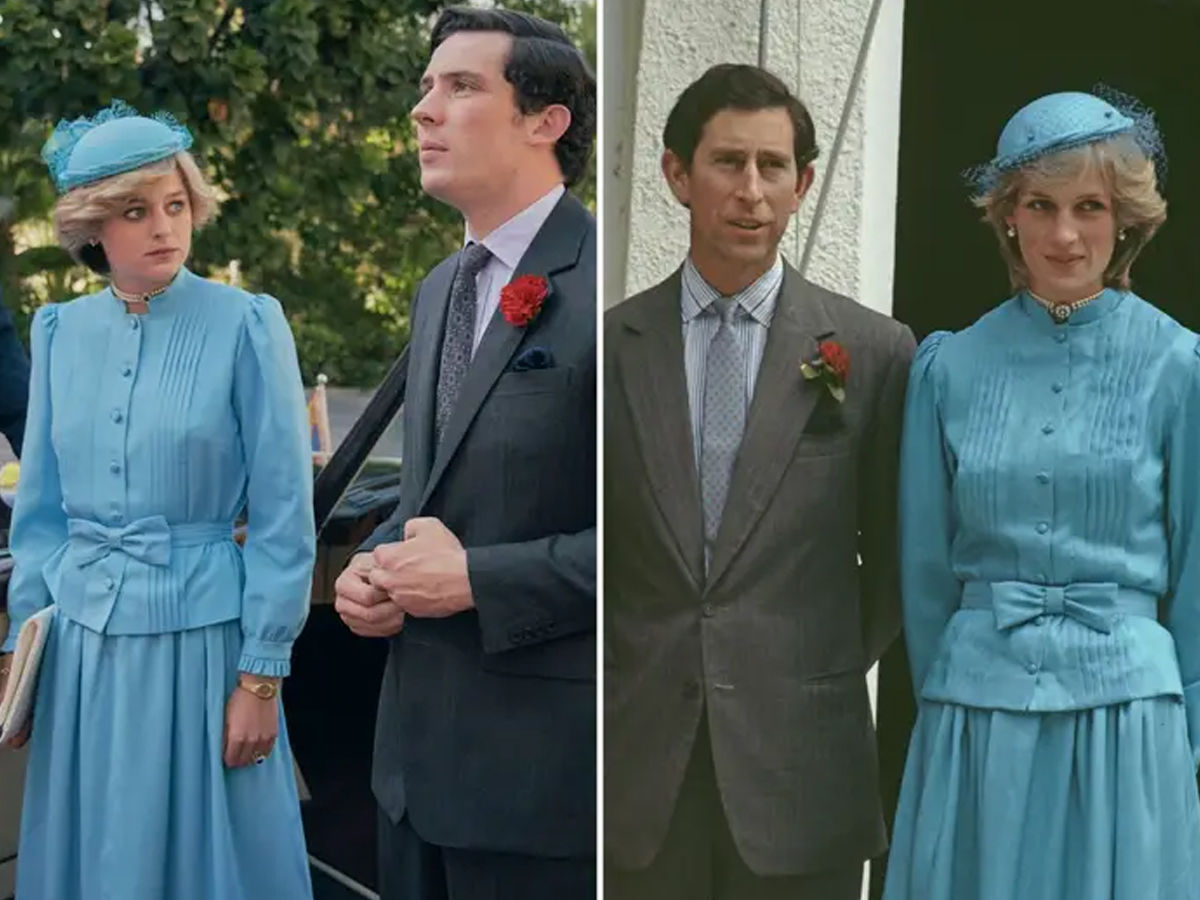 Roberts, the show's costume designer, said it proved to be a challenge to re-create outfits worn by Princess Diana during her Australia tour with Prince Charles.
Next, it must be said that the customers of The Crown ought to win all the prizes.
Emma Corrin's ruffled blue dress looked remarkably similar to the one that Princess Diana wore during her Australian royal tour.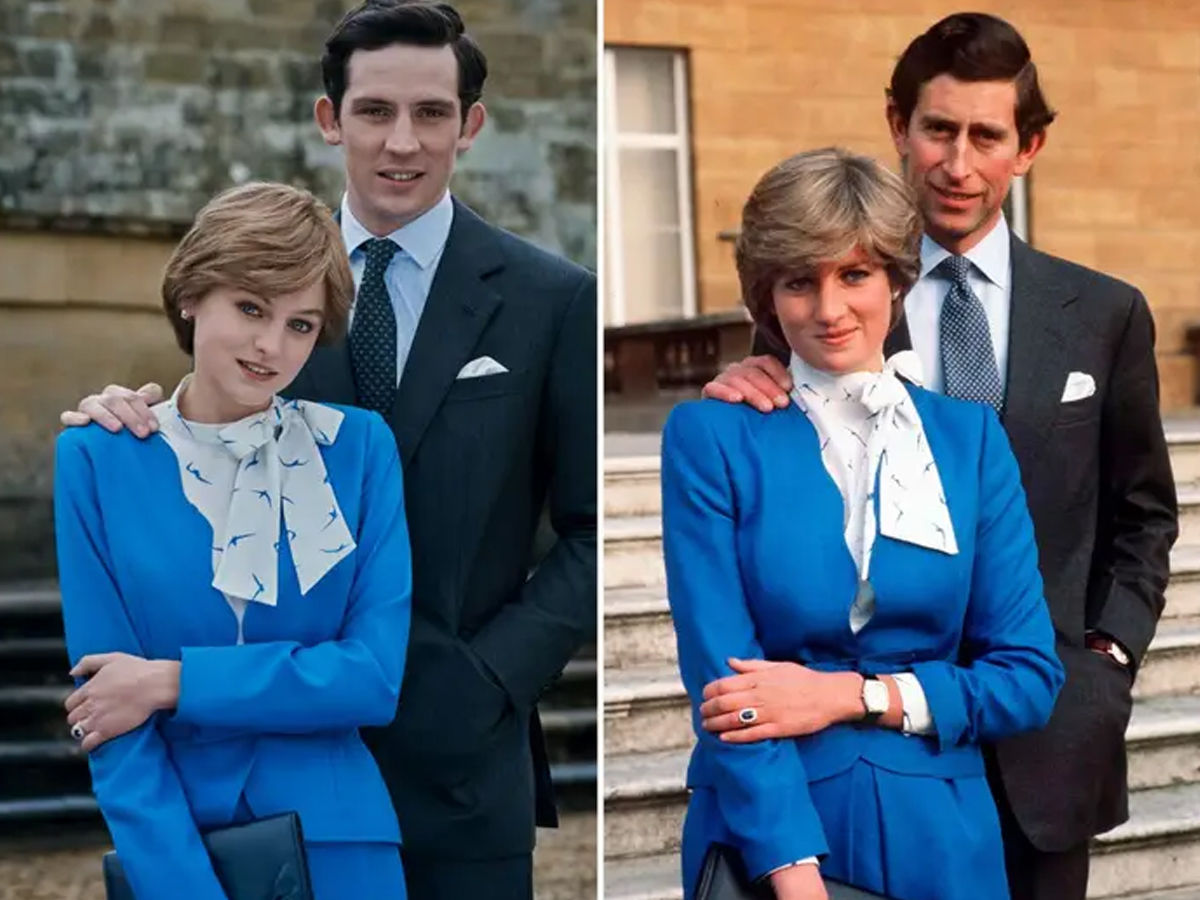 Many of the 80s-inspired pieces worn by Emma Corrin were discovered from dyeing fabrics and sourcing vintage textiles in scenes documenting the couple's Australian tour, such as this turquoise dress.
"The Crown" was also inspired by a blue floral dress worn by the Princess of Wales as she visited Australia.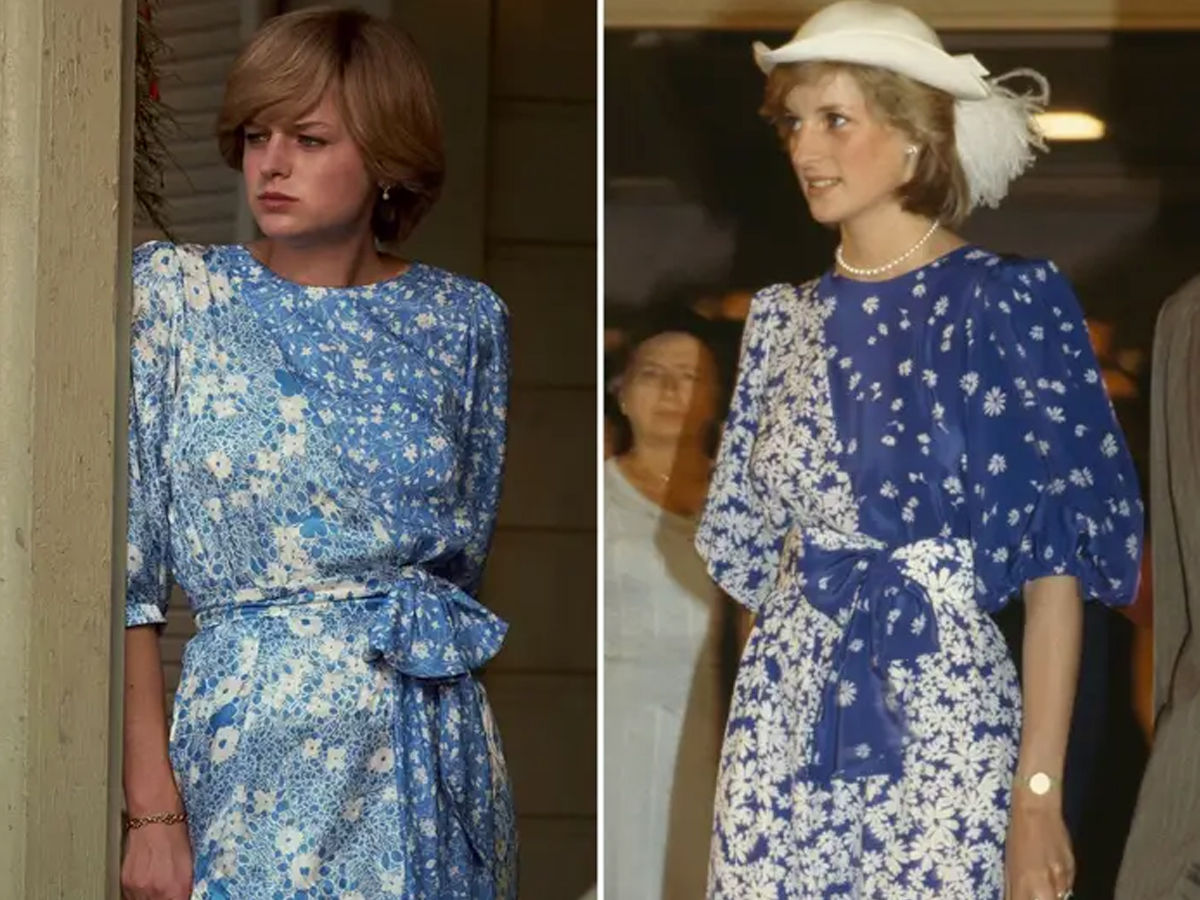 On her royal tour of Australia, Princess Diana was pictured wearing a Donald Campbell outfit and a John Boyd cap. A similar look made a debut in The Crown.'
"The Crown" re-created a gown and matching shawl worn by Princess Diana while on a solo trip to New York City in 1989.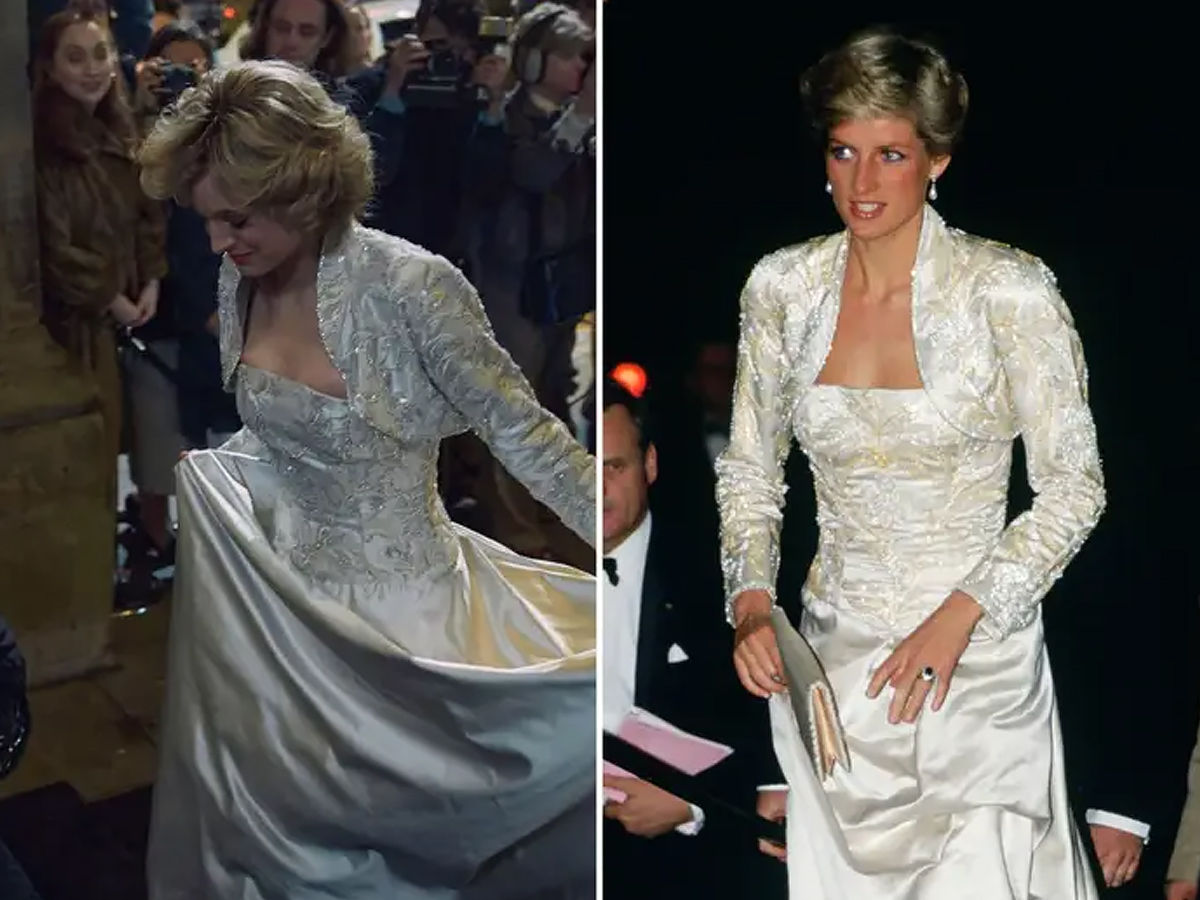 "The Crown" re-created the dress Princess Diana wore for a solo trip to New York City in season four, which featured a visit to the Brooklyn Academy of Music for its Royal Gala in 1989.
The Brooklyn Academy of Music's President Emerita, Karen Brooks Hopkins, remembered hosting Princess Diana for the historic occasion in a personal essay for People Magazine.
A one-shoulder floral dress worn in The Crown" by Emma Corrin references the silhouette of a quintessential Princess Diana.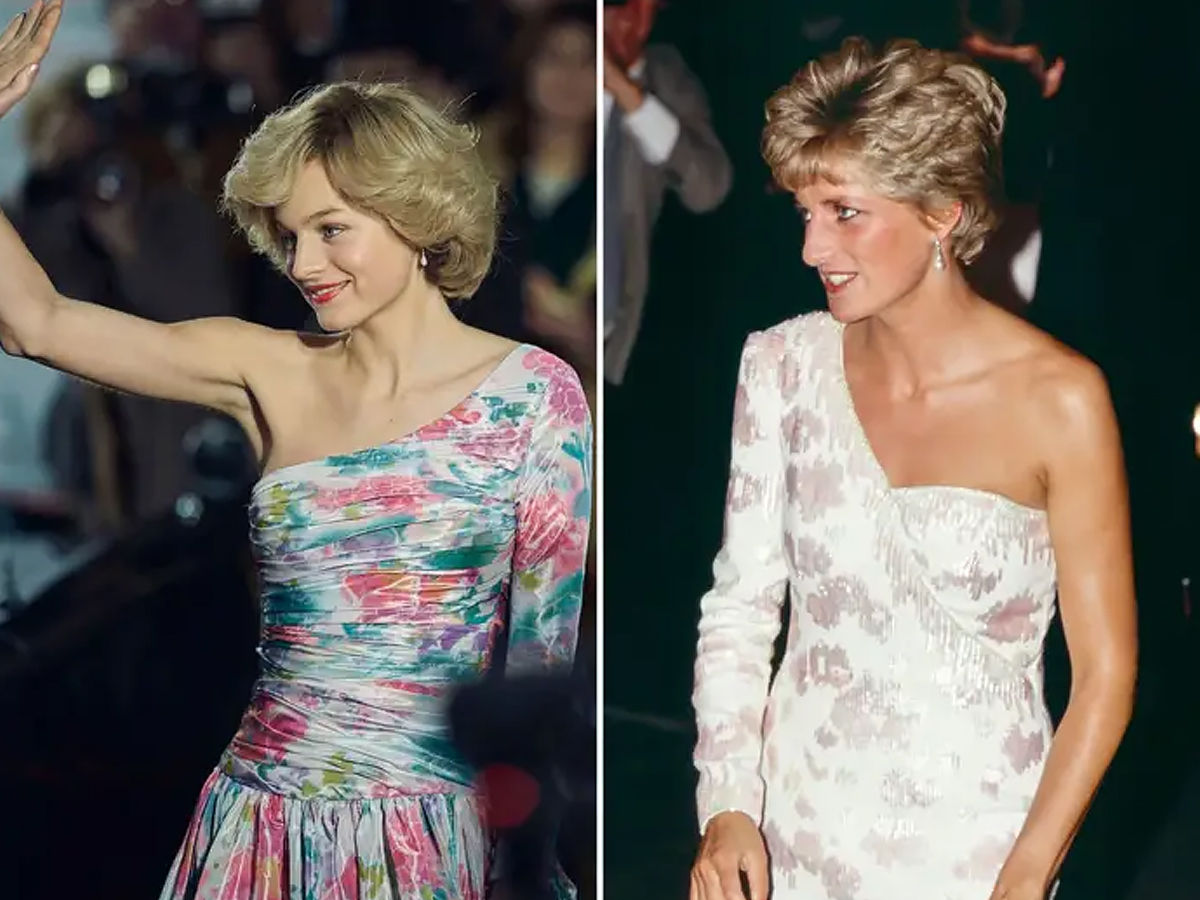 In addition to Emma Corrin's dresses that paid tribute to the Princess of Wales, her hair and makeup even helped to imitate the royal look and style's evolution.