It's a sensation reminiscent of the film's constant blitz to entertain, please, and move audiences; "Top Gun: Maverick" resembles an amusement-park ride in all the worst ways. Every second feels engineered to elicit a reaction. It's an entertainment machine in the same way that a roller coaster is.
Beyond Cruise's Maverick, this is an adrenaline-fueled rollercoaster with thinly-drawn characters. Top Gun Maverick, a Tom Cruise film, soars above the original, albeit with caveats.
In Joseph Kosinski's Top Gun: Maverick, the energy of the 1980s leaps to new heights. Every scene is dripping with the neon-yellow cheesiness that makes Tony Scott's acclaimed flyboy action film delicious. Outside of a few modern changes, the original Top Gun seldom took itself seriously amid sweaty co-pilot homoeroticism. Women are no longer limited to being only love interests. Someone put an air conditioner in Fightertown, USA – but none of the rebellious attitudes, forced overdramatic, or flying thrills have slowed down. The legendary title theme guitar riff wails and sweeps our breath away within seconds.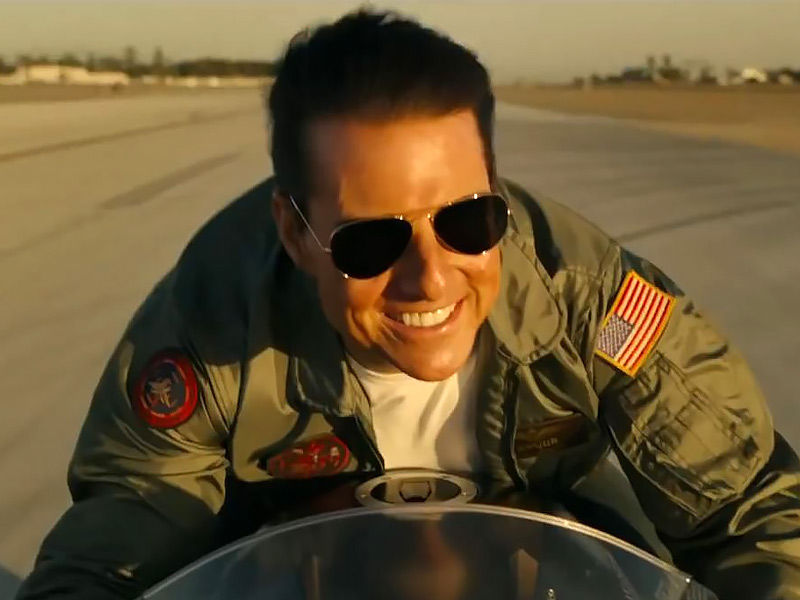 We're smacked with an initial taste of nostalgia in Top Gun: Maverick, with Captain Pete "Maverick" Mitchell defying gravity by skipping ranks to avoid being grounded, which the higher-ups are thrilled about. Mitchell finds a constant ally in once rival-turned-wingman Admiral Tom "Iceman" Kazansky (Val Kilmer), now commander of the United States Pacific Fleet, who enlists a reluctant Maverick to surprisingly not fly but teach a group of Top Gun pilots like his younger, and (to be honest( older self, for a special "death" mission.
Top Gun: Maverick can't help but delight in the original film's concentration on soap opera drama with no time lost. Pete "Maverick" Mitchell, who we met violating procedure and ignoring instructions for a special operation that would be canceled, is still the same rule-breaker 30 years later. Cruise is still brave, displaying the same giddiness inside a cockpit. His character is ordered back to Top Gun after irritating yet another commander who can't believe Captain Maverick is still alive to fly another day.
The name of the introduction is familiarity, as Maverick finds himself as a teacher among ace Top Gun grads brought back by commanding officer "Cyclone" for what is thought to be a death mission.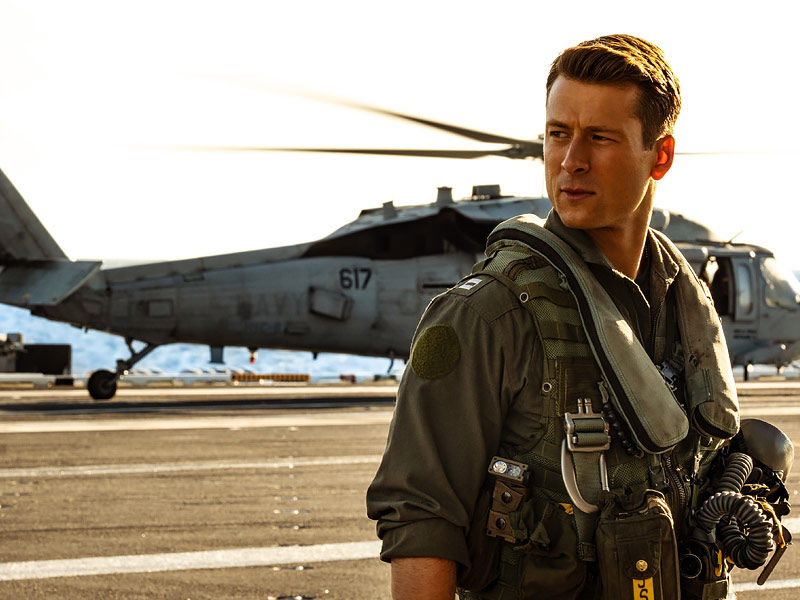 It's the Top Gun sequel that fans have been waiting for. From his piano performance of "Great Balls of Fire" to his bushy caterpillar mustache, Miles Teller as Bradley "Rooster" Bradshaw, the son of Anthony Edwards' "Goose," is the exact image of his late on-screen father. Jennifer Connelly, who played Maverick's ex-fling and revived romantic interest Penny Benjamin, replaces Kelly McGillis' Charlie with barely a word.
The hotshot that recalls Maverick's in-flight cockiness is Glen Powell's "Hangman," and the analogies continue. Because Top Gun: Maverick is the butteriest form of popcorn entertainment, plotlines thicken at the rate of quick-drying cement.
You came for the cowboy antics, shirtless beach sports, and close calls with multi-million dollar planes, which Top Gun: Maverick delivers without all the muddy storyline intricacies.
New additions to the formula, such as "Phoenix" (Monica Barbaro) — and, to a lesser extent, actress Kara Wang as a background Top Gunner — break down the boys club towel-whipping that dominated the original. That's not to say the screams about butts and skin-on-skin caresses in shower rooms aren't missed — they are, after all, part of Top Gun's DNA — but writers Ehren Kruger, Eric Warren Singer, and Christopher McQuarrie craft a tighter yet equally ridiculous screenplay.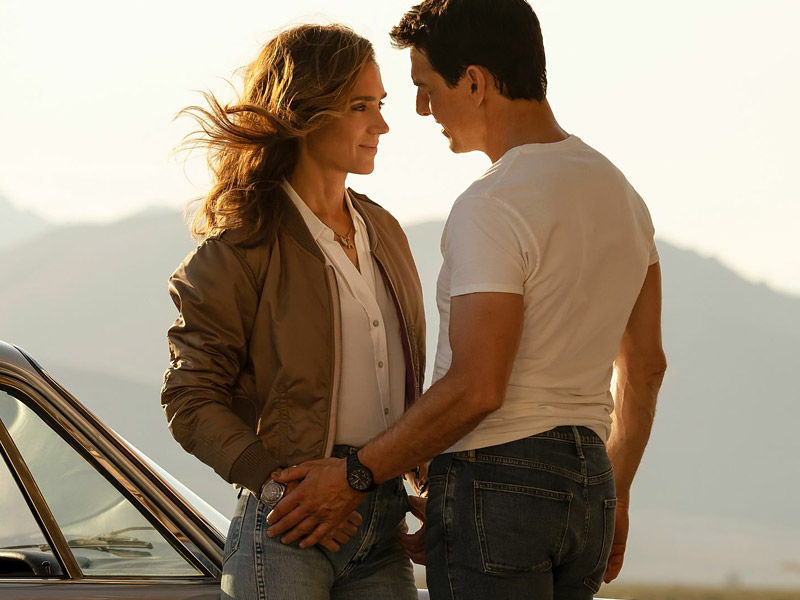 Because the film can't stop putting Goose's son into the equation or assigning Maverick a difficult mission, dialogue is still ripped from some Hallmark Naval academy curriculum. Although, as much as we enjoy seeing Maverick's insubordinate conduct, Maverick enjoys impossible odds and making Jon Hamm's tight-buttoned commander pucker in annoyance.
Maverick eventually teaches his trainees, notably Rooster, but on his overambitious terms and even boosts them during the training dogfights with his contagious swagger and diabolical sneer. Although the trainees work hard, their trainer is always one step ahead! There are no questions! Flying has always been Maverick's first passion. When the time comes, he's more than prepared to reacquaint himself with the deathly high-"G" maneuvers. However, unlike the person playing him, he learns a thing or two about how aging is catching up with him this time around.
Top Gun: Maverick, released nearly 40 years after the original, capitalizes on advances in dogfight filming. Top Gun was groundbreaking at the time, but Top Gun: Maverick outperforms the antiquated '80s action film owing to Claudio Miranda's fast cinematography.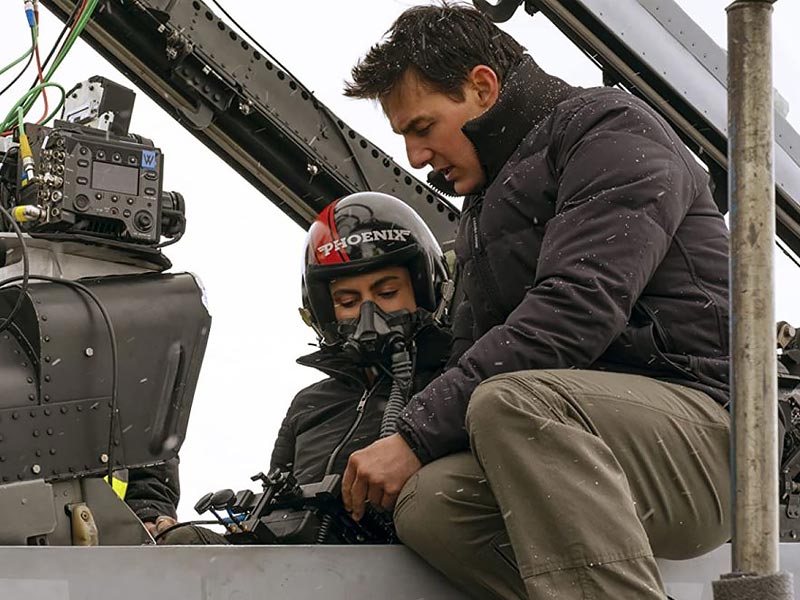 Whether green screens or cockpit-mounted cameras, everything from regular training drills to overhead battle appears immensely sharp. Kosinski suspends us in mid-air to give us a birds-eye perspective of Maverick's risky teaching tactics, zipping between his students with a smile. At the same time, they gasp at his humorous irresponsibility.
Everything, right down to the misty streams that flow around the glass bubble covering the pilots, exists in agonizing detail as Maverick, Rooster, and the others race against time and once-friendly instruction transform into free-fire military applications. When Kenny Loggins sang about danger zones, he probably thought of Top Gun: Maverick.
Top Gun: Maverick is an out-of-control explosion of afterburner gases and adrenaline rushes.
There's no denying that Top Gun: Maverick manages to fly into our hearts, but it's not the cleanest screenplay. Because the emotional stakes are frequently scooped in single portions, it returns to that signature silliness. That didn't stop me from smiling, but I couldn't help but notice how much Top Gun: Maverick pays homage to the original — right down to ludicrous narrative developments that invariably lead Maverick on the path to personal reconciliation or victory.
Expect no-risk amusement in going to a movie theatre and disconnecting for approximately two hours as planes fly "whoosh," where Maverick promises never to allow another wingman or wingwoman to perish on his watch.
Top Gun: Maverick is an out-of-bounds blitz of afterburner fumes and adrenaline rushes that is likely to excite viewers searching for a great summer movie. Director Joseph Kosinski retains the '80s nostalgia for films that were weak on logic and heavy on chest-beating bravado. The fresh graduating faces are all aces, with superb fighter jet choreography and the quest for a thrill at Mach levels.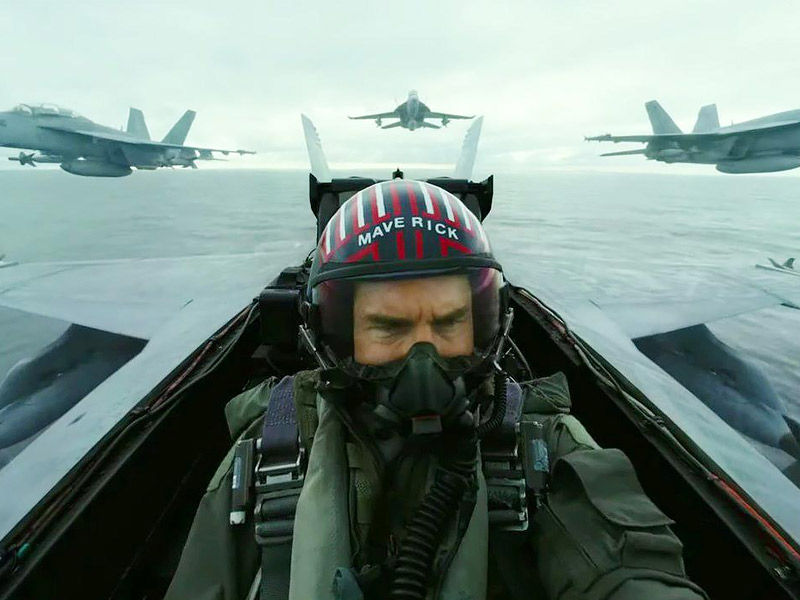 It's never a very serious film about pilots pushed to their breaking point by Naval Command. Still, it doesn't have to be when an insatiable need for speed pushes memorable action moments. Top Gun: Maverick is goofy, silly-heroic entertainment with mile-high passion – a delightful return to simpler cinematic times.
Finally, Top Gun: Maverick is such a visually gorgeous film that Tom Cruise manages to "take your breath away!" again.