Anatomy of a Scandal (Netflix) could not have arrived at a more appropriate time. Based on Sarah Vaughan's novel, this flashy, trashy drama deals with politicians who believe they are above the law and the blind privilege of the ultra-wealthy. It's a twisty, slippery thing, so it isn't easy to discuss the specifics without ruining it. But Sienna Miller plays Sophie Whitehouse, who is happily married to Britain's "most fanciful" minister, James (a brilliantly oily Rupert Friend), until their lives are engulfed in the title scandal.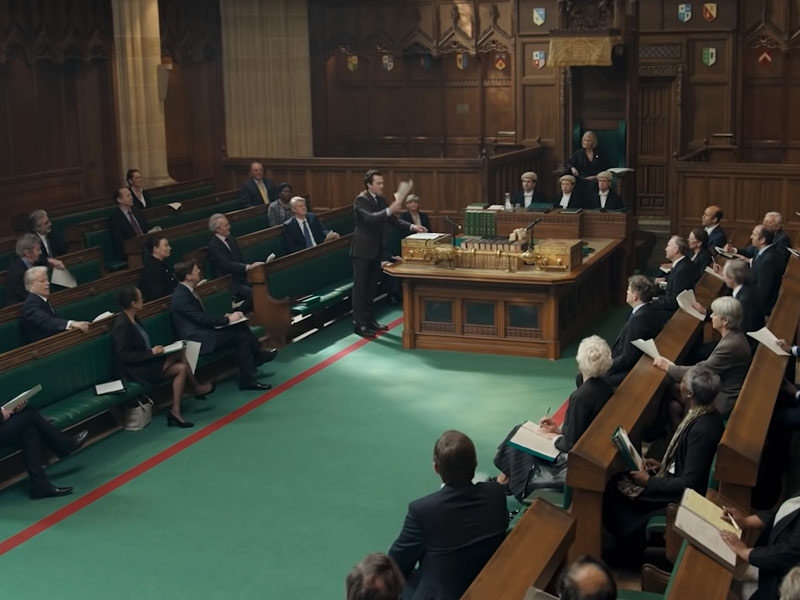 None of these characters speak in the manner of a human being. "Where the f@#k are you, my darling man?" "If the future doesn't include you, Sophie Whitehouse, the future is shite," he responds later. Bleurgh. Perhaps this is how affluent people woo each other. Anatomy of a Scandal moves quickly, half in the present day and a half in flashback to Sophie and James' time at Oxford, where he rowed and was a member of the Bullingdon-Esque Libertine club.
There is obnoxious behavior. People have said, "Boys will be boys on more than one occasion." People gather in dark corridors to discuss nefarious deals. It's a part political thriller, part courtroom drama, and it tries on a lot of hats. On the one hand, it's a twisty thriller that recognizes its silliness and plays it up. On the other hand, it attempts a serious exploration of consent and power, which sits uncomfortably alongside all the fireworks and barely begins to unravel the knots Anatomy of a Scandal creates for itself.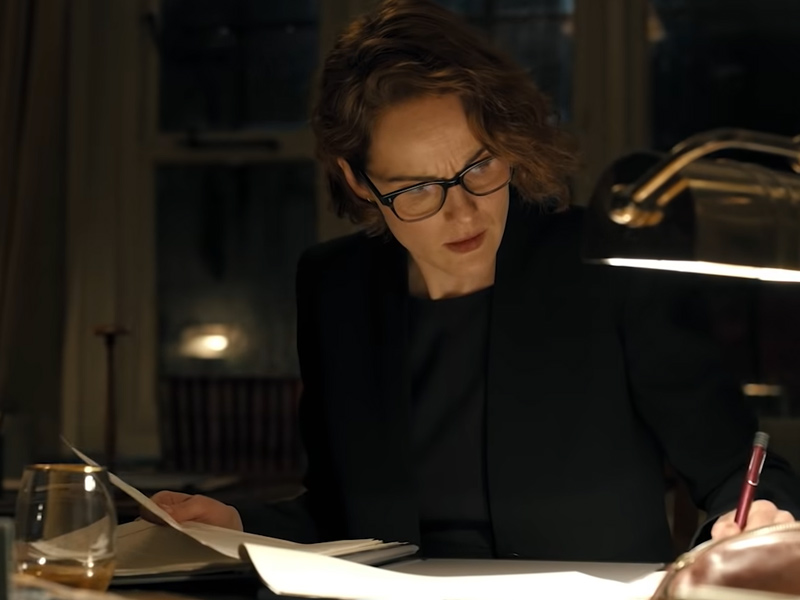 Kate Woodcroft (Michelle Dockery), a powerful barrister, is celebrating by working on her new case. Meanwhile, Sophie Whitehouse (Sienna Miller) is at a friend's husband's birthday party, wondering where her husband James (Rupert Friend), a home secretary and member of Parliament with close ties to the prime minister, is. He's actually speaking with a constituent when he learns that a scandal is about to break.
Reports are about to surface that he had a months-long affair with a subordinate named Olivia Lytton (Naomi Scott), which he only ended a few weeks ago. Sophie tries to keep her cool when he tells her that he "fucked up" and that it didn't matter, but when the PM's resident spin doctor arrives to advise James on what to say to the press, she pukes in the kitchen.
James makes every effort to manage the scandal, both with the press and the general public and with Sophie. Sophie is understandably upset, but she knows that leaving him isn't in the best interests of her family or of maintaining her status. However, her resolve is shaken when she travels to Westminster to have lunch with James in the midst of his fellow MPs. Some of the old fogeys believe James' infidelity will benefit him, but Sophie thinks that's nonsense.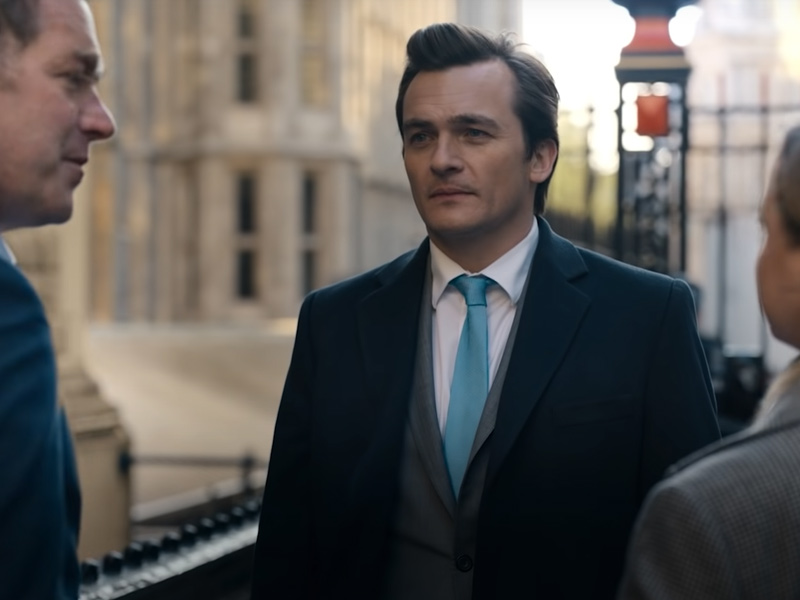 James offers to leave politics because he cares about Sophie and their family, which appears to soften Sophie's stance. However, when we cut to Kate looking at her new high-profile case, it appears that the scandal is about to get much deeper.
What shows will it make you think of?
Anatomy Of A Scandal has a similar title, but it also has a similar setting and themes to A Very British Scandal.
It also features the "apparently blissful life of an upper class couple ripped to shreds" theme of another David E. Kelley adaptation, The Undoing.
Kelley and Melissa adapted it for us. In the first episode, James Gibson from Sarah Vaughn's 2018 novel, Anatomy Of A Scandal, doesn't get going. It's essentially a series of insincere apologies from James. He insists that his affair is meaningless but has hazily fond memories of connecting with Olivia in the lift and a hotel room while swigging Champagne.
Then there's Sophie, who initially appears to be doing her best to maintain her cool, despite the fact that the life she's built for herself appears to be crumbling around her. It's strange that she doesn't notice how insincere James' apologies are; he thinks this is something they'll get over.
So, what will happen when the actual case against James, in which Olivia accuses him of rape, gets underway? Is Sophie going to support her husband or strike out on her own publicly? Will Kelley and Gibson's adaptation take Olivia's accusations seriously or take James' side in a post-MeToo world? Or will the Anatomy of a Scandal consist solely of denials and courtroom scenes?
We're sure those courtroom scenes will be entertaining to watch, with Dockery's character taking center stage rather than simply being a barrister with no work-life balance. As Sophie tries to keep things together while her emotions are all over the place, Miller is actually quite compelling. Friend, usually known for saying few words as tough guys in shows like Homeland, does an excellent job as the slimy politician. So their performances could save Anatomy of a Scandal, especially when we get to court. But, by the time we get to that part, will we care?